Search results - ForumOxford: Mobile Apps and Technologies Conference 2013
Key facts
Types
Day and Weekend
Short Courses

Location
Oxford
Address
Rewley House
OX1 2JA map
Dates
Fri 8 Nov 2013
Subject area(s)
Electronic Engineering
Telecommunications Engineering

Fees
From £295.00
Application status
Applications being accepted
Course code
O13C957H6Y
Course contact
If you have any questions about this course, please email telecoms@conted.ox.ac.uk or telephone 01865 286958.
Enrol online now!
to secure your place on this course now
Overview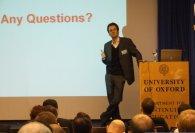 Thanks to everyone who participated on Friday - it was a great day.
Please send me an email when further details of the 2013 ForumOxford Conference are confirmed.
Follow @ForumOxford on Twitter Click here!
Join our LinkedIn group where we will be discussing the latest trends in mobility including trends in convergence, tech policy, mobile payments, apps, devices, IOT etc, as well as hosting a Free Friday chat group.
We had a live twitterfeed at ForumOxford 2012 - you can see some of the tweets here!
The 2012 conference theme was Mobile startups - making the UK the next Silicon Valley (funding, investment, advice) - watch this space for details of the 2013 conference.
Many of us have been working with mobile data technologies for a decade, and finally the Mobile revolution is truly here.
Venture Capitalists like Fred Wilson now advocate a 'Mobile first' strategy.
A plethora of mobile innovation is upon us with many mobile technologies like location, mobile payments and mobile apps becoming mainstream; more significantly, a commercial ecosystem is developing for mobile apps. Not only are we prepared to pay for apps - but an investment ecosystem is developing around mobile apps.
We hope that the ForumOxford Conference will act as a catalyst to take your ideas to the next level.
Five reasons to attend the ForumOxford Conference:
Learn how to take your ideas from concept to execution.
Network opportunities across the ForumOxford ecosystem - technologists, operators, investment experts.
Learn about new funding models (Crowdfunding).
Understand how start-up accounting is different.
Become a part of the ForumOxford ecosystem.
Description
ForumOxford is pleased to be working with some great Media Partners - Click here for details
Speakers:
Details below are from the 2012 conference - expect to see another great lineup for 2013 - watch this space!
Svetlana Grant, Director of Smart Cities, Connected Living Programme, GSMA
Presentation: The Future of Mobile: Innovating for Connected Living


Simon Dixon, CEO, Bank to the Future
Presentation: New ways to raise finance for your business


Dan Appelquist, Head of Product Management for BlueVia, Telefónica Digital
Presentation: TBC


Margaret Gold, Chief Marketing Officer, Ether Books
Presentation: How Mobile is disrupting the Publishing Industry


Torsten Stauch, Co-Founder and CEO, AppShed
Presentation: My journey as an Entrepreneur


Will Jones, MD Europe, Monitise
Presentation: When Worlds Collide


Neil Driver, Partner for Davis Grant LLP
Presentation: Seven "must do" financial foundations


Aditya Jaokar
Presentation: Feynlabs & Concepts of Programming Language for Kids


Dr Andrew Eliasz, Director, First Technology Transfer
Presentation: Interfacing a RaspberryPi to a 3D Printer - "Why would you want to do it and how?"



***Panel discussion***



Peggy Anne Salz, Chief Analyst and Founder, MobileGroove
Panel Moderator


Russell Buckley, (Founder of AdMob which is now Google AdMob), MobHappy
Presentation: Start ups and funding


Tony Fish, Entrepreneur and Strategic Thinker, AMF Ventures
Presentation: Mobile and Funding - What is the best way to find your backers


Muriel Devilliers, Founder- Managing Director, LUMU Invest
Presentation: The long and winding road of a woman in Tech


Jouko Ahvenainen, Entrepreneur, Investor, Founder, Grow VC Group
Presentation: Disruption in finance: new funding models and how to get it work from seed to IPO



***Panel discussion***



Priya Prakash, Founder, Design for Social Change
Presentation: Mobile needs in emerging and submerging economies


Rudy de Waele, Mobile Strategist, Business Angel and Appreneur
Presentation: Mobile Opportunities in Africa - Engaging With The Next Billion


Fabian Stelzer, Co-Founder and CMO, EyeQuant
Presentation: The Attention Age - Designing Apps and Devices for the Brain's Bottleneck


Prof Khalid Al-Begain, Professor of Mobile Computing and Networking, University of Glamorgan, and Glamex Security Ltd
Presentation: Towards the Smart Apps


Tomi Ahonen, Communities Dominate Brands
Presentation: Augmented Reality as the Next Mass Media
(Please see the Staff section below for further details about our ForumOxford speakers)
Conference Chairs:
Conference Participants (you, the audience):
ForumOxford encourages and promotes questions, opinions and contributions from you, the audience
What is ForumOxford and why is it unique?
Unlike many large, impersonal conferences, ForumOxford is highly interactive and promotes open communication between participants and speakers - we expect in the range of 70 - 100 participants. The event is designed with ample Q&A time and opportunities for further discussions of the conference topics during breaks, over lunch and at the early evening drinks reception.
No sales pitches - this is a conference for presentations, questions, answers, interactions and discussions
ForumOxford is pleased to have the support of Mobile Groove.
Programme details
To join in the discussion of all things mobile, visit our Discussion Forum Click here!
Watch some of the presentations from 2011:

This conference is aimed at web and mobile technology experts and visionaries, telecoms leaders and anyone who has an interest in future mobile technologies with an emphasis on all the interesting things going on in the world of mobile technologies.
Speakers at each year's event include global industry leaders, media specialists, strategists and journalists. Previous conference participants have come from Vodafone, Nokia, Samsung Electronics Research Institute, Qualcomm, Intel, RAC, Telefonica Europe, Qatar Telecom, Panasonic Mobile Communications, Consult Hyperion, EMAP, Symbian, GSMA, BBC, T-Mobile, Informa, SonyBMG Music Entertainment, MTV, Financial Times, Alcatel-Lucent, Three, NXP, Guardian News & Media, Huawei Technologies Co Ltd and many more.
09:00-17:00 followed by a drinks reception.
Free WiFi, three-course lunch, refreshments and drinks reception included.
We have a number of meeting rooms which will be freely available to those attending if required.
Please email us to register an interest and receive updates about this conference.
ForumOxford Online
ForumOxford, the web-discussion forum of the Technology Programme, was established to bring together the best thinkers in the telecoms industry to enable the sharing of ideas on all aspects of mobile applications with other like-minded members of the community. ForumOxford has been a huge success and now has over 2000 members with participants from 87 countries and from six continents. Figures correct as of 9 February 2011.
The University of Oxford's Technology Programme has met the needs of the industry by doubling the number of courses offered in the past year, particularly in emerging fields in the industry such as Web 2.0 and mobile technologies.
Staff
Accommodation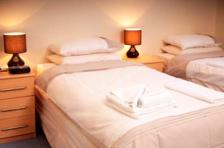 Accommodation is available at the Rewley House Residential Centre, within the Department for Continuing Education, in central Oxford. The comfortable, en-suite, study-bedrooms are rated 3-star, and come with free high-speed internet access and TV. Guests can take advantage of the excellent dining facilities and common room bar, where they may relax and network with others on the programme.
Payment
Fees include refreshments, three-course lunch and post-conference drinks.
Fee options
Programme Fee

Standard Conference Fee: £295.00

Apply for this course
If you would like to discuss your application or any part of the application process before applying, please contact:
Conference Administrator
Tel: +44 (0)1865 286958
Email: telecoms@conted.ox.ac.uk
Sponsorship Opportunities
We have a number of sponsorship packages available starting at just £500. Email us and we'll send you an information pack.
You can apply for this course in the following ways:
Apply online

to secure your place on this course now

Apply by post, email or fax
Terms and Conditions (important: please read before applying) .
Guidance Notes (important: please read before applying)
.
Venue & Travel Information (important: please read before applying)
.

Programmes including this module
This module can be studied as part of these programmes: