MSc in Evidence-Based Health Care
Key facts
Types
Oxford Qualification - Part-time
Professional Development

Start date
Oct 2014
Subject area(s)
Health

Fees
Click here for fee information.
Application status
Applications being accepted
Application deadline
Fri 09 May 2014
Course contact
If you have any questions about this course, please email cpdhealth@conted.ox.ac.uk or telephone +44 (0)1865 286941.
Overview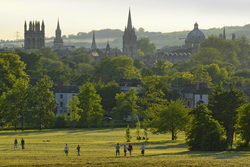 The MSc in Evidence-Based Health Care will position students to integrate the best available research evidence with their clinical expertise and patient values to make better informed decisions in their field of health care.
There are two admission deadlines for applicants who wish to be considered for entry in October 2014. These are Friday 24 January 2014 and Friday 9 May 2014.
Full scholarships available from the Oxford Academic Health Science Network.
Please click
here
to listen to a podcast about the MSc in Evidence-Based Health Care by the Course Director Dr Sharon Mickan.
Watch the following video for more information about the Programme and the student experience:
Description
This is a joint Programme between the Department of Primary Care Health Sciences and the Department for Continuing Education's Continuing Professional Development Centre. The Programme works in collaboration with the renowned Centre for Evidence-Based Medicine in Oxford.
This programme has teachers and contributors who are internationally recognised leaders in the field of evidence-based practice and teaching. The flexible structure of the course has been devised to fit with the structure of specialist training and to accommodate student choice.
Kristina is a current MSc in Evidence-Based Health Care student from Canada and she has said the following:
"It was really important to me to find a course which was flexible. I can take a week off from my clinical work, come to Oxford and spend the week studying, and the rest of the course is online. I feel very supported by the forums and I can stay in touch with my colleagues but at the same time I haven't had to put my clinical career or the rest of my life on hold to be able to do a Master's. "
Programme details
The MSc in Evidence-Based Health Care is a part-time course. There are two compulsory modules, four option modules and a dissertation.
Compulsory Modules
Option Modules (four must be chosen)
Selection criteria
There may be specific subject requirements for your course, so do check the selection criteria below. These will be used by the University in assessing your application.
Read full selection criteria
Course aims
The aim of the MSc programme is to help health professionals base their clinical and health management decisions on valid, reliable and relevant evidence, determined by sound scientific research and evaluation.
By the end of the Master's degree students will be expected to be able to:
Find and appraise quantitative and qualitative research evidence critically and efficiently and understand what the results mean in different contexts and for different healthcare decisions.
Integrate and synthesise different sorts of information, from diverse sources, when making both individual patient and health policy decisions in a wide range of situations.
Be familiar with key issues for evidence-based practice in their own professional area or specialty.
Work comfortably in situations of uncertainty and make sound judgements in the absence of definitive evidence.
Work comfortably in unpredictable situations and deal with complex issues systematically and creatively.
Have an understanding of ethical frameworks in health care and be able to apply ethical principles to practical issues.
Understand health care organisations, their management and the changing context in which they operate
Be pro-active in recognising the need for change and have the ability to manage change.
Understand how to work with colleagues to make informed decisions based on evidence and operate effectively in a variety of team roles.
Provide leadership for evidence-based practice and research.
Manage projects, people, time and change effectively and efficiently.
Present and communicate information about research evidence and evidence-based practice clearly in written, electronic and oral forms to a range of audiences.
Be able to produce a robust research protocol, for a variety of different types of research question, in a format that can be submitted as an application for research funding.
Be able to play a lead role in the conduct and presentation of research.
Have an understanding of the ethical issues in health research and research governance.
Routinely use the principles of reflective practice.
Assessment methods
Assessment for each module will be based on a written assignment, which shall not be of more than 4,000 words. Students for the MSc will also be required to complete a dissertation on a topic chosen in consultation with a supervisor and the Course Director. The dissertation should not normally exceed 15,000 words.
To complete the MSc students must:
Attend and complete the 2 compulsory modules and 4 option modules
Complete a dissertation on a topic chosen in consultation with a supervisor and the Course Director. The dissertation should normally not exceed 15,000 words.
Attend a viva voce examination at the end of the course of studies at the discretion of the examiners
IT requirements
This course uses the Department's online assignment submission system. In order to prepare and submit your course assignments you will need access to the Internet and a computer meeting our recommended
minimum computer specification
. Students of this course may use the student computing facilities provided in Departmental buildings.
Level and demands
To be eligible for the course you should:
be a graduate or have successfully completed a professional training course
have at least two years' professional work experience in the health service or a health-related field
identify a work based problem for which you will be seeking evidence
be able to combine intensive classroom learning with the application of the principles and practices of evidence-based health care within the work place
have a good working knowledge of email, internet, word processing and Windows applications (for communications with course members, course team and administration)
show evidence of the ability to commit time to study and an employer's commitment to make time available to study, complete course work and attend course and university events and modules.
Accommodation
Accommodation is available at the Rewley House Residential Centre, within the Department for Continuing Education, in central Oxford. The comfortable, en-suite, study-bedrooms are rated 3-star, and come with free high-speed internet access and TV. Guests can take advantage of the excellent dining facilities and common room bar, where they may relax and network with others on the programme.
Payment
Fee rates for the academic year 2014-15
These rates (in pounds sterling) are for the academic year 2014-15 and will increase annually.
Annual award fee
The annual award fee is due for every academic year (or part-year) attended; module or dissertation fees are due in advance as invoiced. Fees must be paid in accordance with the Terms and Conditions for the programme.

Illustration for full programme (completing in three years, with six taught modules and a dissertation)

3 annual award fees:

£4,140 for Home/EU students or
£17,050 for Overseas students (see note 1)

plus 6 module fees: £10,320
plus dissertation fee: £5,400
Total:

£19,860 for Home/EU students or
£32,770 for Overseas students (see note 1)

Module fee: £1,640 (per taught module)
Notes

The fee rates listed are for the academic year shown, and you should be aware that these rates will increase annually.
See the Oxford University website for Home/EU and Overseas classification of students for fees purposes.
The Illustration is based on the fee rates for the academic year shown; however, fee rates for attendance in future years will increase, so students attending for more than one year should expect the total to be higher than is shown in the Illustration. The exact amount will depend on the fee rates set annually, and upon the years you are in attendance; these are normally published well before the start of each academic year, but for your own budgetary purposes you may wish to estimate a 5% annual increase on fee rates.
MSc students are matriculated and are full members of the Collegiate University; college fees are included within the MSc programme fees and are paid to the colleges on a student's behalf.
Funding: Overseas students applying for the MSc in Evidence-Based Health Care are eligible to apply for a Clarendon Fund Scholarship.
Modules in this programme
The following modules can be studied as part of this programme:
Bioinformatics (1)
Health Sciences (14)
Apply for this course
Applications for this course should be made via the University of Oxford Graduate Admissions website. This website includes further information about this course and a guide to applying.
Early application for the programme is advised. Applications which have not been fully completed before the application deadline cannot be considered, so please ensure any applications are received by us in good time so that we may advise of missing or incorrectly completed elements. Shortlisted applicants will be invited to telephone interview, and asked to provide evidence of their funding for the programme.
For further information on applying, please refer to the Application Guide. Please read our Terms and Conditions before submitting your application. If you would like to discuss your application or any part of the application process before applying please contact:
Jane McCaffrey (Programme Manager)
Tel: +44 (0)1865 286947 - Email: cpdhealth@conted.ox.ac.uk

Contractual and financial information (important: please read before applying)
.
Payment methods (important: please read before applying)
.