Introduction to Statistics for Health Care Research
Key facts
Types
Online and Distance Learning
Professional Development
Short Courses

Location
Oxford
Dates
Mon 19 May to Fri 25 Jul 2014
Subject area(s)
Health
Statistics

CATS points
20
Fees
From £1575.00
Application status
Applications being accepted
Course code
O13C202B9Y
Course contact
If you have any questions about this course, please email cpdhealth@conted.ox.ac.uk or telephone +44 (0) 1865 286941.
Overview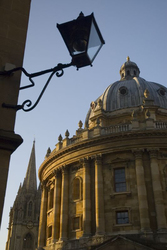 This ten week online statistics module is designed for health and social care professionals who want to understand the basics of analysis methods commonly used in medical research, in order to understand published research and to participate in more specialised courses. Students will learn to use and interpret basic statistical methods using SPSS, with reference to cohort studies, case control studies and randomized controlled trials. Online discussion forums enable communication between students and the tutor to provide support and to interpret and understand real-life scenarios.
The last date for receipt of complete applications is Friday 2nd May 2014. Regrettably, late applications cannot be accepted.
Description
The overall aims of this module are to enable students to:
Understand and manipulate basic mathematical and statistical techniques as preparation for more specialized courses in health care;
Understand the statistical issues in the planning and analysis of research;
Understand the basic statistical aspects of published research;
Apply statistical analysis to cohort studies, case control studies and randomized controlled trials.
Core Reading
Altman, D. G., 1991 Practical Statistics for Medical Research, London, Chapman & Hall
Kirkwood, B. R. and Sterne, J. A. C., 2003 (2nd edn) Essential Medical Statistics. Oxford, Blackwell Publishing
This module will cover:
This course is divided into 10 units. Each unit covers a different aspect of statistics and statistical modelling.
Individual units are built around practical exercises and realistic case studies that will enable students to apply statistical knowledge in a health context.
Weekly study for each unit is self-paced using online resources. Movement through the units is structured week by week to enable students to complete sections at the same time as the rest of their course group.
Individual activities can involve reading of related text book chapters and articles, working through problems or analysing example datasets. The group activities will mainly involve online discussions of important issues in statistics so that students can put the application of statistics into an everyday context. Discussions occur weekly, but are "asynchronous" due to possible local time differences between the student's locations.
Programme details
Unit Content:
The use and importance of statistics
Handling and describing data, learning to use SPSS
Analysis of numerical results
Confidence intervals
Comparison of two means
Hypothesis testing
Analysis of variance
Linear regression and correlation
Analysing binary outcomes
Comparing two proportions
Staff
Dr Susan Mallett
Role: Module Coordinator
Assessment methods
Each unit includes a data analysis exercise to consolidate understanding
The assessment consists of statistical problems in health research designed to give insight into real statistical problems in healthcare and to test ability to apply and understand correct statistical analysis.
Scholarships
Details of funding opportunities, including grants, bursaries, loans, scholarships and benefit information are available on our financial assistance page.
Fee options
Programme Fee

Students enrolled on MSc in Evidence-Based Health Care: £1575.00

Students enrolled on Postgraduate Cert in Health Research: £1575.00

Students enrolled on Postgraduate Dip in Health Research: £1575.00

Short course in health sciences: £1890.00

Apply for this course
Admissions Criteria:
To apply for the course you should:

be a graduate or have successfully completed a professional training course
have at least two years' professional work experience in the health service or a health-related field
identify a work based problem for which you will be seeking evidence
be able to combine intensive classroom learning with the application of the principles and practices of evidence-based health care within the work place
have a good working knowledge of email, internet, word processing and Windows applications (for communications with course members, course team and administration)
show evidence of the ability to commit time to study and an employer's commitment to make time available to study, complete course work and attend course and university events and modules.
You can apply for this course in the following ways:
Apply by post, email or fax

Download a PDF application form .


MSc Terms and Conditions (important: please read before applying)
.
Stand Alone Terms and Conditions (important: please read before applying)
.

Programmes including this module
This module can be studied as part of these programmes: