Key facts
Types
Professional Development
Short Courses

Location
Oxford
Address
Rewley House
Wellington Square OX1 2JA map
Dates
Mon 7 to Fri 11 Apr 2014
Subject area(s)
Health

CATS points
20
Fees
From £1575.00
Application status
Applications being accepted
Course code
O13C180B9J
Course contact
If you have any questions about this course, please email cpdhealth@conted.ox.ac.uk or telephone +44 (0) 1865 286941.
Overview
The aim of this module is to develop students' core knowledge and skills in applied clinical epidemiology through exploring how research evidence can be used to inform practice and how epidemiological information can be applied to both individual patient and health policy decisions. The module will be led by Dr Amanda Burls who is a Senior Clinical Research Fellow of the Centre for Evidence-Based Medicine, at the University of Oxford.
Description
This module will cover:
Grading Evidence
By the end of this section students will be able to:
assess the overall quality of a research paper or report concerned with:

defining the magnitude of a health problem
evaluating the effect of a health intervention
causal inference (including the Bradford-Hill criteria)

understand strategies for handling and adjusting for bias (selection, measurement and confounding)
distinguish which of the methodological flaws in any paper are the most important and their implications for decision making
Decisions and Recommendations
By the end of this section students will be able to:
understand the other factors that influence decisions, such as quality of life, patients' values, ethical issues, and economics.
understand how to integrate research in the clinical context to inform individual patient decisions taking into account the different risks, contexts and values of patients
assess the reliability, validity and efficacy of a diagnostic test and how results should be interpreted in the context of the individual patient
appraise and use decision analytic models and health technology assessments
evaluate screening tests and consider their use in different populations
consider the benefits and limitations of guidelines
discuss the steps required in guideline development
critically appraise a guideline
consider the role of decision support systems in the implementation of guidelines
Staff
Dr Amanda Burls
Role: Module Coordinator
Assessment methods
Assessment will be based on submission of a written assignment which should not exceed 4,000 words.
Accommodation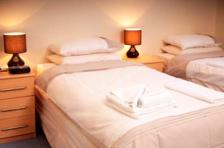 Accommodation is available at the Rewley House Residential Centre, within the Department for Continuing Education, in central Oxford. The comfortable, en-suite, study-bedrooms are rated 3-star, and come with free high-speed internet access and TV. Guests can take advantage of the excellent dining facilities and common room bar, where they may relax and network with others on the programme.
Scholarships
Details of funding opportunities, including grants, bursaries, loans, scholarships and benefit information are available on our financial assistance page.
Fee options
Programme Fee

Students enrolled on MSc in Evidence-Based Health Care: £1575.00

Students enrolled on Postgraduate Cert in Health Research: £1575.00

Students enrolled on Postgraduate Dip in Health Research: £1575.00

Short course in health sciences: £1890.00

Apply for this course
You can apply for this course in the following ways:
Apply by post, email or fax

Download a PDF application form .


MSc Terms and Conditions (important: please read before applying)
.
Stand Alone Terms and Conditions (important: please read before applying)
.

Programmes including this module
This module can be studied as part of these programmes: