Pharmacodynamics, Biomarkers and Personalised Therapy
Key facts
Types
Oxford Qualification - Part-time
Professional Development
Short Courses

Location
Oxford
Dates
Mon 2 to Fri 6 Mar 2015
Subject area(s)
Health

CATS points
20
Fees
From £1640.00
Application status
Applications being accepted
Course code
O14C252B9Y
Course contact
If you have any questions about this course, please email expther@conted.ox.ac.uk or telephone +44(0)1865 286955.
Overview
The Pharmacodynamics, Biomarkers and Personalised Therapy course is a one-week module of the MSc in Experimental Therapeutics. Offered by the Department of Oncology and the Department for Continuing Education's CPD Centre, the week will be led by Dr Elaine Johnstone, Senior Research Fellow at the University of Oxford, and will feature face-to-face lectures and tutorials from some of Oxford's leading clinicians and scientists, as well as a practical visit to one of Oxford's research laboratories.
The module can be taken as a stand-alone short course. It includes group work, discussions, guest lectures, and interaction and feedback with tutors and lecturers.
Please send me an email about future Pharmacodynamics, Biomarkers and Personalised Therapy courses.
Description
The pharmacodynamic process of drug therapy provides the link between the pharmacokinetic profile and the therapeutic effect of a drug. It encompasses how the drug produces the required pharmacological effect by identifying how the drug is acting, how we can measure that effect and whether there is a dose response. Furthermore it helps us understand how the pharmacological effect is translated into therapeutic effect and identify modifiers of the therapeutic effects in populations.
This module will provide students with the opportunity to learn more about and discuss the following topics:
Receptor pharmacology and how drugs act
The dose-response curve— different models
The relationship between pharmacokinetics and pharmacodynamics
Pharmacokinetic-pharmacodynamic (PK:PD) modelling
Monitoring pharmacodynamics in novel therapeutics
Biomarkers: application and utility in clinical trials and biobanks
Population genetics and pharmacogenetics of drug therapy
Includes a laboratory session on biomarker analysis in patient samples
Programme details
This course can be taken:
Venue
This course will be held at the Department for Continuing Education, Rewley House, Oxford. There will also be a practical visit to one of Oxford's research laboratories.
Staff
Dr Elaine Johnstone

Role: Module Coordinator
Dr Elaine Johnstone is the Deputy Course Director and Research Fellow in the Department of Oncology. Following a BSc in Medicinal Chemistry and
...more
Course aims
The course has been designed to:
introduce the concept of pharmacodynamics and how it can be incorporated into modern clinical trial design to improve selection of drug dose and schedule
enable students to understand how drugs act and how the pharmacodynamic effect is translated into a therapeutic effect
equip students with knowledge of how to monitor pharmacodynamics and critically appraise use of biomarkers and surrogate endpoints
enable students to understand and apply pharmacokinetic-pharmacodynamic modelling in early phase trials and dissect population variability in drug response
Assessment methods
Assessment will be based on submission of a set written assignment, not exceeding 4,000 words.
Academic credit
Those wishing to may apply to take the course with accreditation. The University of Oxford Department for Continuing Education offers Credit Accumulation and Transfer Scheme (CATS) points for the course. Participants attending at least 75% of the taught course and successfully completing assessed assignments are eligible to earn credit equivalent to 20 CATS-equivalent points which may be counted towards a postgraduate qualification.
Those who do not wish to undertake the assessed work required for academic credit will receive a certificate of attendance at the end of the course.
Level and demands
This course is aimed at qualified doctors, especially specialist registrars in clinical pharmacology or in training for other medical sub-specialities; clinical research fellows in other specialities; pharmacists; nurses; graduates working in the pharmaceutical industry or in academic clinical trials.
Teaching methods
The course will be taught by a range of scientists leading these areas of research, and there will be significant time programmed to discuss the scientific and sometimes ethical issues raised by this area of medical research. It will include group work, discussions, guest lectures, and interaction and feedback with tutors and lecturers, as well as a practical visit.
A virtual learning environment (VLE) and access to some of the University of Oxford's online resources will provide support for those taking the course for credit.
Accommodation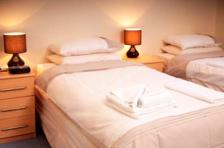 Accommodation is available at the Rewley House Residential Centre, within the Department for Continuing Education, in central Oxford. The comfortable, en-suite, study-bedrooms are rated 3-star, and come with free high-speed internet access and TV. Guests can take advantage of the excellent dining facilities and common room bar, where they may relax and network with others on the programme.
Payment
The course fee includes tuition, course materials, refreshments and a three course lunch on each day of the course.
Please see the MSc in Experimental Therapeutics page for more information regarding module fees when taking this course as a part of the MSc Programme.
Scholarships
Details of funding opportunities, including grants, bursaries, loans, scholarships and benefit information are available on our financial assistance page.
Fee options
Programme Fee

For students enrolled on the MSc: £1640.00

For stand-alone students: £1890.00

Apply for this course
Admissions criteria
To apply for our short courses you should:
be a graduate or have successfully completed a professional training course
have experience in a health-related field
demonstrate a suitable level of English (if this is not your first language).
How to apply
If you would like to apply for the MSc in Experimental Therapeutics please visit the application page.
To apply for this module as a short course please use the documents below.
Places on the course are limited, so early application is strongly recommended. Completed applications must have been received fourteen days before the course starts.
Your application can only be fully considered when an application form is supplied complete with payment or purchase order number


Please note no payments are processed until a student has been accepted onto the course


Your application will require a copy of your CV, and if you wish to take the course for credit, a reference.
Once we have received your completed application it will be considered by the admissions panel.
If your chosen course is full it is possible to submit a completed application form which, if successful, will be added to the waiting list. You will then be given the opportunity to attend should a place become available.
Contact
If you would like to discuss your application or any part of the application process before applying please contact:
Sarah Kelly (Administrative Assistant)
Tel: +44 (0)1865 286955 - Email: expther@conted.ox.ac.uk
You can apply for this course in the following ways:
Apply by post, email or fax
Short Course Terms & Conditions (important: please read before applying)
.

Programmes including this module
This module can be studied as part of these programmes: