Qualitative Research Methods
Key facts
Types
Professional Development
Short Courses

Location
Oxford
Address
Ewert House
Ewert Place
Sumertown
Oxford
Oxfordshire
OX2 7DD. Map
Dates
Mon 23 to Fri 27 Jun 2014
Subject area(s)
Health

CATS points
20
Fees
From £1575.00
Application status
Applications being accepted
Course code
O13C199B9J
Course contact
If you have any questions about this course, please email cpdhealth@conted.ox.ac.uk or telephone +44 (0) 1865 286941.
Overview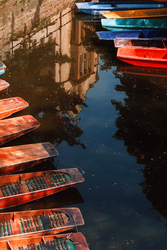 This module will provide an overview of the principles and practice of qualitative research. Students will explore how people make sense of their lives, and recognise ways in which qualitative research bridges the gap between scientific evidence and clinical practice by examining the attitudes, beliefs, and preferences of both patients and practitioners. Participants will learn to collect data using observation, interview and focus groups and become familiar with the techniques of thematic qualitative data analysis.
The last date for receipt of complete applications is Friday 6th June 2014. Regrettably, late applications cannot be accepted.
Description
The overall aims of this module are to enable students to:
Use qualitative research in evidence based practice;
Understand commonly used qualitative methodologies in health care;
Understand the ways in which qualitative and quantitative approaches can be combined;
Discuss the issues involved in systematic review and synthesis of qualitative research;
Describe steps to design, data collection and analysis for a qualitative project;
Use qualitative methods, including observation, interviews and focus groups;
Conduct thematic qualitative data analysis;
Write up qualitative research results.
Core Reading
Ziebland, S., Coulter, A., Calabrese, J. and Locock, L.(Editors). (2013) Understanding and Using Health Experiences. Improving patient care. Oxford: OUP.
Staff
Dr Jenny Hislop
Role: Module Coordinator
Assessment methods
Submission of an assignment of up to 4,000 words in which the participant describes an issue that they have investigated using a qualitative approach.
Scholarships
Details of funding opportunities, including grants, bursaries, loans, scholarships and benefit information are available on our financial assistance page.
Fee options
Programme Fee

Students enrolled on MSc in Evidence-Based Health Care: £1575.00

Students enrolled on Postgraduate Cert in Health Research: £1575.00

Students enrolled on Postgraduate Dip in Health Research: £1575.00

Short course in health sciences: £1890.00

Apply for this course
Admissions Criteria:
To apply for the course you should:

be a graduate or have successfully completed a professional training course
have at least two years' professional work experience in the health service or a health-related field
identify a work based problem for which you will be seeking evidence
be able to combine intensive classroom learning with the application of the principles and practices of evidence-based health care within the work place
have a good working knowledge of email, internet, word processing and Windows applications (for communications with course members, course team and administration)
show evidence of the ability to commit time to study and an employer's commitment to make time available to study, complete course work and attend course and university events and modules.
You can apply for this course in the following ways:
Apply by post, email or fax

Download a PDF application form .


MSc Terms and Conditions (important: please read before applying)
.
Stand Alone Terms and Conditions (important: please read before applying)
.

Programmes including this module
This module can be studied as part of these programmes: