Postgraduate Diploma in Health Research
Key facts
Types
Oxford Qualification - Part-time
Professional Development

Dates
Sun 12 Oct 2014 to Fri 29 Sep 2017
Subject area(s)
Health
Statistics

Application status
Applications being accepted
Application deadline
Thu 31 July 2014
Course contact
If you have any questions about this course, please email cpdhealth@conted.ox.ac.uk.
Overview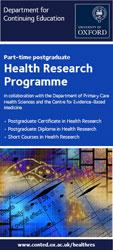 The Postgraduate Diploma is normally completed between 1 - 3 years. Applications for admission in October 2014 will be accepted after 1st September 2013
It consists of two compulsory modules and four option modules selected from an extensive list of subjects. This provides the students with an opportunity to learn how the principles of health research can be translated into practical actions in selected areas.
Students who transfer to this programme of study from the Postgraduate Certificate in Health Research, with three successfully completed modules, are required to undertake three additional option modules to fulfil the requirements of the Postgraduate Diploma.
Description
These are modular part-time programmes, particularly suitable for academically gifted medical and dental trainees with the potential to be the independent researchers of the future.
Programme details
The programmes are delivered through the Department for Continuing Education, with the expertise in curriculum design and teaching drawn from the Department of Primary Care Health Sciences, the Centre for Evidence-Based Medicine, the Clinical Academic Graduate School and the Department of Statistics.
The two compulsory modules are:
Three further modules may be chosen from List B
One further module either from List B or List C
List B
List C
Selection criteria
There may be specific subject requirements for your course, so do check the selection criteria below. These will be used by the University in assessing your application.
Read full selection criteria
Course aims
In addition to the skills acquired during the Postgraduate Certificate in Health Research graduates of the Diploma will be able to:
demonstrate an ability to apply health research techniques appropriately for the solution of research questions;
be able to apply health research solutions in a novel manner when analysing health research problems.
Assessment methods
To complete the Postgraduate Diploma students must:
attend six modules, as detailed above
successfully complete six written assignments, usually of no more than 4000 words, one on each of the chosen modules
IT requirements
This course uses the Department's online assignment submission system. In order to prepare and submit your course assignments you will need access to the Internet and a computer meeting our recommended
minimum computer specification
. Students of this course may use the student computing facilities provided in Departmental buildings.
Teaching methods
With the exception of the online modules, the EBHC modules are based on an eight week study cycle. During Week Two you are required to attend the face to face teaching week in Oxford. This is followed by an additional six weeks where you are expected to participate in online activities and submit your assignment.
Payment
Fee rates for the academic year 2014-15
These rates (in pounds sterling) are for the academic year 2014/15 and will increase annually.
Annual award fee:
£1,310 for Home/EU students or
£5,410 for Overseas students (see note 1)
Module fee: £1,640 (per taught module)
The annual award fee is due for every academic year (or part-year) attended; module fees are due in advance as invoiced. Fees must be paid in accordance with the Terms and Conditions for the programme.
Illustration for full programme (completing in two years, with six taught modules)
(see note 2)
2 annual award fees:
£2,690 for Home/EU students or
£11,090 for Overseas students (see note 1)
plus 6 module fees: £10,080
Total:
£12,770 for Home/EU students or
£21,170 for Overseas students (see note 1)
Notes

See the Oxford University website for Home/EU and Overseas classification of students for fees purposes.
The Illustration is based on the fee rates for the academic year shown; however, fee rates for attendance in future years will increase, so students attending for more than one year should expect the total to be higher than is shown in the Illustration. The exact amount will depend on the fee rates set annually, and upon the years you are in attendance; these are normally published well before the start of each academic year, but for your own budgetary purposes you may wish to estimate a 5% annual increase on fee rates.
Scholarships
Details of funding opportunities, including grants, bursaries, loans, scholarships and benefit information are available on our financial assistance page.
Modules in this programme
The following modules can be studied as part of this programme:
Bioinformatics (1)
Health Sciences (21)
Apply for this course
How to apply
Applications for this course should be made via the University of Oxford Graduate Admissions website. This website includes further information about this course and a guide to applying.
For those on the Oxford University Clinical Academic Graduate School Advanced Clinical Fellowship Programme, please ensure that you have registered with OUCAGS before you apply.
Contact us
If you would like to discuss your application or any part of the application process before applying please contact cpdhealth@conted.ox.ac.uk
Contractual and financial information (important: please read before applying)
.
(important: please read before applying)
.
Payment Methods (important: please read before applying)
.