Teaching Evidence-Based Practice
Key facts
Types
Professional Development
Short Courses

Location
Oxford
Address
Rewley House
1 Wellington Square
Oxford
Oxfordshire
OX1 2JA. Map
Dates
Mon 10 to Fri 14 Nov 2014
Subject area(s)
Health

CATS points
20
Fees
From £1640.00
Application status
Applications being accepted
Course code
O14C206B9Y
Course contact
If you have any questions about this course, please email cpdhealth@conted.ox.ac.uk or telephone +44 (0) 1865 286941.
Overview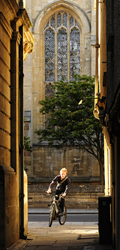 This module is designed for all health care professionals, who have knowledge of critical appraisal and experience in practicing evidence-based health care, and who want to explore issues around teaching. Students will learn in small groups and be facilitated to practice and develop their skills in teaching evidence-based practice. Participants will also learn educational strategies to develop a curriculum and design evaluation.
The last date for receipt of complete applications is 5pm Friday 24th October 2014. Regrettably, late applications cannot be accepted.
Description
By the end of this module students will:
Formulate clear answerable questions and teach on this subject
Understand search strategies and be familiar with different resources
Critically appraise a range of study types
Teach an aspect of critical appraisal effectively and with confidence
Understand the elements of systematic reviews
Understand the implications of qualitative research methods and its impact in terms of applying the evidence
Understand the range of study designs and appraisals techniques required to teach evidence-based health care
Teach an aspect of biostatistics in health care
Understand the components of an effective curriculum for evidence-based practice
Teaching will be addressed through the exploration of different educational models for teaching evidence-based practice and identification and discussion of issues of pedagogy, curriculum design development and maintenance. The aim will be to promote the teaching of evidence-based health care at your home institution
Personal Development will be addressed by offering guidance and help in extending and advancing participants' existing critical appraisal and teaching skills.
The TEBP sessions advocate small group learning
Core Reading
Sackett, D.L. et al. (2000). Evidence-Based Medicine: How to Practice and Teach EBM. Churchill Livingstone.
Heneghan, C. and Badenoch, D. (2006) Evidence-Based Medicine Toolkit, 2nd Ed. WileyBlackwell.
Goldacre, B. (2009) Bad Science. HarperPerennial.
Staff
Prof Carl Heneghan
Role: Module Coordinator
Carl Heneghan
is the Director of all award bearing courses within the Postgraduate Programme in
...more
Assessment methods
Assessment will be based on submission of a written assignment which should not exceed 4,000 words.
Scholarships
Details of funding opportunities, including grants, bursaries, loans, scholarships and benefit information are available on our financial assistance page.
Fee options
Programme Fee

Students enrolled on MSc in Evidence-Based Health Care: £1640.00

Students enrolled on Postgraduate Dip in Health Research: £1640.00

Short course in health sciences: £1970.00

Apply for this course
Admissions Criteria:
To apply for the course you should:

be a graduate or have successfully completed a professional training course
have at least two years' professional work experience in the health service or a health-related field
identify a work based problem for which you will be seeking evidence
be able to combine intensive classroom learning with the application of the principles and practices of evidence-based health care within the work place
have a good working knowledge of email, internet, word processing and Windows applications (for communications with course members, course team and administration)
show evidence of the ability to commit time to study and an employer's commitment to make time available to study, complete course work and attend course and university events and modules.
You can apply for this course in the following ways:
Apply by post, email or fax
MSc Terms and Conditions (important: please read before applying)
.
Stand Alone Terms and Conditions (important: please read before applying)
.

Programmes including this module
This module can be studied as part of these programmes: