Surgical Technology and Robotics
Key facts
Types
Professional Development
Short Courses

Location
Oxford
Address
Rewley House
1 Wellington Square
Oxford
Oxfordshire
OX1 2JA. Map
Dates
Mon 3 to Fri 7 Feb 2014
Subject area(s)
Health

CATS points
20
Fees
From £1575.00
Application status
Applications being accepted
Course code
O13C296B9Y
Course contact
If you have any questions about this course, please email ssp@conted.ox.ac.uk or telephone +44(0)1865 286954.
Overview
The Surgical Technology and Robotics course provides a systematic overview of the use, potential benefits and dangers of technology in modern surgery. It gives an exceptional opportunity for an introduction, with hands-on experience, to leading edge modern surgical technology such as the Da Vinci Robotic Surgical Platform.
Offered by Nuffield Department of Surgical Sciences and the Department for Continuing Education's CPD Centre, the taught week features face-to-face didactic lectures, interactive tutorials, individual mentoring sessions and dedicated time on surgical simulators. There is a one-day visit to a hospital site outside of Oxford.
The course is a one-week module from the Surgical Science and Practice programme. It can be taken as a stand-alone short course or as part of the MSc in Surgical Science and Practice.
Please send me an email about future Surgical Technology and Robotics courses.
Follow @OxfordSSP on Twitter.
Description
Only 1 place now remaining - apply now to secure your place.
We have put together an exciting and stimulating programme which attendees will find interesting, challenging and most importantly beneficial to their future careers. The Surgical Technology and Robotics course will cover aspects of:
The development and evaluation of new surgical technology
Radiology
I.T.
Surgical Simulators
Novel Surgical Technologies
The course begins with the development and assessment of surgical technologies, radiology and information technology. A full day will then be devoted to robotic assisted surgery, featuring practical training on the robotic simulator. The final two days focus on laparoscopic simulation and novel surgical technologies.
Course highlights include the following lectures and tutorials:
How to set up a surgical trial
Development of surgical technologies
Da Vinci Skills Simulator Console training
Symbionix Laparoscopic Trainer training
The Robotic Eye
Preparation of a business case for the introduction of a new surgical technology
Radiological ablation of solid tumours
State of the art imaging
IT and computer decision support systems
Endoscopy/EUS/Endoluminal surgery
Advances in lower GI surgery
Neurosurgery & deep brain stimulation
High-Intensity Focused Ultrasound
Recent advancements in hearing restoration
Cutting, coagulation and stapling technology
Click here to see an example schedule for the course.
Class sizes are kept small to allow full interaction with tutors. Study before and after the course is supported by a rich virtual learning environment.
Staff
Mr Tom Leslie
Role: Tutor
Clinical Lecturer, Nuffield Department of Surgical Sciences, University of Oxford
After undergraduate and basic surgical training in
...more
Nilay Patel
Role: Tutor
Consultant Urological Surgeon, Oxford University Hospitals NHS Trust
Mr Nilay Patel graduated from Cambridge University School of
...more
Certification
Sample certificate
.
Short course participants who do not wish to undertake the assessed work required for academic credit but who do satisfy the course attendance requirements will receive a Certificate of Attendance. The pdf sample above is an illustration only, and the wording will reflect the course and dates attended.
Those successfully completing the couse for credit can apply to receive a CATS point transcript.
Assessment methods
Assessment will be based on multiple choice questions or structured short questions, online project working and practical tests.
Academic credit
Those wishing to may apply to take the course with accreditation. The University of Oxford Department for Continuing Education offers Credit Accumulation and Transfer Scheme (CATS) points for the course. Participants attending at least 70% of the taught course and successfully completing assessed assignments are eligible to earn credit equivalent to 20 CATS-equivalent points which may be counted towards a postgraduate qualification.
Accommodation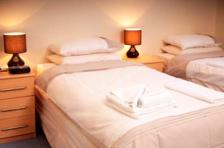 Accommodation is available at the Rewley House Residential Centre, within the Department for Continuing Education, in central Oxford. The comfortable, en-suite, study-bedrooms are rated 4-star, and come with free high-speed internet access and TV. Guests can take advantage of the excellent dining facilities and common room bar, where they may relax and network with others on the programme.
Payment
The course fee includes:
Tuition
Course materials
A day at one of Oxford's hospital sites to use the surgical simulator
Refreshments and a three course lunch on each day of the course
Access to the following University of Oxford libraries and services:

Radcliffe Science Library
Rewley House Continuing Education Library
Bodleian Libraries e-Resources

Access to facilities from the Department of Continuing Education, including:

The Graduate School
WebLearn virtual learning environment
Wi-fi access through Oxford Wireless LAN (OWL).
Before making your application for this short course, please ensure that you have read the terms and conditions which can be found towards the bottom of this page.
Please see the MSc in Surgical Science and Practice page for more information regarding module fees when taking this course as a part of the MSc Programme.
Fee options
Programme Fee

For students enrolled on the MSc: £1575.00

Stand-alone short course fee: £1890.00

Apply for this course
Final 1 place now remaining - apply now to secure your place.
How to apply
This course is part of the MSc in Surgical Science and Practice. If you would like to apply for the MSc in Surgical Science and Practice please visit the programme page.
To apply for a module as a short course please use the documents below.
Applications deadline: 20 January 2014
Places on the course are limited, so early application is strongly recommended. Your application will require a copy of your CV, and if you wish to take the course for credit, a reference. Once we have received your completed application it will be considered by the admissions panel.
If your chosen course is full it is possible to submit a completed application form which, if successful, will be added to the waiting list. You will then be given the opportunity to attend should a place become available.
Contact
If you would like to discuss your application or any part of the application process before applying please contact:
Tel: +44 (0)1865 286954 - Email: ssp@conted.ox.ac.uk
You can apply for this course in the following ways:
Apply by post, email or fax
Terms and conditions (important: please read before applying)
.

Programmes including this module
This module can be studied as part of these programmes: