Search results - Field Techniques for Surveying Vegetation (with credit)
Key facts
Types
Online and Distance Learning
Professional Development

Location
Online
Dates
Wed 19 Sep to Wed 24 Oct 2012
Subject area(s)
Ecology
Environmental Sciences

CATS points
10
Fees
From £675.00
Application status
Course ended
Course code
O12C063D2Y
Course contact
If you have any questions about this course, please email est@conted.ox.ac.uk or telephone 01865 286953.
Overview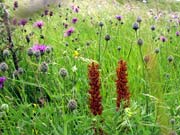 Thinking of applying? Explore materials or revisit our online open event. Any questions for the team? - we're happy to talk to you at any time. Contact the Course Director and Programme Manager:est@conted.ox.ac.uk.
Field techniques for surveying vegetation is a short, stand-alone training course which is taught entirely online. It can be taken from anywhere in the world and is international in its use of case studies. It will appeal to a variety of students and practitioners in conservation and management who want to improve their ability to conduct vegetation surveys.
This course can be taken with academic credit (assignment of up to 2,000 words) or without academic credit. This page relates to taking the course WITH CREDIT. If you would prefer to apply for the non-accredited course option, please click here.
Description
Each topic is covered via guided reading, online activities, and discussion forums. All the reading material is embedded into the course, but students additionally have access to the University's electronic resources and online journals, which they are expected to use for some of the activities. Participants are expected to study on, and contribute to, the course for around 10-15 hours per week. If the course is being taken for assessment, participants will need to complete an assessment. There is a suggested calendar of activity which students can use to assist them in completing the course within the allocated five week duration of the course.
Field Techniques for Surveying Vegetation is part of the new Postgraduate Certificate in Ecological Survey Techniques.
Minimum IT Requirements
Please note that this course is taken online; to participate in our online courses we recommended a minimum computer specification.
Programme details
The topics covered in the course are:
rationale for surveying vegetation;
choosing a vegetation survey technique;
structural methods of vegetation description;
floristic methods of vegetation sampling;
overview of quadrats and plotless sampling;
quantitative measures;
vegetation monitoring, permanent quadrats and vegetation mapping;
sampling strategy or protocol;
recording and storing data.
case study and exercise
To Sample the course
View a course sample. You will be asked to create a new account. When you have done this you will be given a list of all our online courses, select "Sample topic FTSV" to access a small part of the course.
Staff
Dr Jocelyne Hughes

Role: Director & Tutor
Biography
I am Programme Director in Ecological Survey Techniques. Since 1998, I have been a Departmental Lecturer in the Department
...more
Assessment methods
The University of Oxford Department for Continuing Education offers Credit Accumulation and Transfer Scheme (CATS) points for the course. Participants contributing to all the forums and successfully completing the assessment will obtain 10 CATS-equivalent points (FHEQ level 7) which may be counted towards a postgraduate qualification.
Students must engage with, and contribute to all the discussion forums via the course VLE
Students must submit a summative written assignment of up to 2,000 words. Students will have to formulate the research questions for a given scenario to do with vegetation description, management or decision making, and then provide the justification and detailed evaluation of their chosen vegetation survey protocol. Pass mark set at 50%. Work awarded 70% or over will qualify for a distinction.
Teaching methods
The course is taken entirely online, but is tutor-led by an experienced plant ecologist.
Scholarships
Details of funding opportunities, including grants, bursaries, loans, scholarships and benefit information are available on our financial assistance page.
Fee options
Programme Fee

Course Fee: £675.00

Apply for this course
If you have any questions about applying please email:est@conted.ox.ac.uk or phone: +44 (0)1865 286953.
To apply without academic credit
The application details below are for those wanting to apply with academic credit. If you would like to apply without academic credit please click here
To apply with academic credit
Please download an application pack and either email (est@conted.ox.ac.uk), fax or post it back to us. It is not possible to enrol online if you wish to take the course with academic credit. Please refer to the Terms and Conditions and Guidance Notes documents below.
Please ensure that your referee downloads, or is otherwise provided with, a copy of the application notes. (S)he may either use this form (email, fax or post to us), or simply email text (clearly indicating name of applicant, course applied for, course start date) direct to est@conted.ox.ac.uk.
The fees for taking the course with academic credit are:
Sorry, this course is not currently accepting applications. If you have any questions about this course, please use the course enquiry form.
Programmes including this module
This module can be studied as part of these programmes: