Search results - Advanced Cognitive Therapy Studies - Clinical Skills
Key facts
Types
Oxford Qualification - Part-time
Professional Development
Short Courses

Location
Oxford - Ewert House
Dates
Wed 5 Jun to Wed 11 Sep 2013
Subject area(s)
Health
Psychology and Counselling

Fees
Please see payment section for more information
Application status
Closed to new applications
Course code
O13C425B9Y
Course contact
If you have any questions about this course, please email octc@oxfordhealth.nhs.uk or telephone +44 (0)1865 738816.
Overview
The course offers experienced practitioners opportunities for continued professional development and growth, fostering competencies in a range of job roles.
Description
This course will focus on:
Developing basic skills in assessing formulating problems which are complex
Recent developments in anxiety disorders
Working with complex anxiety disorders
Recent developments in depressive disorders
Working with complex depressive disorders
In addition, students will attend two specialist workshops of their choice
Programme details
By the end of the course, students will be familiar with recent clinical developments in anxiety and depression and one or two other clinical areas of their choice. They will be familiar with clinical skills and knowledge necessary to work with patients whose problem presentations are complex by virtue of being chronic or co-morbid, or because the patient has a personality disorder.
Practice Log
To encourage self-reflection (the most effective learning method for experienced therapists), students are asked to keep a learning log, detailing training and supervision experience on the course and elsewhere, relevant client contact, and private study. This is to be maintained for the duration of the module for which the student is registered.
Staff
Dr Helen Kennerley

Role: Tutor
Helen Kennerley, D.Phil, is a Consultant Clinical Psychologist and a founder member of the Oxford Cognitive Therapy Centre, where she is the
...more
Course aims
The aim of this course is to provide students with the clinical knowledge and skills to practice cognitive behavioural therapy with patients with complex problems.
Assessment methods
Those taking the course for credit will have the opportunity to complete the assignment to gain 15 CATS points.
Students will submit a video-recording of their clinical practice with a patient with complex psychological problems. This will be accompanied by a 4,000 word (maximum) case report of the patient's treatment and progress. The case report will also be a self-reflective critique of the student's own practice and will show their ability to use theoretical and empirical literature to inform clinical practice.
Teaching methods
This will consist of:
Interactive workshops
Didactic Presentations
Video Presentations
Discussions
Clinical Role Play
Teaching outcomes
By the end of the course, students will be expected to:
Demonstrate knowledge of the recent developments in clinical work with anxiety and depressive disorders, and additional advanced skills and knowledge in an elective clinical area
Demonstrate knowledge of the recent developments in clinical work with patients with complex presentations
Show an ability to link theory and clinical practice
Display satisfactory skills in carrying out CBT practice with a patient with a complex problem(s)
Show an ability to carry out self-reflective practice
Accommodation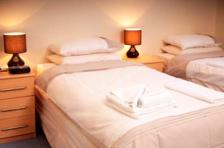 Accommodation is available at the Rewley House Residential Centre, within the Department for Continuing Education, in central Oxford. The comfortable, en-suite, study-bedrooms are rated 3-star, and come with free high-speed internet access and TV. Guests can take advantage of the excellent dining facilities and common room bar, where they may relax and network with others on the programme.
Payment
Successful applicants are awarded a bursary of 10% towards their course. The actual fees payable are shown in brackets.
The fees for 2013/14 are:
Clinical module £995 (£895)
Scholarships
Details of funding opportunities, including grants, bursaries, loans, scholarships and benefit information are available on our financial assistance page.
Apply for this course
Application deadline: 29th April 2013
All applications must be supported with a CV, one letter of reference, a statement of purpose, and payment or authorised payment in full for the module
Completed applications should be sent to:
Advance Cognitive Therapy Studies Programme
Oxford Cognitive Therapy Centre
The Warneford Hospital
Oxford
OX3 7JX
UK
The ACTS Modules General Information
Students can apply for several modules at one time. Each module is a stand-alone credit bearing course. Each module is examined and carries University of Oxford CATS points. Students are permitted to re-submit a piece of examined course work once only.
Teaching for the ACTS modules 2013-14 is generally organised in blocks of three or four days.
Stand alone students wishing to apply to the Postgraduate Diploma in Advanced Cognitive Therapy Studies should discuss application with the Course Director as soon as possible
Sorry, this course is not currently accepting applications. If you have any questions about this course, please use the course enquiry form.
Programmes including this module
This module can be studied as part of these programmes: