MSc in Mathematical Finance
Key facts
Types
Oxford Qualification - Part-time
Professional Development

Subject area(s)
Mathematics

Fees
Please click here for fee details.
Application status
See course details
Course contact
If you have any questions about this course, please email mathfin@maths.ox.ac.uk.
Overview
The part-time
MSc in Mathematical Finance
is aimed at students with several years' professional work experience in a financial institution and is structured to be accessible to those in full-time employment in the Uk and overseas. The Programme covers the most important technical and quantitative aspects of finance in regular use in financial institutions, from fundamental concepts through to the latest developments, and enables students to develop their understanding of the practical applications of mathematics in finance and to gain knowledge of advanced numerical and modelling techniques.
Accommodation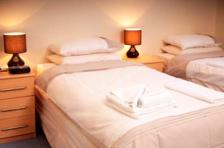 Accommodation is available at the Rewley House Residential Centre, within the Department for Continuing Education, in central Oxford. The comfortable, en-suite, study-bedrooms are rated 3-star, and come with free high-speed internet access and TV. Guests can take advantage of the excellent dining facilities and common room bar, where they may relax and network with others on the programme.
Scholarships
Details of funding opportunities, including grants, bursaries, loans, scholarships and benefit information are available on our financial assistance page.