Microwave Planning and Design Masterclass
Key facts
Types
Professional Development
Short Courses

Location
Oxford
Dates
Wed 2 to Fri 4 Jul 2014
Subject area(s)
Electronic Engineering

Fees
From £1295.00
Application status
Applications being accepted
Course code
O13C746H6Y
Course contact
If you have any questions about this course, please email electronics@conted.ox.ac.uk or telephone +44(0)1865 28958.
Enrol online now!
to secure your place on this course now
Overview
Microwave radio is a key technology required for backhauling next generation networks such as LTE and WiMax yet system design methods are often outdated, with the design rules adapted from the old analogue systems, without understanding the impact on deployment costs or performance degradation.
This course will bring you up to date on the latest standards and design methodologies using real-world examples, in real networks, by someone who understands both the management and engineering constraints.
----------------------------------------------------------
What people say about the course...
Very informative and insightful, valuable anecdotes and principles. This will be very relevant to my design role as an engineer
- Mark Chatterton, Senior Engineer, Thales Research & Technology
Good practical examples, well presented
- Brian Stothard, Principal Engineer, MBDA UK Ltd
A very good insight into microwave radio principles
- John Pitcairn, Senior Engineer, Arqiva
----------------------------------------------------------------
All delegates will receive a copy of the latest edition of Trevor Manning's book "Microwave Radio Transmission Design Guide" (Artech House).
Please send me details about future Microwave Planning and Design Masterclass courses.
Programme details
Day 1
Introduction to Microwave
History of wireless telecoms and wireless standards.
Fundamentals of microwave.
The electromagnetic and RF spectrum.
RF transmission safety issues.
Transmission Options (cable, fibre, satellite, wireless (PP, PMP, unlicensed)).
Benefits of microwave especially for cellular backhaul .
Link Planning
Link design considerations from UHF to mm Wave.
Path planning and path profiles.
Active and Passive repeaters.
Issues around site acquisition and site planning.
Frequency bands and their effect on link plans.
Establishing line of sight in practise.
Site and path surveys.
Microwave propagation and fading effects
The affect of the atmosphere on radio transmission.
Huygens principle and Fresnel Zones.
Diffraction loss and clearance over obstacles.
Research data on refraction effects in a network and its impact on radio system design.
Radio refractivity and refractive index gradient.
Understanding what k-factor really means.
Understanding the effects of reflection and how to minimise their impact.
Fading Effects
Diffraction fading and setting antenna heights using new rules.
Multipath fading.
Flat and selective fading and their countermeasures.
Blackout fading and ducting.
Handling reflections especially over water.
Rain fading.
Day 2
Antennas
Microwave Antennas and what a high performance antenna really is.
Antenna characteristics and types.
Defining the near field and its effect on antenna gain.
Practical advice for planning, installing and maintaining antennas.
Cabling and waveguides.
Grounding rules for protecting against lightning.
Frequency and Channel planning
Causes of interference.
Spectrum allocation and channel plans.
Standards bodies and frequency regulation.
Understanding nodal and overshoot interference.
High-low site planning.
How to improve your network performance through understanding frequency planning issues.
Equipment Characteristics
Transmitter and receiver characteristics.
System components of a radio transceiver.
Digital Modulation schemes and bandwidth efficiency.
Multiplexing standards including PDH, SDH and synchronisation issues.
How voice is carried on a digital radio link.
Important Ethernet considerations in a modern radio.
Radio characteristics to handle the backhaul bandwidth crunch.
Key radio features (adaptive modulation and equalisation, FEC, XPIC, ATPC).
Protection schemes such as hot standby, frequency and space diversity.
Link Design and reliability Standards
The latest reliability standards and radio system design implications.
Understanding the difference between availability and performance.
The impact of the standards on different frequency bands and link lengths.
Path, equipment and network reliability issues.
Day 3
Tutorial Workshop
Link Design addressing multipath and rain fading
Back to back antenna case study
Co channel and adjacent channel interference calculations
How to design an entire route on 1 frequency pair
Path clearance problems including handling trees and wind turbines
Applying new design rules to dramatically impact tower height requirements
Maintenance issues and how to diagnose quality problems
Design differences between long haul and short haul applications
Designing the radio system to achieve the required network availability (e.g. 99.999%?)
Staff
Trevor Manning
Role: Presenter
Technical Trainer and Author
Trevor Manning runs an international business (TMC Global) that specialises in training and
...more
Certification
Participants who satisfy the course requirements will receive a Certificate of Attendance. The sample is an illustration only.
Level and demands
Anyone involved in Wireless networks in Cellular operators, utilities or service companies.
Transmission Link designers.
Planning engineers.
Installation and Commissioning engineers.
Maintenance personnel.
Radio department Managers.
Accommodation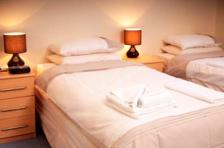 Accommodation is available at the Rewley House Residential Centre, within the Department for Continuing Education, in central Oxford. The comfortable, en-suite, study-bedrooms are rated 3-star, and come with free high-speed internet access and TV. Guests can take advantage of the excellent dining facilities and common room bar, where they may relax and network with others on the programme.
Payment
Fees include course materials, tuition, refreshments and lunches. The price does not include accommodation.
All courses are VAT exempt
Fee options
Programme Fee

Standard course fee: £1295.00

Apply for this course
If you would like to discuss your application or any part of the application process before applying, please contact:
Course Administrator
Tel: +44 (0)1865 286958
Email: electronics@conted.ox.ac.uk
You can apply for this course in the following ways:
Apply online

to secure your place on this course now

Apply by post, email or fax
Terms and Conditions (important: please read before applying) .
Guidance Notes (important: please read before applying)
.
Venue & Travel Information (important: please read before applying)
.

Programmes including this module
This module can be studied as part of these programmes: