LTE and LTE-Advanced: System Design and Operation
Key facts
Types
Professional Development
Short Courses

Location
Oxford
Dates
Mon 30 Jun to Fri 4 Jul 2014
Subject area(s)
Electronic Engineering
Telecommunications Engineering

Fees
From £1995.00
Application status
Applications being accepted
Course code
O13C728H6Y
Course contact
If you have any questions about this course, please email telecoms@conted.ox.ac.uk.
Enrol online now!
to secure your place on this course now
Overview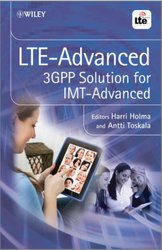 includes:
LTE Theory and Network Planning
LTE Release 8-9 and 10-12
LTE and HSPA RF Terminals and Design Challenges
LTE and HSPA Protocols
An update of the popular course, explaining the capabilities and operation of 3G Mobile Networks, which includes presentations by some of the world's leading industry experts in the field of LTE and HSPA.
All delegates will receive a free copy of "LTE for UMTS: Evolution to LTE-Advanced" by Harri Holma and Antti Toskala " by Harri Holma and Antti Toskala (Wiley).
Please send me details about future LTE, LTE-Advanced and HSPA Evolution: System Design and Operation courses.
Description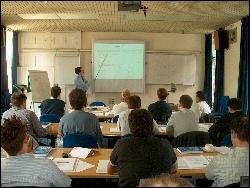 This five-day course provides a detailed end-to-end description and explanation of the global LTE and LTE-Advanced radio standards, with presentations from Harri Holma and Antti Toskala, authors of the current definitive work, LTE for UMTS - OFDMA and SC-FDMA Based Radio Access.
The goals of the course are to give delegates a solid understanding of how 4G LTE radio access and core networks fit together to give operators an easier to manage and lower cost end to end solution.
With full explanations of OFDMA and SC-FDMA air interfaces, the course explains the evolutions of the standards. We explain the complexities of RF design of multi-mode, multi-band handsets and describe the signalling procedures used between handset and network.
Real-world implementation aspects of the new technology will be discussed, including system dimensioning and design, and the performance of mobile data applications. Emphasis throughout the course will be placed on optimising the data capability of these networks, including efficient packet data capacity, broadband wireless services, radio resource management as well as upgrade paths for operators.
Programme details
Day 1 – LTE Theory and Network Planning (Jonathan Moss)
Introduction to LTE and SAE architecture
How to navigate and use 3GPP standards
Mobility management
Current and future international frequency allocations
Handling of voice calls and interworking with 3G
Derivation of OFDMA
Generalised view of radio modulation schemes
Modes and maths of MIMO
OFDMA as evolution from limitations of WCDMA
Use of FFT for modulation
Effects of multipath distortion and cyclic prefix
Hands-on live demonstration of OFDMA waveform generation and reception
LTE Downlink Modulation
Resource blocks and resource elements
Use of reference symbols
Random access procedures
LTE Uplink Modulation
Overview of SC-FDMA
Construction of the waveform using FFT
Handset power limitations
LTE Link Budget Calculations
Bottom-up link budget calculation for uplink and downlink
Comparison of cell ranges in different LTE brands
Days 2 and 3 – LTE Release 8-9 and 10-12 (Antti Toskala and Harri Holma)
LTE Release 8-9
LTE Releases 8-9
3GPP Status and LTE Schedule
LTE Architecture
S1 and X2 interfaces
Evolved Packet Core
LTE Layer 2/3
OFDMA and SC-FDMA principles
LTE Physical Layer
LTE Mobility
LTE Radio Resource Management
LTE Data rates, Coverage and Capacity
LTE Voice solutions
LTE Frequency variants
TD-LTE
LTE benchmarking to HSPA+
LTE Release 10-12
Carrier Aggregation (CA)
Terminal categories
MIMO evolution
Performance evaluation
Heterogeneous Networks (HetNet)
Coordinated Multipoint (CoMP)
Self Organizing Networks (SON)
Relay nodes (RN)
Small Cell Enhancements (SCE)
Machine Type Communication (MTC)
Enhanced CoMP over non-ideal backhaul (eCoMP)
Radio Level WLAN interworking
Device-to-device communication (D2D)
FDD-TDD carrier aggregation
3D beamforming
LTE for Unlicenced Bands (LTE-U)
Day 4 – LTE and HSPA RF Design and Performance (Laurent Noel)
Introduction to Multimode Multiband handset design challenges
- 3GPP frequency band evolution vs year vs mode and typical handset band support
- Worldwide phone frequency band requirements: dual-mode, vs triple-mode vs quad-mode
Cost reduction in Multimode Multiband terminals
- Evolution of Silicon Area and component count in single mode (GSM), dual-mode (GSM-HSPA), triple mode (GSM-HSPA-LTE) terminals
- RF transceiver architecture: 10 years of evolutions to reduce PCB area and component count
Solving the cost-performance trade-off by removing interstage SAW filters
Carrier-Aggregation (CA) challenges: impact on complexity and TX noise requirements
- RF front-end evolutions
Trends in filters and RF switches over the last 10 years
Front-end Module integration evolution in recent smartphones
RF multiplexing strategies to address CA: duplexer bank vs quadplexers vs hexaplexers
- Power Amplifiers: single band discrete PAs vs Multi-mode Multi-band PAs
Example of trade-offs applied to a North-American triple mode design
Reconfigurability concept with MMMB PA modules
Cost savings: discrete PA vs MMMB PA in triple mode NA variant example
- Over the Air performance
WCDMA TRP TIS smartphone performance status
OTA performance challenges with MIMO operation
Antenna tuner & impedence tuner: cost performance trade-offs
- RF subsystem control and IQ interfaces: cost savings with MIPI interfaces
Example of cost savings using MIPI DigRF v4 and RFFE on a Carrier Aggregation RF subsystem
EMI control and coexistence design challenges
- More co-existence challenges
in single chip RF, BB, PMU devices
Within the RF subsystem: example of LTE CA band 4 - band
Between cellular and connectivity subsystems: example of GPS desense
Other co-existence associated with LTE operation
Power consumption reduction in MM MB terminals
Benchmark of recent triple mode chipsets
Voice centric feature phones vs smartphone power consumption evolution
Impact of screen related activity on power consumption
- Application Engines:
Trade-off between power consumption, user experience and performance: the example of ARM bigLITTLE
Design trade-off between performance, thermal runaway and PCB heatsink in bigLITTLE solutions
- Cellular Power Amplifier power supply control strategy
Gain switching vs average power tracking vs envelope tracking
IEEE and commercial handset benchmarking
- CPC DTX DRX impact on terminal power consumption - Impact of LTE DRX on terminal power consumption
Day 5 – LTE and HSPA Protocols (Neil Wiffen)
Signalling Procedures

Signalling Overview
Call Control
Mobility Management
GPRS Mobility Management
Session Management

Security Procedures

Security Overview
UMTS Security Architecture
Security Features
GSM-UMTS interoperability

Layer 2 Protocols (UE-RAN)

General Protocol Architecture
UMTS Layer 2 Principles
RLC Functions and Procedures
MAC Functions and Procedures
Protocol Termination (Release '99)
HSPA outline
* Please notify us on your registration form if you would prefer to receive a copy of one of the follwing books instead:
>"HSDPA/HSUPA for UMTS" by Harri Holma and Antti Toskala (Wiley)
"WCDMA for UMTS" by Harri Holma and Antti Toskala (Wiley)
"LTE-Advanced" by Harri Holma and Antti Toskala (Wiley)
"Voice over LTE" by Harri Holma and Antti Toskala (Wiley)
Our congratulations to Antti Toskala who received the 'Award for Individual Contribution to LTE Development' at the inaugural LTE Awards at the 2010 LTE World Summit on 18 May 2010. Click here to read more.
Staff
Certification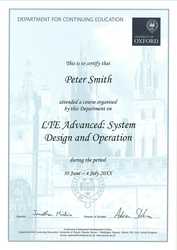 Participants who satisfy the course requirements will receive a Certificate of Attendance. The sample is an illustration only.
Level and demands
The course is aimed at those wishing to gain a complete end-to-end overview of UMTS technology, in particular RF and baseband engineers, radio planners, service developers, equipment designers and telecoms consultants. In addition, the course will appeal to technical managers, analysts and strategists wishing to increase their technical understanding of the subject area.
Accommodation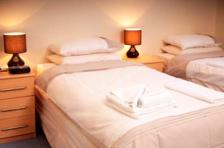 Accommodation is available at the Rewley House Residential Centre, within the Department for Continuing Education, in central Oxford. The comfortable, en-suite, study-bedrooms are rated 3-star, and come with free high-speed internet access and TV. Guests can take advantage of the excellent dining facilities and common room bar, where they may relax and network with others on the programme.
Payment
Fees include course materials, tuition, refreshments and lunches. The price does not include accommodation.
All courses are VAT exempt.
Fee options
Programme Fee

Standard course fee: £1995.00

Apply for this course
If you would like to discuss your application or any part of the application process before applying, please contact:
Course Administrator
Tel: +44 (0)1865 286958
Email: telecoms@conted.ox.ac.uk
You can apply for this course in the following ways:
Apply online

to secure your place on this course now

Apply by post, email or fax
Terms and Conditions (important: please read before applying) .
Guidance Notes (important: please read before applying)
.

Programmes including this module
This module can be studied as part of these programmes: