Mobile as 7th of the Mass Media
Key facts
Types
Professional Development
Short Courses

Location
Oxford
Address
Rewley House
OX1 2JA map
Subject area(s)
Electronic Engineering
Telecommunications Engineering

Fees
From £835.00
Application status
Dates to be confirmed - Accepting applications
Course code
O13C742H6Y
Course contact
If you have any questions about this course, please email telecoms@conted.ox.ac.uk.
Overview
Cellphone, Cameraphone, iPhone and Smartphone
Mobile is emerging as the 7th mass media channel, whilst legacy mass media witnesses a decline. This course presents a journey through some of the most advanced content and media services deployed on mobile phones, in the most advanced mobile telecoms countries such as Japan, South Korea, Hong Kong and Finland.
Intending to build on the content of Tomi T Ahonen's sixth book 'Mobile as 7th of the Mass Media', the course provides a unique opportunity to explore the taxonomy of the seven mass media, with an emphasis on what lessons can be learned when newer media are introduced.
Tomi T Ahonen, Course Tutor, named Forbes No 1 Power Influencer in Mobile! Read it here.
Please send me details about future Mobile as 7th of the Mass Media courses.
Description
The course will begin by examining the overall industry and the consumers of mobile content, before moving on to explain how to build compelling content to mobile, and exploding the myths of the limitations of supposedly too small keypads and tiny screens. The most promising early media content types: music, gaming, TV, internet, advertising and social networking will also be discussed.
Tomi T Ahonen speaks to CNN - watch the video here
Programme details
The Environment of Mobile
Mobile industry ecosystem
Digital convergence and mobile, 5 industries
Customer of Mobile - Gen C
The 7 Media
Legacy mass media Print, Recordings, Cinema, Radio, TV
Internet as first interactive media
Communities of Purpose and Long tail
Mobile as 7th of the Mass Media
Inherently threatening
Interactive
Seven Unique benefits of Mobile
Clash of the Media
Print, Recordings, Cinema vs Mobile
Radio vs Mobile
TV vs Mobile
Internet vs Mobile
Mobile Services and Applications
Evolution of handset - 8 C's
The Six M's service creation theory
Widgets
Community and Mobile
Group forming theory
Mobile social networks
Marketing and Advertising
Social Advertising Intelligence
And mobile advertising
Making it Magical
Beyond the obvious with some case examples
Shazam, AQA, Blyk, Tohato, Flirtomatic, Cameraphone Dictionary
Summaries, conclusions, Q and A
All delegates will receive a copy of the latest edition of Tomi T. Ahonen's book "Mobile as 7th of the Mass Media."
First day registration from 8.30am when course materials will be distributed.
Refreshments from 8.30am on the first day plus two 30 minute breaks during the day and a one-hour lunch break.
The course will begin at 9.00am and end at approximately 5.00pm on each day.
Staff
Certification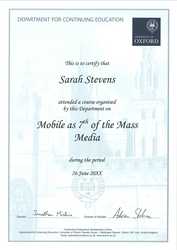 Participants who satisfy the course requirements will receive a Certificate of Attendance. The sample is an illustration only.
Level and demands
Anyone in the current legacy media space who wants to understand new media, thus digital media executives in television, print, radio, cinema, recordings industries and advertising; all in the internet businesses who are interested in the future of the web; and those within mobile who work with media and convergence. No prior knowledge of mobile telecoms or media is necessary.
Accommodation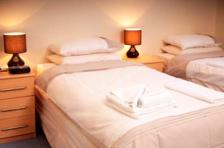 Accommodation is available at the Rewley House Residential Centre, within the Department for Continuing Education, in central Oxford. The comfortable, en-suite, study-bedrooms are rated 3-star, and come with free high-speed internet access and TV. Guests can take advantage of the excellent dining facilities and common room bar, where they may relax and network with others on the programme.
Payment
Fees include course materials, tuition, refreshments and lunches. The price does not include accommodation.
All courses are VAT exempt.
Fee options
Programme Fee

Standard Course Fee: £835.00

Apply for this course
If you would like to discuss your application or any part of the application process before applying, please contact:
Rebecca Robins, Course Administrator
Tel: +44 (0)1865 286958
Email: telecoms@conted.ox.ac.uk
You can apply for this course in the following ways:
Apply by post, email or fax
Terms & Conditions (important: please read before applying)
.
Guidance Notes (important: please read before applying)
.
Venue and Travel Information (important: please read before applying)
.

Programmes including this module
This module can be studied as part of these programmes: