Search results - LTE and HSPA Terminal RF Design Challenges
Key facts
Types
Professional Development
Short Courses

Location
Oxford
Address
Rewley House
OX1 2JA map
Dates
Thu 4 Jul 2013
Subject area(s)
Electronic Engineering
Telecommunications Engineering

Fees
From £395.00
Application status
Applications being accepted
Course code
O12C732H6Y
Course contact
If you have any questions about this course, please email telecoms@conted.ox.ac.uk.
Enrol online now!
to secure your place on this course now
Programme details
Course content
The mobile phone chipset designer's working environment

2G/ 3G mobile phone hardware evolutions and features

Description of UMTS transceiver architectures
HSPA Transmitter design challenges:

Adjacent Channel Leakage Ratio (ACLR), output power, power consumption trade-off

HSPA Receiver design challenges:

Receiver sensitivity in full duplex systems
Adjacent Channel Selectivity (ACS) test cases

Talk time and battery technology trends in 3G phones

Benchmarking of current solutions
Power consumption estimates
Improvements with discontinuous transmission and reception (continuous packet connectivity CPC)

The design constraints of the Multi-Mode, Multi-Band (MM-MB) mobile phone

Co-existence issues in MM-MB phones
Victims and aggressors in MM-MB phones
Design challenges in removing external SAW filters in MM-MB phones

Some LTE RF design challenges

LTE reference sensitivity
LTE ADC & ACS requirements
Some frequency band specific challenges.
First day registration from 8.30am when course materials will be distributed.
Refreshments from 8.30am on the first day plus two 30 minute breaks during the day and a one-hour lunch break.
The course will begin at 9.00am and end at approximately 5.00pm on each day.
Staff
Mr Laurent NoŽl

Role: Speaker
(Formerly) System Architect ST-NXP Wireless
Until recently Laurent Noel was an RF-BB system architect at ST-NXP Wireless,
...more
Certification
Sample certificate
.
Participants who satisfy the course requirements will receive a Certificate of Attendance. The pdf sample above is an illustration only, and the wording will reflect the course and dates attended.
Level and demands
This course is aimed at those who have already basic understanding of WCDMA technology and wish to get themselves up to date with the latest technology development.
The course is intended for engineers, those involved in RF systems design, radio planners, service developers and operators, equipment designers, telecoms consultants and 3G applications developers.
In addition, the course will appeal to technical managers, analysts and strategists wishing to increase their technical understanding of the key subject area currently in the limelight of the telecoms world.
Accommodation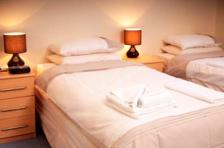 Accommodation is available at the Rewley House Residential Centre, within the Department for Continuing Education, in central Oxford. The comfortable, en-suite, study-bedrooms are rated 3-star, and come with free high-speed internet access and TV. Guests can take advantage of the excellent dining facilities and common room bar, where they may relax and network with others on the programme.
Payment
Fees include course materials, tuition, refreshments and lunches. The price does not include accommodation.
All courses are VAT exempt.
Fee options
Programme Fee

Standard Course Fee: £395.00

Apply for this course
If you would like to discuss your application or any part of the application process before applying, please contact:
Course Administrator
Tel: +44 (0)1865 286958
Email: telecoms@conted.ox.ac.uk
You can apply for this course in the following ways:
Apply online

to secure your place on this course now

Apply by post, email or fax
Terms and Conditions (important: please read before applying) .
Guidanece Notes (important: please read before applying)
.
Venue & Travel Information (important: please read before applying)
.

Programmes including this module
This module can be studied as part of these programmes: