Nanotechnology Summer School 2014
Key facts
Types
Professional Development
Short Courses
Summer Schools -

Location
Oxford - Ewert House
Dates
Mon 30 Jun to Fri 4 Jul 2014
Subject area(s)
Biotechnology
Nanotechnology

Fees
From £150.00
Application status
Applications not yet being accepted
Course code
O13C561F2J
Course contact
If you have any questions about this course, please email nano@conted.ox.ac.uk or telephone +44 (0)1865 286954.
Overview
The theme of the sixth annual Oxford Nanotechnology Summer School in 2014 will be 'An Introduction to Bionanotechnology'.
Each year Oxford's Nanotechnology Summer School focuses on applications of nanotechnologies in a different field. Comprising presentations from leading researchers and practitioners from the University of Oxford and beyond, the Nanotechnology Summer School is essential for anyone with an interest in these topics.
Please send me an email about future Nanotechnology Summer Schools.
Follow @OxfordNano on Twitter.
Description
This five-day intensive course provides a thorough introduction to the exciting and emerging field of bionanotechnology. Each of the five days of the Nanotechnology Summer School has a dedicated theme and is led by key researchers in the field. The course will be valuable to those seeking an introduction to current research and applications in the subject.
The first day of the Summer School gives an introduction to cell biology and bionanotechnology. The following four days focus on bioanalytical techniques; applied genomics and proteomics; nanoparticles, nanostructures and biomimetics; and the interaction of nanoparticles with biological systems, respectively.
The full Summer School programme is likely to be as follows:
Day One: Introduction to Cell Biology and Bionanotechnology
Day Two: Introduction to Bioanalytical Techniques
Day Three: Applied Genomics and Proteomics
Day Four: Nanoparticles, Nanostructures and Biomimetics
Day Five: Interaction of Nanoparticles with Biological Systems
Delegates will be able to enrol for one day, more than one day or for the whole week - discounts will be offered for students and those enrolling for all five days.
Registrations for the Nanotechnology Summer School and each individual day will be accepted soon. If you would like to be notified when applications are being accepted please send us an email.
You may also be interested in the following courses:
Staff
Dr Christiane Norenberg

Role: Director
Christiane is the Nanotechnology HEIF Manager at the University of Oxford's Begbroke Science Park. She received her DPhil in Materials Science
...more
Professor Peter J Dobson

Role: Tutor
Professor Dobson is currently the Academic Director at Begbroke Science Park. After a career as a lecturer in Physics at Imperial College and
...more
Certification
Sample certificate
.
Participants who satisfy the course requirements will receive a Certificate of Attendance. The pdf sample above is an illustration only, and the wording will reflect the course and dates attended.
Accommodation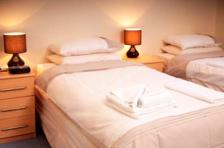 Accommodation is available at the Rewley House Residential Centre, within the Department for Continuing Education, in central Oxford. The comfortable, en-suite, study-bedrooms are rated 4-star, and come with free high-speed internet access and TV. Guests can take advantage of the excellent dining facilities and common room bar, where they may relax and network with others on the programme.
Payment
Summer School fees include electronic course materials, tuition, refreshments and three-course lunches. The price does not include accommodation. All courses are VAT exempt. There may also be some social events on certain days of the Summer School.
Student discounts
We offer a discounted fee to students in higher education. The student fee rates for five days of the Nanotechnology Summer School are £680. It is not possible to enrol online if you wish to take the course at a discounted rate. To apply at the discounted rate, please contact us for details: email nano@conted.ox.ac.uk.
Alumni Card-holders discount
Alumni Card-holders benefit from a 10% discount* on the Nanotechnology Summer School. If you wish to enrol, please remember to quote the code given in e-Pidge to ensure you receive your discount.
* This offer is subject to availability, cannot be used retrospectively or in conjunction with any other offers or concessions available from either the University of Oxford or the Department for Continuing Education.
Fee options
Programme Fee

Five Days - Standard Fee: £1340.00

Five Days - Student Fee: £680.00

One Day - Standard Rate: £295.00

One Day - Student Rate: £150.00

Apply for this course
If you would like to discuss your application or any part of the application process before applying please contact:
Tel: +44 (0)1865 286954 - Email: nano@conted.ox.ac.uk
The fees for taking the summer school are:
Five days standard fee rate: £1,340.00
Five days student fee rate: £680.00
One individual day standard fee rate: £295.00
One individual day student fee rate: £150.00
Sorry, this course is not currently accepting applications. If you have any questions about this course, please use the course enquiry form.
Programmes including this module
This module can be studied as part of these programmes: