Search results - Successful Change Management for Engineers & Scientists
Key facts
Types
Professional Development
Short Courses

Location
Oxford
Address
Rewley House
OX1 2JA map
Dates
Tue 9 Jul 2013
Subject area(s)
Business Studies

Fees
From £395.00
Application status
Applications being accepted
Course code
O12C599N1Y
Course contact
If you have any questions about this course, please email business@conted.ox.ac.uk.
Enrol online now!
to secure your place on this course now
Overview
This highly successful and practical one-day course investigates the main theories and underpinning principles of the process of managing change.
Read the Electronics Weekly article about this course.

Description
"There is nothing more difficult to take in hand, more perilous to conduct, or more uncertain in its success, than to take the lead in the introduction of a new order of things."
Research suggests that as many as two-thirds of all change initiatives are unsuccessful to some extent. And, the words above of Niccolo Machiavelli illustrate the challenges of introducing and managing change.
Reorganizing, restructuring and implementation of new systems and working practices are important elements of most change programmes. These nearly always involve the support and commitment of staff.
Yet, successful change can be achieved at individual, team and organisational levels through the use of a number of practical tools and skills. Change is best achieved through the understanding and commitment of the people involved - but there are occasions when an Exocet may be needed!

Note that this course is part of a series of one-day courses for Engineers, Scientists and staff in hi-tech industries:
Managing Innovative Technology
Applying Knowledge Management for Engineers, Scientists & Staff in Hi-Tech Companies
Essentials of Project Management for Engineers, Scientists & Staff in Hi-Tech Companies
Advanced Project Management for Engineers, Scientists & Staff in Hi-Tech Companies
Please send me details about future Successful Change Management courses.
Programme details
This highly successful and practical course investigates the main theories and underpinning principles and relates these to current changes in the commercial and public sectors.
A wide range of tools are discussed and practised in relation to individual, group and organizational change. In particular hard skills will be explored including:
strategic planning
systems thinking
gap analysis
force-field analysis
scenario planning
stakeholder mapping
options for change
surfacing problems
process consulting
organizational development
the learning organization questionnaire
It is essential to possess the practical techniques for managing change, yet the greatest challenges are often to be found with the people dimension. The soft skills of communication; negotiation; persuasion; assertiveness etc combined with personal skills of motivation, endurance, and resilience are all needed to overcome potential resistance and inertia.
The emphasis throughout the course is to bring practical applications to the circumstances facing delegates.
All participants are encouraged to bring with them their own experiences and plans so that strategies can be developed for intervention in the workplace.
This course is particularly suitable for delivery in-house as part of the strategy of encouraging change. It enables a detailed examination of where the organization is currently positioned; where it wants to go, and how it is going to get there.
First day registration from 8.30am when course materials will be distributed.

Refreshments from 8.30am on the first day plus two 30 minute breaks during the day and a one-hour lunch break.

The course will begin at 9.00am and end at approximately 5.00pm on each day.


International Human Resource Development: Learning, Education and Training for Individuals and Organizations by John Wilson, course tutor
Click here
for information about this book.
Staff
Dr John Wilson
Role: Speaker
Independent Consultant and Researcher
John P. Wilson is an independent consultant and researcher with wide experience of change
...more
Certification
Sample certificate
.
Participants who satisfy the course requirements will receive a Certificate of Attendance. The pdf sample above is an illustration only, and the wording will reflect the course and dates attended.
Level and demands
Engineers, scientists, managers and other staff from all sectors who are responsible for, or involved in, managing change from small scale interventions to large scale restructuring.
Previous course attendees have come from:
BP, Esso Serve Europe Ltd, Intel Corporation (UK) Ltd, Arthur D. Little, Nextel Communications, Strata Health Solutions, ADVA Optical Networking Ltd, LSBU, Merck Speciality Chemicals Ltd, The Moser Group, SNC Pipeline Group, Analog Devices, Margalla Technology, University of Luxembourg, Wipro Technologies, QinetiQ, McDonald Restaurants Ltd, Techrem Limited, Sprint Communications, Whirlpool/Polar S.A, ACWA Power Projects, University of Cambridge, ZTE Corporation, Positive Financial Services, Ipsen Pharmaceutical Limited, Mentor Graphics UK Ltd, Oxford Immunotec, Glasgow Caledonian University, ATOS Origin Netherlands, Colgate Palmolive, GlaxoSmithKline and more.
Accommodation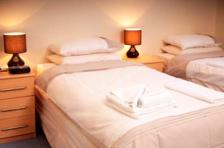 Accommodation is available at the Rewley House Residential Centre, within the Department for Continuing Education, in central Oxford. The comfortable, en-suite, study-bedrooms are rated 3-star, and come with free high-speed internet access and TV. Guests can take advantage of the excellent dining facilities and common room bar, where they may relax and network with others on the programme.
Payment
Fees include course materials, tuition, refreshments and lunches. The price does not include accommodation.
All courses are VAT exempt.
Scholarships
Details of funding opportunities, including grants, bursaries, loans, scholarships and benefit information are available on our financial assistance page.
Fee options
Programme Fee

Standard course fee: £395.00

Apply for this course
If you would like to discuss your application or any part of the application process before applying, please contact:
Course Administrator
Tel: +44 (0)1865 286958
Email: business@conted.ox.ac.uk
You can apply for this course in the following ways:
Apply online

to secure your place on this course now

Apply by post, email or fax
Terms and Conditions (important: please read before applying) .
Guidance Notes (important: please read before applying)
.
Venue & Travel Information (important: please read before applying)
.

Programmes including this module
This module can be studied as part of these programmes: