Philosophy and Psychiatry Summer School: Mind, Value and Mental Health
Key facts
Types
Professional Development
Residential Programmes
Short Courses
Summer Schools -

Location
Oxford
Dates
Dates to be confirmed
Subject area(s)
Health
Philosophy

CATS points
20
Fees
Please contact us for details
Application status
Dates to be confirmed - Not yet accepting applications
Course code
O13C961V5Y
Course contact
If you have any questions about this course, please email conferences@conted.ox.ac.uk or telephone +44 (0)1865 286945.
Overview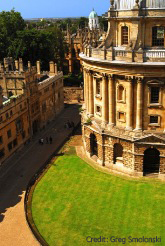 Presented by the Faculty of Philosophy and the Department for Continuing Education, this event will explore the areas in which the philosophy of mind and ethics or the philosophy of value come into contact with issues about mental health.
Philosophy of psychiatry includes within its ambit questions about the nature of mental disorder as distinct from purely neurological disorder, questions about the psychological conditions required for moral responsibility and legal culpability, and questions about the appropriate kinds of explanations that can be provided for mental disorder. Addressing these questions requires drawing on the resources of many branches of philosophy, including legal philosophy, ethical theory and philosophy of value, philosophy of science, and philosophy of mind and psychology.
We are expecting to run the Summer School next in 2015. Details of the event that took place in 2013 can be found here. To register an interest in the next event and to be placed on our mailing list please email conferences@conted.ox.ac.uk.
Certification
Example of Attendance Certificate
.
This course can be taken with or without academic credit. All participants who satisfy the course requirements will receive a Certificate of Attendance. Those opting to take the course for credit and submit an assignment will also receive 20 M CATS points at level 7 (postgraduate). Credit points are recognised by employers and universities in the UK and internationally.
The pdf sample above is an illustration only, and the wording will reflect the course and dates attended.
Level and demands
The Summer School will appeal to a wide range of people with a professional or academic interest in the fields of philosophy and/or mental health.
Programmes including this module
This module can be studied as part of these programmes: