Search results - Undergraduate Diploma in Creative Writing
Key facts
| | |
| --- | --- |
| Type | Oxford Qualification - Part-time |
| Start date | Sep 2013 |
| Subject area(s) | Creative Writing |
| Fees | Fees for 2013-2014 are £2,150 (EU students) and £3,675 (Non-EU students). |
| Application status | Applications being accepted |
| Application deadline | Fri 28 June 2013 |
| Course contact | If you have any questions about this course, please email ppaward@conted.ox.ac.uk. |
Overview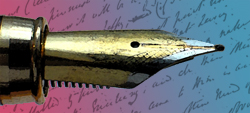 Since its inception in 1998, the Diploma - Oxford University's only Undergraduate course in Creative Writing - has offered significant opportunities for students to explore and develop their individual writerly skills. Providing two years of intensive part-time study and more than 200 contact hours, the Diploma encourages sustained involvement in a wide range of literary projects. An ethos of breadth and experiment is fostered by concentration on four major categories of literary activity: prose, poetry, drama and analytical reading. At the same time, there is scope for specialization in areas of each student's individual choice.
The stimulation of group discussion is balanced and augmented by regular one-to-one contact between tutors and students. These individual tutorials, combined with a restriction of student numbers in each year to around seventeen, ensure each student has the opportunity to explore and develop his or her own particular writerly talents.
For one student's experience of the course please click on our
student spotlight
.
Open Evening
All those who have an interest in studying creative writing are invited to come to our Open Evening at Rewley House, 1 Wellington Square, Oxford on Monday, 15 April 2013 from 5:30pm-7:30pm. Please arrive promptly at 5:30pm at the Rewley House Reception area. This Open Evening offers a chance to see the Department, meet the course director and discuss the course. For more information please contact Kristine MacMichael on 01865 280154 or email:
kristine.macmichael@conted.ox.ac.uk
.
Description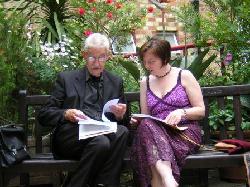 What the Course Offers
The Diploma aims to foster the writing skills of all its students. The value of group activity as a catalyst for the creative imagination is one of the central tenets of the course, and there will be ample opportunity for discussion of the theory of writing – with students, course tutors, Day and Summer School tutors, speakers, and visiting readers. At the same time, the course emphasizes the importance of individual voice and vision, and there is significant provision for one-to-one in-depth discussion of each student's work.
At the basis of skill in writing is skill in reading and the associated development of the ability to consider and express the ways in which various kinds of writing work. Students practise these skills in a supportive but rigorous environment, encouraged by tutors experienced in sharing their own insights into the creative process, and in valuing and encouraging the creative insights of everyone in the group. Deliberately geared to breadth and experiment rather than to narrow specialisation, the Diploma seeks to capitalise on each student's unique creativity.
Publication is one aim, among many, of most writers, and past students of the Diploma have had work accepted for publication during or after the period of their involvement with the course. A significant number of those who gain the Diploma have gone on to take MAs in creative writing at universities such as East Anglia, Warwick, Middlesex and Bath Spa, and more recently, have been accepted onto Oxford University's Master of Studies in Creative Writing: (please see
www.conted.ox.ac.uk/mstcw
).
A central aim of the course is that students, by the end of the two years, will have developed their creative writing skills to an appreciable degree, and will have gained a clearer perspective on their own creative abilities and the ways in which they may want to pursue them. Students who gain the Diploma should also be better equipped to make useful judgements about the work of other writers, and how it relates to their own.
Who Should Apply
Formal qualifications are not essential. Our students come from all kinds of backgrounds and have so far ranged in age from their twenties to their seventies. Some have previous experience of literary study; all show evidence of prior activity (though not necessarily of publication) as a creative writer.
We look for evidence of a high level of commitment; an awareness of literary ideas and a degree of articulacy in discussing them; and a capacity for intellectual and imaginative development. If you apply you will be asked to submit a small portfolio of your own work. Admission is selective, and will take into account the evidence of that work and the information provided at interview.
Programme details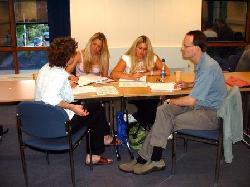 Course Structure
The course offers a rich combination of workshop seminars (to be held on Monday evenings, from 7.15 - 9.45pm), individual tutorials (by arrangement with tutors, twice termly, each lasting for 45 minutes), Day Schools (held on a Sunday, one each term) and a six-day Summer School (residence possible) at the end of the first year of study, in June.
Seminars
YEAR 1
The first term provides an introduction to the three main genres: prose, poetry and drama. From the outset there are opportunities to engage in practical activity and wide-ranging group discussion of aims, techniques and issues.
The second term makes a start on refining and developing analytical skills with three weeks of Reading for Writers, followed by seven weeks of close attention to the structures and approaches of prose fiction. The third term concentrates on how to address the challenges of writing creative non-fiction and stage drama.
YEAR 2
The aim of the year is to consolidate and broaden the developments in skill, confidence and analytical ability that will have accrued in Year 1. Term 4 provides in-depth concentration on short and long fiction, while term 5 focuses on advanced Reading for Writers (three weeks) and further high-level consideration of the craft of poetry. Term 6 gives students up-to-the-minute experience of how to write Broadcast Drama.
Tutorials
Tutorials offer unrivalled opportunity for focused, developmental discussion of work in process. Their one-to-one nature ensures full concentration on the strengths of each student's work as well as on areas which may need improvement. Tutorials centre on work produced in relation to the genres studied during that term. This means that as early as Term 1 students have considerable freedom of choice to write on prose, poetry or drama (though you should expect to write on more than one category in that term).
Space for Specialisation
At the end of both years you will be given the opportunity to concentrate more extensively on your own preferred area of interest, through the production of a portfolio of around 4,000 words in the case of prose and drama, or around 200 lines of poetry. Your second-year portfolio is allocated four term weeks for concentrated attention, and is guided by a preliminary tutorial discussion of the content you are proposing, and a review tutorial on completion of the project.
Day Schools
The Day School in the first term focuses on how the activity of reading may begin to be channelled to the practising writer's creative advantage. This prepares the way for Reading for Writers seminars in Term 2. The four Day Schools in terms 2 to 5 introduce, through visiting readers, speakers, and tutors, a wide range of voices to counterpoint and amplify insights and opinions provided by members of the Diploma's teaching team. There are readings by, and discussions with, well-known writers from all genres, as well as related workshop sessions. The Day School in the final term focuses forward to give in-depth consideration to how the publishing world works, and how you as a writer can best operate within it.
Summer School
The Summer School is a vibrant culmination to your first year of study. Sessions for the whole group will be balanced by individual sessions which allow you to focus on areas of your own choice. There is time set aside for your uninterrupted writing, and guidance will be given, as a group and individually, about how best to focus your efforts during the summer vacation so that you can get the most out of your second year. The Summer School provides an unparalleled opportunity to concentrate as fully as possible on living and working your craft. Although it is largely non-residential, you may book accommodation, subject to availability.
The Summer School is an integral part of the course and included in the course fee. It starts at lunchtime on Saturday 14 June 2014 and finishes at lunchtime on Friday 20 June 2014. From Sunday, each morning begins at 9.30am and continues (except on 14 June) to 7pm, with breaks for tea/coffee and lunch. All students are expected to attend the Summer School dinner on Thursday 19 June 2014.
Calendar for Year 1: 2013 - 2014
The Monday evening seminars will be held from 7.15pm to 9.45pm at Ewert House, Ewert Place, Summertown, Oxford. The Day Schools and the Summer School sessions will be held in Rewley House, 1 Wellington Square, Oxford OX1 2JA.
Michaelmas Term 2013
Monday 23 September 2013 to Monday 2 December 2013 inclusive, with the exception of 28 October (Reading Week).
Hilary Term 2014
Monday 13 January 2014 to Monday 24 March 2014 inclusive, with the exception of 17 February (Reading Week).
Trinity Term 2014
Monday 7 April 2014 to Monday 30 June 2014 inclusive, with the exception of 26 May (Reading Week).
Trinity Term 2014 Bank Holidays
- no class meeting
Monday 21 April 2014, 5 May 2014, 26 May 2014
Day Schools
Sunday 10 November 2013
Sunday 23 March 2014
Sunday 18 May 2014
Summer School
Saturday 14 June - Friday 20 June 2014
Certification
The Academic Qualification
Students who successfully complete this two-year course will be awarded the Oxford University Undergraduate Diploma in Creative Writing. The course carries with it 120 CATS points at second-year undergraduate level (FHEQ Level 5) in the Department's Qualifications and Credit Framework. These credit points are widely recognised in terms of credit for transfer to other Higher Education institutions, including the Open University. Opportunities vary for the transfer of credit, so students who are considering taking this course for this reason are advised to discuss the possibilities with the Department's Registry on 01865 280355.
Assessment methods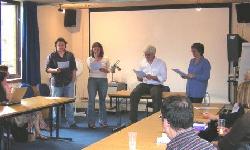 Assessment
Two pieces of writing are submitted each term, each usually tied to that term's seminar activities. A more extended portfolio of work, reflecting your particular interests, is submitted for evaluation at the end of each year. The twice-termly coursework submissions will be expected to be about 2,000 words in prose, or about 100 lines in the case of poetry. The end-of-year portfolio submissions will be around thee times this length. Please bear in mind that you are likely to have to devote a considerable amount of time to your writing outside the framework of the timetabled sessions.
If you have not recently been involved in assessment of this kind, do not regard it as a barrier. Tutors and other specialist staff will be happy to offer advice and guidance at any time during the course. You will be required to attend at least 75% of the total number of seminar hours. Attendance is expected at all six day schools and at the summer school.
Teaching methods
Course Tutors
Course Director, John Ballam, PhD
John Ballam is the author of two collections of poems, six stage plays, a novel and numerous reviews, articles and academic works. His best-known title is his memoir The Road to Harmony(1999; new edn 2009). He is a contributing author to a series of business biographies for the prestigious Italian consortium Fondazione Istud. He is also an Associate Manager of AEI Entertainment (Hollywood) and a script consultant/screenwriter for several major film producers in Hollywood, London and Mumbai.
Course Tutors include:
Davis Bunn, BA, MSc: Long Fiction
Davis Bunn has sold over seven million books in sixteen languages. His titles have won numerous awards and been Main and Featured Selections with Doubleday Bookclub, Literary Guild, Mystery Guild, and Crossings Bookclub. His latest release, The Damascus Way,hit the number-two position on the ECPA national bestseller list (US market). In January 2011 Davis and his screenwriting partner were contracted to produce a feature film screenplay based on a true story. The resulting project, entitled Unlimited, is slated to begin filming in December. His upcoming release, Lion of Babylon, was granted the entire cover of Publishers Weekly's latest Quarterly Review. Davis serves as Writer-In-Residence at Regent's Park College, Oxford University.
Sandie Byrne, BA, DPhil: Reading for Writers
Sandie Byrne was formerly Fellow and Tutor in English at Balliol College, Oxford. She is the author of a number of books and articles on nineteenth- and twentieth-century literature.
Patrick Collins: Drama (Stage)
Patrick Collins is an award-winning writer of some twenty-five works for stage-performance, ranging from commissioned large-scale community plays to, predominantly, those created for presentation in venues other than designated theatres. Among his teaching involvements, he ran Creative Writing sessions for a four-year period at Aylesbury's Queens Park Arts Centre, deputised as Buckinghamshire's County Writer-in-Residence in 1995, mentored, through Southern Arts, two Milton Keynes-based authors working on theatrical texts, and was Writing Tutor for Ithaca's Inter-Generational project in Windsor in 2000. He has founded, and been Director of, four stage companies, the present one of which - Broken Lace - exists to workshop texts-in-progress by new, exploratory, dramatists.
Frank Egerton, BA: Fiction
Frank Egerton studied English at Keble College, Oxford, and from 1995 to 2008 reviewed fiction for a variety of publications, including The Times, TLS and Financial Times. He is interested in both the close examination of fiction and how recent technologies such as ebooks and print-on-demand are changing the publishing industry and offering fresh opportunities to writers. He is a member of the Society of Authors and AWP, and is a former editor of the Oxford Writer. He was chair of Writers in Oxford from 2008 to 2010. His first novel The Lock was published in 2003 and the ebook version reached the finals of the Independent e-Book Awards in Santa Barbara. His second novel Invisiblewas published by StreetBooks in October 2010 ('...lively wit and acute understanding of the emotional landscape' Kate Saunders, The Times). He is currently working on his third novel. Visit www.frankegerton.com and www.justthoughtsnstuff.com.
Victor Glynn, LGSM: Screen-writing
Victor Glynn is an award-winning film and television producer and writer. He originally worked for the BBC World Service and then worked in the theatre before becoming a film producer. He has served as a senior production executive for a number of international companies including Sony Pictures. In the early years of Channel 4, he produced many productions including Good and Bad at Games, by William Boyd, Hiawathawith the National Theatre and Jack Gold's feature The Chainwhich starred Warren Mitchell. For the BBC he was Executive Producer of Noël Coward's Star Qualitywhich starred, Judi Dench and Ian Holm. His many other productions include the multi award-winning Mike Leigh feature High Hopes, Beryl Bainbridge's An Awfully Big Adventure starring Hugh Grant, an adaptation of C. P. Taylor's And a Nightingale Sangwith Joan Plowright, Malcolm Bradbury's The Gravy Trainwith Ian Richardson and Christopher Hampton's Total Eclipsestarring Leonardo di Caprio. He studied at the Guildhall School of Music and Drama and the National Film and Television School.
Dennis Hamley, MA, PhD: Short Fiction
Dennis Hamley is a children's and young adult author. He read English at Jesus College, Cambridge and his PhD, from Leicester University, is a historical and critical study of fiction teaching in schools. His works include the novellas Hare's Choiceand The War and Freddy(shortlisted for the Smarties Prize), The Joslin de Lay Mysteries(a six-book sequence of medieval thrillers), the young adult novels Spirit of the Placeand Out of the Mouth of Babesand the first two novels of a trilogy, Ellen's Peopleand Divided Loyalties. He has published two collections of his own short stories, contributed to many other collections and edited two short story collections for OUP. He was a teacher, teacher trainer and County English Adviser for Hertfordshire, where he founded two residential writing courses, one for teachers, the other for primary school pupils. His website is www.dennishamley.co.uk
Jeremy Hughes, B.A., M.St. (Oxon): Long Fiction
Jeremy Hughes was a member of the first group of students to study for the Master's in Creative Writing at Oxford, from which he graduated with Distinction. He was awarded first prize in the Poetry Wales competition and his poetry was short-listed for an Eric Gregory Award. He has published two pamphlets - breathing for all my birds(2000) and The Woman Opposite(2004). His novel Dovetailwas published in 2011.
Jenny Lewis, MA, MPhil: Poetry
Jenny Lewis is a poet and playwright who has worked extensively in cross-arts performances. She worked with the Oxford Youth Theatre on Map of Stars, a poetry and rock musical, for the Pegasus Theatre, Oxford in 2002. Her first collection, When I Became an Amazon(Iron Press, 1996 and Belingua, Russia, 2002) was widely dramatised, and broadcast on radio. She has been Poet in Residence for Coral Arts, Channel 6 TV and BBC Wiltshire Sound, and run a regular poetry slot on BBC Thames Valley Radio. Her academic publications include Synergies: Creative Writing in Academic Practice(Chough Press, 2003 and 2004). Her newest collection, Fathom, was published by Oxford Poets/Carcanet in 2007.
Robert Ritter, BA, DPhil: Reading for Writers
Robert Ritter is the author of several editorial reference works including the Oxford Style Manual; he has been a contributor to many books on printing and publishing. His scholarly interest lies in the mediation and dissemination of literature, and its effects on the creative process. He teaches topics in English language and literature at Oxford; before entering academia he spent twenty years as an editor in New York and Oxford. He has an honours degree in English and Creative Writing.
Susan Utting, B.A., PGDip, CertAEd: Poetry
Susan Utting studied Creative Writing at the University of Sussex after graduating in English, Film and Drama at Reading University, where she worked for 17 years as Poetry and Creative Writing tutor. Awards include The Peterloo Poetry Prize, an Arts Council Laureateship, The Berkshire Poetry Prize, an Academi Cardiff prize and Poetry Business prize for Something Small is Missing(Smith/Doorstop). Her work was selected for The Timesnewspaper's 'Best Love Poem' feature, has appeared in the Times Literary Supplement, The Independentand the Forward Book of Poetry. Following Striptease(Smith/ Doorstop, 2001) and Houses Without Walls(Two Rivers Press, 2006), Fair's Fair (Two Rivers Press 2012) is her latest poetry collection.
A selection of our Day School and Summer School tutors, speakers, readers and visitors:
Rebecca Abrams,
author and journalist.
Neil Astley,
poet and editor of Bloodaxe Books.
Suzanne Bell
is Literary Manager at the Liverpool Everyman and Playhouse.
Peter Buckman,
literary agent and manager of The Ampersand Agency.
Rachel Calder,
Literary Agent, the Sayle Literary Agency.
Tom Chalmers,
Director of Legend Press.
Polly Clark,
Poet. Her first collection,Kiss (Bloodaxe 2000) was a Poetry Book Society recommendation.
Catherine Clarke,
joined the Felicity Bryan Agency.
Victoria Condie,
teaches English Literature, particularly Old and Middle English literature, for over ten years at University of Oxford and OUDCE.
Lin Coghlan,
dramatist and lecturer; former winner of the Thames Television Theatre Writer's Award and the Dennis Potter Best Play of the Year Award.
David Constantine,
poet and novelist. Formerly Fellow in German at The Queen's College, Oxford.
Julia Copus,
poet. Prize-winning author of The Shuttered Eye.
Jonathan Evans,
screenwriter working in both television and film.
Patrick Gale,
novelist, published novels include Rough Music, The Facts of Life, A Sweet Obscurityand Friendly Fire(2005).
Lorna Fergusson,
novelist. Author of The Chase.
Kathryn Heyman,
award-winning novelist; formerly Writing Fellow at the University of Glasgow.
Pauline Kiernan,
author and drama critic.
Marti Leimbach,
bestselling author of Dying Young.
Alan Mahar,
Director of Tindal Street Press.
Yves Andre Martin,
screenwriter and author of several Hollywood films.
Jamie McKendrick,
poet; author of collections including The Marble Fly and Sky Nails.
Nicholas McInerny,
scriptwriter for television, stage and radio.
Andy McKillop's
extensive career in publishing includes senior positions at Granada Publishing, Corgi, Collins/HarperCollins and Random House.
John Mole,
award-winning poet; jazz musician, broadcaster and reviewer.
Bernard O'Donoghue,
Fellow and Tutor in English at Wadham College and author of three collections of poetry.
Tim Pears,
novelist. Prize-winning author of In the Place of Fallen Leaves, In a Land of Plenty, and Wake Up.
Philip Pullman,
novelist. Author of the award-winning His Dark Materials trilogy.
Jane Rogers
is the author of seven novels including Mr Wroe's Virgins, Promised Lands(Writers Guild Fiction award) and The Voyage Home.
Fiona Sampson,
award-winning poet and novelist, editor of Poetry Review.
Ann Schlee,
Award-winning fiction writer; author of The Vandal, Rhine Journey(short-listed for the Booker Prize) and Time in Aderra; former Booker Prize judge.
James Steel,
Thriller writer with twelve years experience. He has written four novels, among them December and Legacy, while the third, Warlord, came out in August 2011.
David Tolley,
College Lecturer at Hertford College, Oxford.
Barbara Trapido,
acclaimed author of Brother of the More Famous Jack, Temples of Delight, The Travelling Hornplayer and Frankie and Stankie.
Susan Wicks,
author of three collections of poetry and two novels (The Key and Little Thing).
Student Support
Much of the academic and writerly support will naturally come from your course tutors. If questions arise which cannot be dealt with by the tutors, John Ballam, the Course Director, may be contacted at john.ballam@conted.ox.ac.uk.
The Department also runs a programme of Study Skills workshops designed to enable you to develop and improve the skills needed for effective study. For details of the programme contact 01865 280893. For advice on educational opportunities within the Department; the nature of the qualification and the transfer of academic credits, special needs and sources of funding, please contact the Registry on 01865 280355.
Contact Information
Course Director, Dr John Ballam
01865 280898
john.ballam@conted.ox.ac.uk
If you need specific advice on your suitability for the course before making your application.
Award Programme Office
01865 280154 / 270369
For queries on applications and admissions
ppaward@conted.ox.ac.uk
Student Advice
01865 280355
For general guidance and advice, credit transfer, special needs provision, residential category and sources of funding:
registry@conted.ox.ac.uk
Study Skills
01865 280892
For information about Study Skills courses:
studyskills@conted.ox.ac.uk
Day & Weekend School Office
01865 270368 / 270380
For information on day schools and weekend courses:
dayweek@conted.ox.ac.uk
OUDCE Reception
01865 270360
For general enquiries about OUDCE or to leave messages if other staff are not available.
Libraries
Libraries and computing facilities
Registered students receive an Oxford University card, valid for one year at a time, which acts as a library card for the Departmental Library at Rewley House and provides access to the unrivalled facilities of the Bodleian Libraries which include the central Bodleian, major research libraries such as the Sackler Library, Taylorian Institution Library, Bodleian Social Science Library, and faculty libraries such as English and History. Students also have access to a wide range of electronic resources including electronic journals, many of which can be accessed from home. Students on the course are entitled to use the Library at Rewley House for reference and private study and to borrow books. The loan period is normally two weeks and up to eight books may be borrowed. Students will also be encouraged to use their nearest University library. More information about the Continuing Education Library can be found at
www.conted.ox.ac.uk/studentsupport/library
where there is also a link to the Bodleian Libraries.
The University card also provides access to facilities at Oxford University Computing Service (OUCS), 13 Banbury Road, Oxford. Computing facilities are available to students in the Students' Computing Facility in Rewley House and at Ewert House, both of which operate extended hours and a booking system.
Apply for this course
How to apply
This is an intensive and challenging course, and you will need to consider carefully whether you can offer the high level of commitment required. In particular, you should note that you will be expected to work outside the framework of the timetabled sessions, and should be prepared to devote at least twelve hours a week to your writing. For general enquiries, you should contact Kristine MacMichael, the Award Programme Administrator, on 01865 280154, email kristine.macmichael@conted.ox.ac.uk. If you have specific questions relating to your suitability for the course, please feel free to contact the Course Director, John Ballam, on
john.ballam@conted.ox.ac.uk
Your Application
Together with the application form, you must submit a reference and some additional materials:
(i) a sample of your work (about 2000 words of prose fiction or dramatic dialogue; or about half a dozen poems), and (ii) a statement of between 300 and 400 words explaining why you wish to enrol on the course.
Your referee should ideally be a person who can comment on your suitability for the course, and on any academic or writerly achievements. Where this is not appropriate, you should name a referee who can vouch for your motivation, commitment to writing, and potential for development. A reference from a family member is not acceptable. Please read carefully the instructions on the reference form.
When you have received your reference, return it in the sealed envelope along with your application form and your sample of work by 28 June 2013 to the Award Programme Administrator, OUDCE, 1 Wellington Square, Oxford OX1 2JA. Please do not leave it too late to contact us. Late applications will be considered if there are still places available, but applications cannot be considered after the course has begun. The final decision on entry to the course rests with OUDCE.
Click here to download the application and reference form
What does it Cost?
The fee for 2013-2014 is £2,150 (EU students) or £3,675 (non-EU students), payable in installments, with a non-refundable deposit of £200 being required on acceptance of a place. The fee includes all tuition as well as participation in the six Day Schools (including lunch) and, on a non-residential basis, the Summer School. Lunches and the final dinner during the Summer School are also included in the fee; it may be possible, space permitting, for you to book accommodation for that period at the going rate. There may be a small fee increase for the second year of this course, 2014-2015.
Non-EU students
This course is not suitable for non-EU students who do not already live in the UK before the course begins. For information, refer to
www.ukvisas.gov.uk
.
Funding and financial assistance
For information on student funding, please visit our website:
www.conted.ox.ac.uk
and follow links to `students' and `sources of funding'. You will find information on student loans, bursaries and Professional and Career Development Loans as well as details of external sources of funding.
For more detailed information on all of the above, contact the Registry on 01865 280355 or registry@conted.ox.ac.uk.