New Oxford Pre-Master's Scholarship
To mark the occasion of Vice-Chancellor Prof. Andrew Hamilton's visit to India this month the Department for Continuing Education is delighted to offer one scholarship to students of Indian nationality for the 'Foundations of Diplomacy Course 2012-2013' of 50% of University fees (£5,785).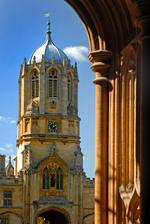 The Foundations of Diplomacy course is a six-month, full-time course of study for graduate students interested in pursuing a career in diplomacy or in preparing for Master's degree studies in diplomacy/international relations. This challenging programme is open to students with little or no experience in diplomacy, is delivered over two extended terms of ten-weeks and combines both practical and academic classes.
For 2012-2013 classes include diplomacy in practice, skills for public diplomacy, leadership in action, contemporary British, European and US politics and international relations. All students also take a two term course in academic writing and, if fluent in English, take additional academic classes in lieu of the programme's English language module.
For course details, please visit www.conted.ox.ac.uk/L290-4
Interested students should apply in the normal manner and indicate in their covering email/letter of application that they should like to be considered for the scholarship. Deadline for scholarship applications is Friday, 6 July 2012.