Education 'As you like it'
Our new bespoke summer schools have a decidedly international flavour.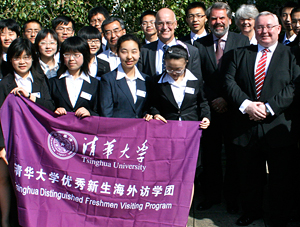 July's Tsinghua University Summer School is a leadership course for 21 Chinese first-year university students in the sciences and engineering.
Two Santander Universities Brazil Summer Schools, held in August, offer British Culture and Civilisation for 33 third-year students from Brazil's leading universities, plus Contemporary English Literature and Professional Development for 11 university lecturers.
And a summer school for Japan's Keio University, held in August, comprises three courses in English for Academic Purposes and Contemporary European Politics, Environmental Studies and English literature.
These summer schools are directed by Dr Charles Boyle, our Director for British and Cultural Studies. Dr Boyle (pictured above, at the right of the group) has recently been awarded the Oxford Postgraduate Diploma in Learning and Teaching in Higher Education (with Distinction) and is currently writing a new book on Reading Assessment, to be published in 2013 by Oxford University Press.
The Department's highly praised bespoke programmes are offered on a year-round basis for international groups. Subjects range from globalisation and environmental studies to contemporary European politics, and may be combined with specialist/academc English language classes and teacher development. For further information, please contact Judith Arneil: +44 (0)1865 270451 or judith.arneil@conted.ox.ac.uk.