14 July 2017
The Jeremy Cresswell Prize
Congratulations to Christopher John Ozga for winning the Jeremy Cresswell prize for this year's best MSt dissertation, entitled 'Preventative Diplomacy in Afghanistan: UNAMA's approach since 2001'.
On finishing the programme, CJ told us, "It has been a very rewarding journey…I enjoyed the FSP immensely with the academic challenges that it provided and the learning opportunities that it afforded. Studying at Oxford is a privilege and I am forever grateful for having been offered a place on the programme".
Congratulations to all our MSt students for completing the year, and thank you to each one of our students for contributing so much to the programme!
23 June 2017
End of year
On what was for many the final day in Oxford, this year's FSP members came in one last time for their end of year review with the Director.
The final week is always hectic: four consecutive days of exams, followed by the end of year photograph, dinner and goodbyes.
We were warmed to hear many members joining alumni in describing this as the best year of their lives.
We wish the 2016-17 cohort the very best as they move on in their careers around the world and look forward to seeing as many as possible back for the 50th year anniversary celebrations in 2019!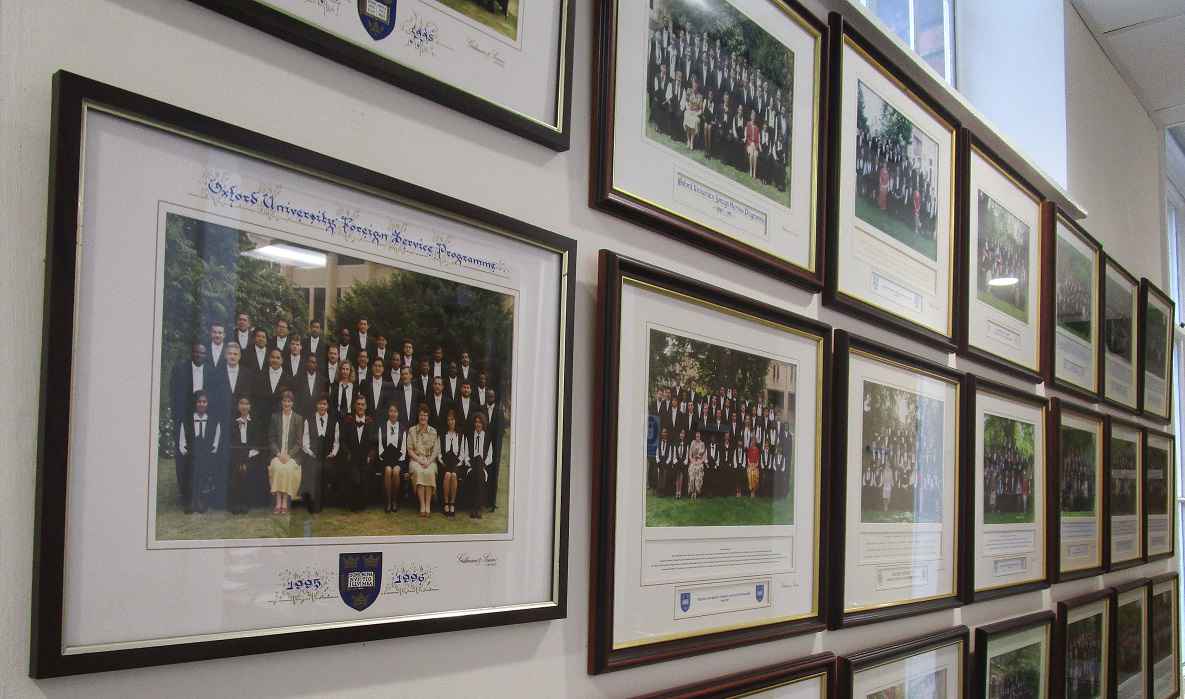 22 May 2017
Our final guest speaker of the term, Dr Chukwumerije Okereke, joined us for a lecture, 'Equity and International Climate Diplomacy'. This meant it was our last guest speaker lunch of the academic year, another tradition of the programme.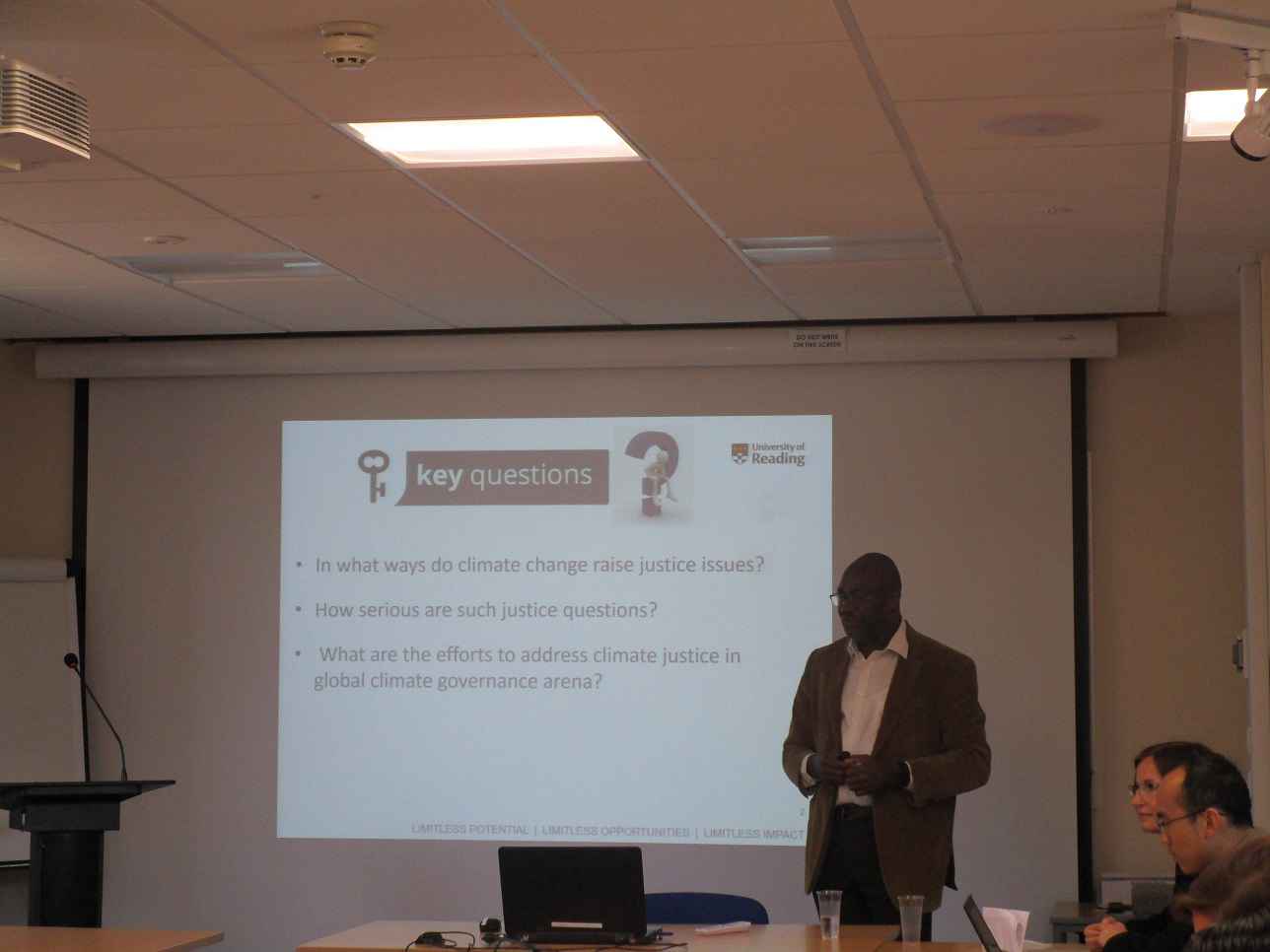 15 May 2017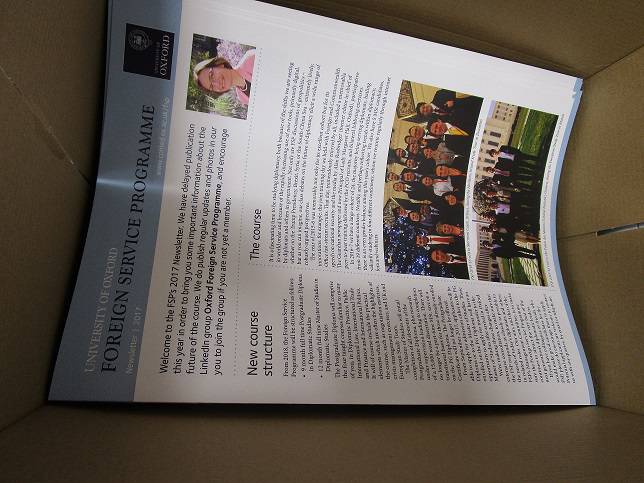 While most of our students have been working feverishly on their Diploma dissertations, the admin team has been busy preparing the annual newsletter. Hot off the press, these will be dispatched today to our alumni in all corners of the globe.
We also welcomed our third visitor from the Foreign and Commonwealth Office this term.
Julian Evans, Protocol Director, discussed protocol and ceremonies for foreign ministries, ranging from diplomatic attendance at Her Majesty The Queen's garden parties to ensuring diplomats from overseas benefit from privileges and immunities in the UK and yet pay their parking fees.
12 May 2017
We were delighted to welcome Jo Kuenssberg, High Commissioner to Mozambique, who addressed two separate topics: conflict resolution and women in diplomacy.
10 May 2017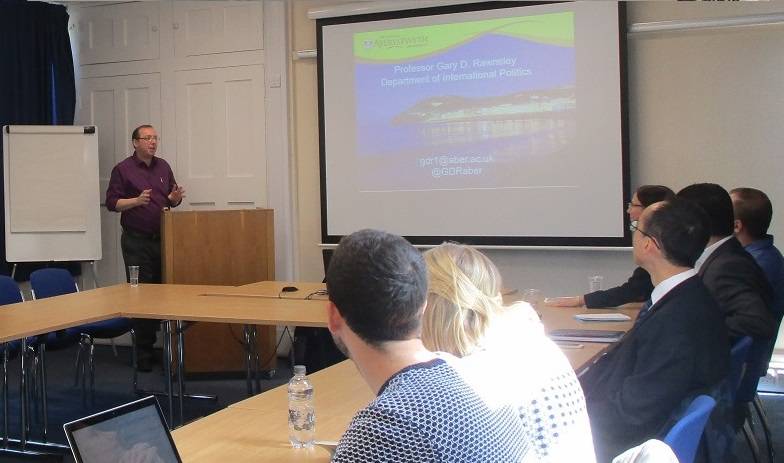 Professor Gary Rawnsley travelled all the way from Aberystwyth to present an absorbing lecture, 'Soft Power, Public Diplomacy and International Recognition: Case-study, Taiwan'.
8 May 2017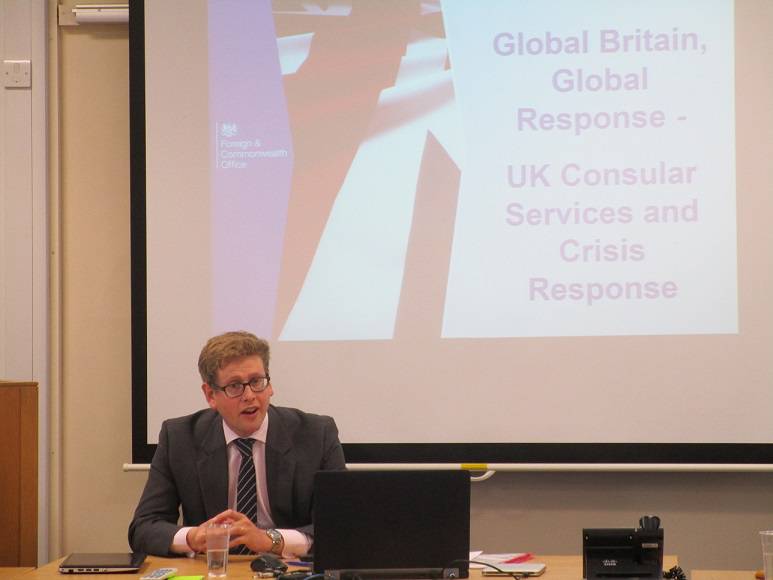 FSP members met Crispian Wilson from the FCO today for an overview of the UK consular services and crisis management.
03 May 2017
Second week already! Students have returned to an equally intensive timetable, including another diverse programme of guest speakers.

John Dubber, Head of Policy and External Relations at the British Council, visited for a discussion on 'Soft Power and the British Council: the changing nature of international relations and UK influence'.
Dr Corneliu Bjola from Queen Elizabeth Health gave a talk on 'Digital Diplomacy: Revolution or Evolution in the conduct of Foreign Policy'.