High-speed digital design
The University of Oxford Technology Programme and Signal Consulting, Inc. are pleased to present a digital media collection of Dr Howard Johnson's High-Speed Digital Design course, filmed in high-definition quality by a professional documentary film crew before a live audience.
This course is being offered free of charge (usual cost over £1,000.00).
This complete digital media course comprises 12 hours of recorded material in total, along with student hand-outs and a course syllabus.
For those of you who want to use the material for educational and other purposes, we include a full set of instructor PowerPoint slides with animations.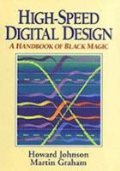 by Dr Howard Johnson
This popular and practical two-day course covers the important and timely issues involving high-speed digital design and signal integrity. Developed specifically for engineers and designers who work with high-speed digital signals, this course will give you the power to instantly recognize and solve many of today's high-speed design problems.
Main Topics
Drivers
Ringing
Termination
Bus performance
Bypass capacitors
Crosstalk
Ground bounce (sso)
Split planes
Path of current
Power system noise

This digital media series also includes:
This is an advanced-level course for experienced digital designers who want to press their designs to the upper limits of speed and distance.

High-speed noise and grounding (still to be released)

This course focuses on mixed-signal applications involving high-speed digital electronics used in conjunction with sensitive analogue circuits, and it addresses the critical issues of noise and grounding.
Short Training Courses for Professional Engineers
Signal and Power Integrity
EMC
PCB Design
Power Distribution Design
ADCs and DACs

Technical Resources
Visit our catalogue of resources including technical articles written by our course tutors, newsletters, videos and useful links