MSt in International Human Rights Law

Course details
Overview
The University of Oxford's Master's in International Human Rights Law is a part-time degree offered over two academic years, involving a combination of distance learning and summer residencies. It is offered jointly by the Department for Continuing Education and the Faculty of Law.
The course is designed in particular for lawyers as well as other (non-law) human rights advocates who wish to pursue advanced studies in international human rights law but may need to do so alongside work and/or care responsibilities.
It is aimed at developing an understanding of the principles and institutions of international human rights law, including their origins, assumptions, contents, limits and potential. It encourages students to think analytically about the implementation and development of international human rights law, to conduct research, and to apply this body of law in their own professional setting and context. It thus puts equal emphasis on the theory, doctrine and practice of human rights law.
The course is an invaluable opportunity to be a part of a vibrant and diverse community of human rights scholars and practitioners from over 90 countries around the world. It provides an institutional framework for cross-national and cross-sectoral professional collaborations and exchange of information within the human rights discourse.
Course Structure
This is a two-year course offered across six Oxford terms and is divided into four components, comprising two periods of distance learning and two summer residencies in Oxford.
For the first period of distance learning, students take a seven-month online course in the Fundamentals of International Human Rights Law using a virtual learning environment (VLE). This online course runs from September to April of the first year and is made up of six units of online study, each comprising a reading period, tutor-guided online discussions and submission of a 2,000-word assignment.
The second period of distance learning takes place from September to April of the second year when students work independently on researching and writing a 12,000-word dissertation with one-to one support from an academic supervisor.
Summer residential sessions in Oxford take place in July-August at the end of each academic year. Students choose two electives from the courses offered (see course content) and attend three weeks of intensive small group seminars for their chosen courses. The seminars are followed by a week of independent revision at the end of which students sit two exams. In addition, the first summer session includes a week of intensive dissertation-related exercises to prepare students for independent dissertation work over the subsequent eight months. During the summer sessions, students also have an opportunity to attend additional lectures by some of the leading authorities and actors in the field of international human rights law.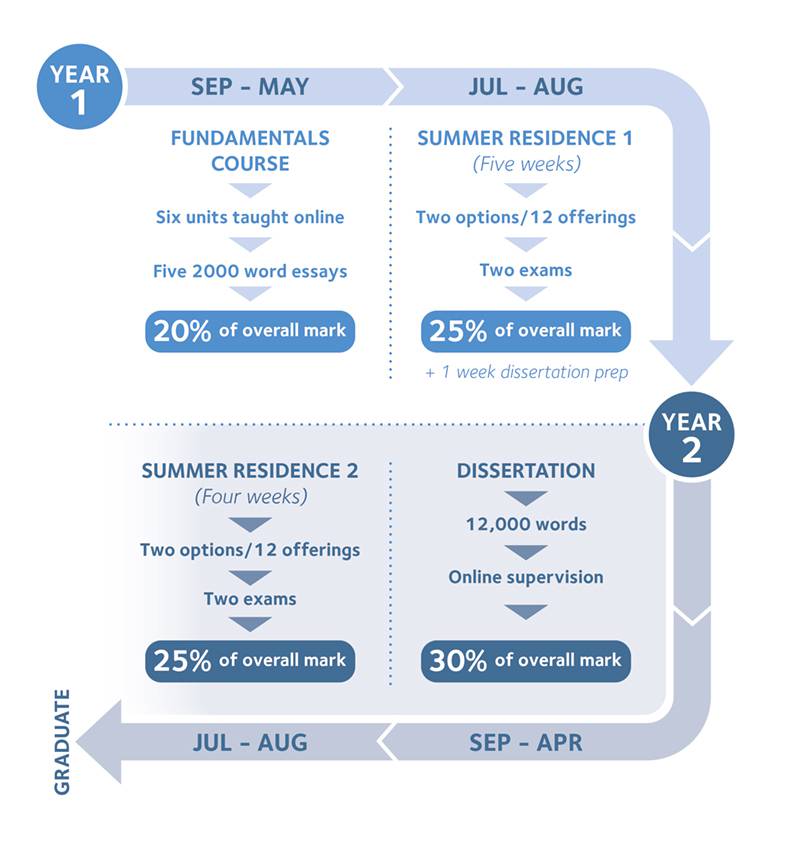 Time Commitment
Students are expected to devote 15-20 hours per week to private study when not in Oxford. In the first year of the course, the summer comprises of five weeks of full-time residence, while in the second year it is for a shorter period of four weeks.
The degree involves a significant commitment over two years. Before submitting an application, please assure that you will be able to reserve sufficient time for your online studies and your ability to attend the Oxford residential sessions. You are encouraged to consult with your employer, colleagues and family before applying.
Assessment
The degree is assessed by coursework, examinations and a dissertation. The percentage weightings of each part of the course are:
Examinations 50% (four exams at 12.5% each)
IT Requirements
In order to take this course you will need frequent and reliable internet access and a computer meeting our recommended minimum computer specification. It is possible, with some limitations, to use tablet-style devices; if you intend to use one of these devices please see our information on mobile devices. If you are in any doubt as to whether your computer or mobile device is suitable for taking the course, please contact TALLITHelp@conted.ox.ac.uk. We strongly recommend that students bring their own laptop or mobile device to the summer residential sessions.
Who should apply?
We welcome applications from persons in all fields of human rights practice. Past students have come from a variety of backgrounds including international, governmental and non-governmental agencies, private and corporate practice, academia, politics, journalism and medicine. The programme cultivates the widest possible diversity in both its students and faculty.
The degree is designed primarily for early and mid-career lawyers and human rights practitioners with a demonstrated commitment to the advancement of human rights. About 70% of our students are lawyers but non-lawyers with extensive experience in human rights are also welcome to apply. The course is enriched by the variety of student backgrounds and the evidence indicates that non-lawyers perform as well as lawyers on the course.
How to apply
For detailed information on admissions deadlines, entry requirements and how to apply, please visit our course page on the Graduate Admissions website.
You must submit a number of supporting materials with your application including references, transcripts and a CV. In addition, this course requires proficiency in English at the University's higher level. If your first language is not English, you may need to provide evidence that you meet this requirement. Further information is provided in the entry requirements section of our course page on the Graduate Admissions website.
If you choose to enter a college preference on your application form, you may wish to consider its facilities, resources, funding opportunities and location within Oxford. Please note, however, that your accommodation and meals during the summer residences, unless you are coming with children, is provided at New College regardless of college membership. To find out which colleges accept students on the Masters in International Human Rights Law please visit the colleges section of our course page on the Graduate Admissions website.
When admissions are closed, please click on the 'ask a question' button to enter your details and we will add you to our mailing list to receive a notification when admissions re-open. Similarly, if you have an admissions-related question that is not answered on this website or the University's
Application Guide
, please submit your question using the same facility.