4G and 5G Protocols

Overview
We plan to offer this course again. To receive a notification when future course dates are announced, please click the 'Notify Me' button in the right hand sidebar.
This course is day 4 of the LTE Advanced and 5G System Design and Operation course and can be taken on its own or as part of the 5-day course.
This course presents a technical description of key 4G protocols and procedures through progressive releases of the 3GPP specifications since the introduction of LTE in Release 8. Protocol structures and mechanisms that support communications across various interfaces are presented, including the Air Interface, E-UTRAN, Core Network and EPC systems. S1, X2 and EPS signalling principles and example signalling procedures are presented and E-RAB setup mechanisms discussed. The course then presents the requirements and potential solutions that are currently being discussed for the development of 5G systems. The course also includes an overview of procedures relating to registration, security, mobility management, voice call setup and PS data session establishment for current LTE networks.
Programme details
Day 4 – 4G and 5G Protocols (Neil Wiffen)
LTE / EPS Service Delivery
LTE Air Interface
E-UTRAN protocols and interfaces
EPC architecture and protocols
Connecting to the IMS
VoLTE protocols
LTE-Advanced protocols and procedures
5G Architecture and Protocol options
Cloud RAN considerations
Separation of Control and User Planes
Network and Service Slicing
Virtual Cell management
Certification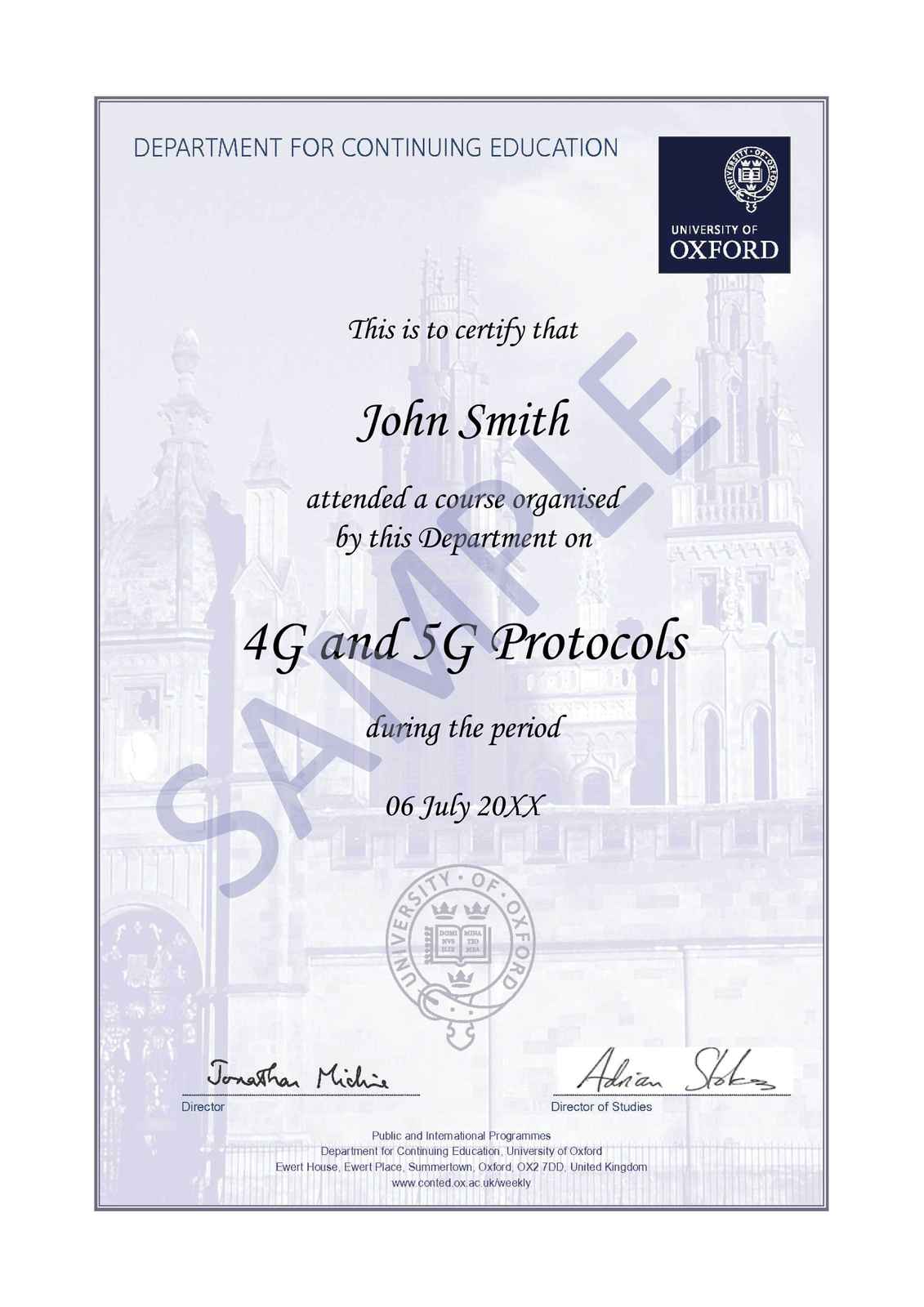 Participants who attend the full course will receive a Certificate of Attendance. The sample shown is an illustration only and the wording will reflect the course and dates attended.
Accommodation
Accommodation is available at the Rewley House Residential Centre, within the Department for Continuing Education, in central Oxford. The comfortable, en-suite, study-bedrooms have been rated as 4-Star Campus accommodation under the Quality In Tourism scheme, and come with tea- and coffee-making facilities, free Wi-Fi access and Freeview TV. Guests can take advantage of the excellent dining facilities and common room bar, where they may relax and network with others on the programme.
Fees
Standard course fee: £495.00

Payment
We offer several payment options:
Pay immediately online by credit or debit card
Click the "book now" button on this webpage to pay online with a credit or debit card
Pay later with your preferred payment method
Send a completed application form to the course administrator by e-mail or post, and choose:
Request an invoice
BACS payment
Cheque payment
Credit or debit card payment. Please do not send card details via email
Fees include course materials, tuition, refreshments and lunches. The price does not include accommodation.
All courses are VAT exempt.
Tutor
Neil Wiffen
Speaker
Senior Technical Instructor,
Red Banana Wireless Ltd
Since 2001 Neil has developed and delivered training for the majority of the major 3G handset and chipset manufacturers through EMEA, Asia-Pac and North America. Currently his training and consulting efforts are focussed on 3 key topic areas:
3G protocol stack (WCDMA, HSDPA,HSUPA)
Mobile Network Service Provision (Mobile Data Solutions, End-to-end Service Provision, Network Optimisation)
Government Research (Current and Emerging Wireless Systems)
Previously, Neil has worked as a Technical Instructor for Wray Castle Ltd., developing and delivering UMTS technical training material, and prior to this he spent 13 years with GCHQ on various Research and Development projects in both engineering roles and as a technical team leader.
Application
If you would like to discuss your application or any part of the application process before applying, please contact:
Course Administrator
Tel: +44 (0)1865 286958
Email: telecoms@conted.ox.ac.uk
Level and demands
Who is it for?
Hardware / software engineers, system designers and implementation engineers who require an understanding of the UMTS protocol architecture including the changes that will occur with the introduction of HSPA and an insight into the consequences of these changes.
Engineers and Team leaders working in the following disciplines would find the course particularly useful: Protocol Architecture Development; Handset and Network Testing; Software Development; Hardware Engineering; Network Planning; Systems Engineering; Application Development; Service Provision; Network Operation; Chip-set Manufacture; Cell Planning.
Delegates should already have a general understanding of UMTS principles and basic mobile call / network procedures, or have attended the previous 4 days of the LTE and HSPA Evolution: System Design and Operation course.
If you're uncertain whether this course is suitable for your requirements, please email us with any questions you may have.