4G and 5G RF Design Challenges

Overview
We plan to offer this course again. To receive a notification when future course dates are announced, please click the 'Notify Me' button in the right hand sidebar.
This course is day 5 of the LTE Advanced and 5G System Design and Operation course and can be taken on its own or as part of the 5-day
This session presents an overview of state of the art solutions and strategies used by chipset vendors to deliver cost efficient LTE and 5G terminals, with a focus on the RF subsystem and RF Front-End architectures.
Supporting the increasing number of bands and band combinations, maintaining radio performance, hardware cost and power consumption in multi-mode multi-standard smartphones poses serious design challenges
Programme details
This one-day session explains modern transmitter and receiver chain RF architectures in detail, including co-existence scenarios and the progress made in reducing power consumption across three recent generations of LTE chipsets.
Course content:
Smartphone market trends:
WW Smartphone variant and hardware architecture overview
Frequency band and CA band combination requirements:
- Illustration of cost / feature / SKU trade-offs in a family of high-end smartphones
Multi-mode, Multi-band RF transceiver architecture overview
Overview of some 5G RF Front-end challenges:
RF multiplexing complexity overview
Power amplifier module trade-offs
RF filtering & internal smartphone coexistence issues
OTA performance & antenna challenges for 5G MIMO
Addressing power consumption challenges:
- Battery technology evolution
- Application engines architecture overview
- Power amplifier control schemes
- 3GPP/network power saving features
- Benefits of small cell deployments on battery life.
- Impact of new 5G modulation schemes.
Certification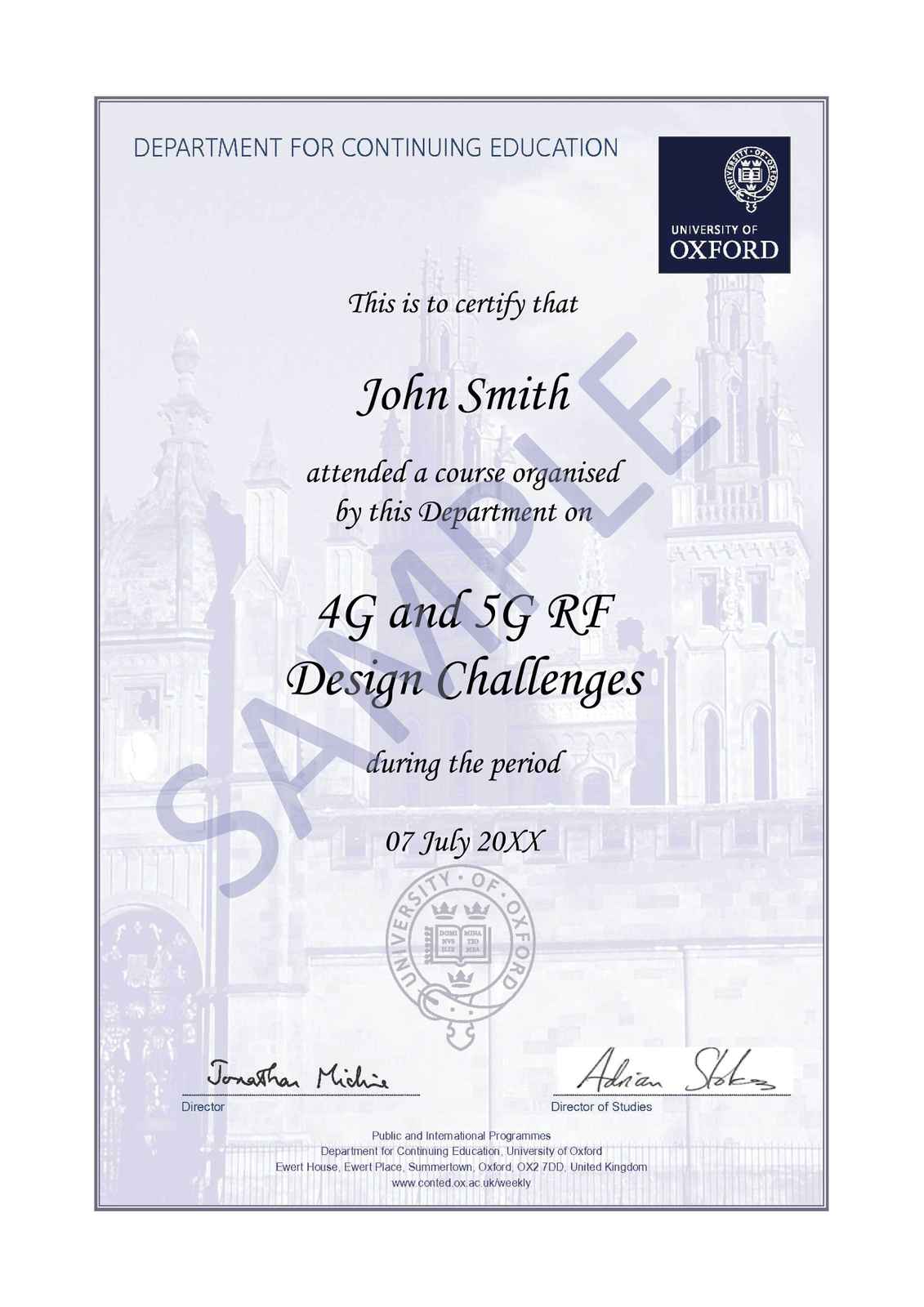 Participants who attend the full course will receive a Certificate of Attendance. The sample shown is an illustration only and the wording will reflect the course and dates attended.
Accommodation
Accommodation is available at the Rewley House Residential Centre, within the Department for Continuing Education, in central Oxford. The comfortable, en-suite, study-bedrooms have been rated as 4-Star Campus accommodation under the Quality In Tourism scheme, and come with tea- and coffee-making facilities, free Wi-Fi access and Freeview TV. Guests can take advantage of the excellent dining facilities and common room bar, where they may relax and network with others on the programme.
Fees
6 July (4G 5G Protocols) AND 7 July (4G 5G RF Design Challenges): £890.00
Standard course fee: £395.00

Payment
Pay immediately online by credit or debit card
Click the "book now" button on this webpage to pay online with a credit or debit card
Pay later with your preferred payment method
Send a completed application form to the course administrator by e-mail or post, and choose:
Request an invoice
BACS payment
Cheque payment
Credit or debit card payment. Please do not send card details via email
Fees include course materials, tuition, refreshments and lunches. The price does not include accommodation.
All courses are VAT exempt.
Tutor
Mr Laurent Noël
Speaker
System Performance Analyst at Videotron, Canada, Mobile Devices Certification
(formerly Senior System Architect at ST-Ericsson)
Until recently Laurent Noel was a senior system architect at ST-Ericsson, France. He worked on reconfigurable multi-mode, multi-standard, digital RF solutions for LTE, FDD-WCDMA, EGPRS, and TD-SCDMA projects.
Throughout 2007 and 2008 he also actively participated in the definition of the DigRF SM v4 standard within the MIPI alliance. Prior to that he worked at BT Laboratories (Martlesham Heath, UK) where he was involved in 3G testing activities and in research on high speed digital optical systems, including millimetre wave radio systems over fibre.
He received a degree in mathematics and physics from the University of Montpellier II, France, in 1991, and a degree as a microelectronics engineer at the "Institut des Sciences de l'Ingenieur" (ISIM), Montpellier, France, in 1994.
Application
If you would like to discuss your application or any part of the application process before applying, please contact:
Course Administrator
Tel: +44 (0)1865 286958
Email: telecoms@conted.ox.ac.uk
Level and demands
This course is aimed at those who have already basic understanding of WCDMA technology and wish to get themselves up to date with the latest technology development.
The course is intended for engineers, those involved in RF systems design, radio planners, service developers and operators, equipment designers, telecoms consultants and 3G applications developers.
In addition, the course will appeal to technical managers, analysts and strategists wishing to increase their technical understanding of the key subject area currently in the limelight of the telecoms world.
If you're uncertain whether this course is suitable for your requirements, please email us with any questions you may have.