4G LTE-Advanced

Overview
This course is day 1 of 5G New Radio Specifications and System Design and can be taken on its own or as part of the full 5-day course.
With the explosion in mobile data traffic, mobile networks are needing to introduce a range of extensions to 4G radio technology to continue to provide a good user experience.
This 1-day course explains the wide range of 4G features available within the LTE Advanced umbrella contained in 3GPP Releases 10-12.
We cover the topics of Dual Connectivity and Inter-site Carrier Aggregation, Enhanced Coordinated Multipoint and evolutions of MIMO.
We also explain the benefits of Small Cells, Relay Nodes and Heterogeneous Networks in making the most of the available radio spectrum.
There is the option of purchasing a copy of "LTE Advanced: 3GPP Solution for IMT-Advanced" by Harri Holma and Antti Toskala (Wiley) when you register for this course.

Programme details
Course content:
Carrier Aggregation (CA)
MIMO evolution
Heterogeneous Networks (HetNet)
Coordinated Mlitipoint (CoMP)
Enhanced CoMP over non-ideal backhali (eCoMP)
Dual connectivity (DC) and inter-site carrier aggregation
Self Organizing Networks (SON)
Relay nodes (RN)
Device-to-device communication (D2D)
LTE-Advanced optimization
LTE Performance: data rates, coverage, capacity and latency
CS Fallback and VoLTE optimization
LTE mobility and packet scheduler optimization
Certification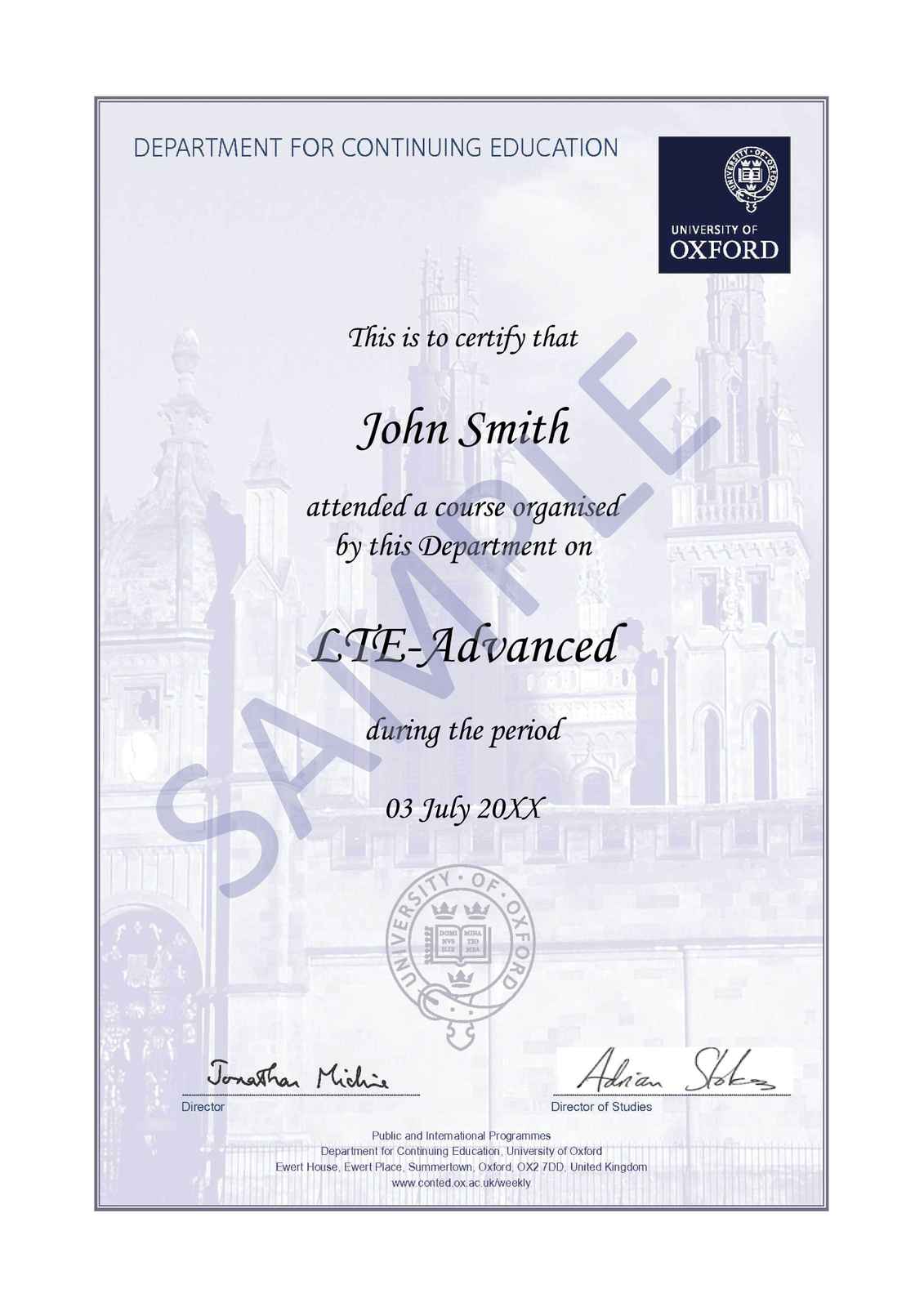 Participants who attend the full course will receive a University of Oxford Certificate of Attendance. The sample shown is an illustration only and the wording will reflect the course and dates attended.
Accommodation
Accommodation is available at the Rewley House Residential Centre, within the Department for Continuing Education, in central Oxford. The comfortable, en-suite, study-bedrooms come with tea- and coffee-making facilities, free Wi-Fi access and Freeview TV. Guests can take advantage of the excellent dining facilities and common room bar, where they may relax and network with others on the programme.
Fees
Course fee inc copy of textbook: £445.00
Standard course fee: £395.00

Payment
Fees include course materials, tuition, refreshments and lunches. The price does not include accommodation.
All courses are VAT exempt.
Register immediately online
Click the "book now" button on this webpage. Payment by credit or debit card is required.
Request an invoice
Send a completed application form to the course administrator by email or post. Please do not send card details via email.
Tutor
Presenter
Telecoms Consultant
Jon is an experienced RF Design Engineer and Telecoms Trainer.
He worked previously for a mobile handset company, managing the development of Windows Mobile phones and introducing them to the Enterprise space and Mobile Network Operators. Prior to this, he was responsible for 3G Network performance optimisation for O2 Group where he held several roles in the UK, Ireland and the Isle of Man.
He received M.Eng. and D.Phil. qualifications from University College, Oxford in 1994 and 1998.
Application
If you would like to discuss your application or any part of the application process before applying, please contact:
Course Administrator
Tel: +44 (0)1865 286958
Email: telecoms@conted.ox.ac.uk
Level and demands
RF and baseband engineers, radio planners, service developers, mobile operators, equipment designers and telecoms consultants.
In addition, the course will appeal to technical managers, analysts and strategists wishing to increase their technical understanding of the key subject areas currently in 4G and 5G telecoms.
If you're uncertain whether this course is suitable for your requirements, please email us with any questions you may have.