Agile Project Management

Overview
This course is now full for the current intake. To be notified of future course dates, please click the Notify Me button in the right hand sidebar.
The Oxford Agile Course
This course is for anyone with an interest in completing projects quickly and efficiently. It will provide you with a clear understanding of the leading Agile method (Scrum) and the key ideas, techniques, tools, behaviours and ways of thinking that can make it work for you.
'Agile' is an approach to Project Management that has transformed the IT world in recent years. Agile Project Management is now making similarly positive impacts on traditional, non-IT projects. Agile can even be used to speed success towards your personal goals – whether that means renovating your home or building a small business.
About Agile
Agile is effective because it focusses on continual learning and adaptation. It is an evolutionary approach to getting things done. Traditional projects depend on a definition of requirements – a clear statement of each aspect of the work that needs to be done – but Agile approaches accept that you can't know all of those requirements until you start work and start to learn about the problem.
Traditional Project Management puts a significant emphasis on management of risk. Agile, on the other hand, avoids such risks by reacting quickly, efficiently and in a controlled manner to deal with problems and issues as they arise.
Agile is not just 'free-form' or 'random'. Agile has a well-developed discipline of tools, techniques, behaviours and thinking that drive progress towards a successful project conclusion. The Oxford Agile course will enable you to understand and use those key techniques of Agile Project Management.
Intended Audience
Agile Project Management is used by small businesses and large, in both the private and public sectors. This course is relevant for both new and experienced project managers who want to build their knowledge and understanding of this important and powerful new approach to Project Management. The course is relevant to both IT and non-IT practitioners, is non-technical in its approach and assumes no prior knowledge in this subject area.
Optional Practical Workshop
You can enrol on this course on its own or add the optional practical workshop for an additional £295. Just click the orange 'Book Now' button on the right and select the relevant option at checkout.
For more information, please visit the Agile Project Management - practical workshop course page.
Programme details
The Oxford Agile course includes:
· An introductory case study of failing project that was transformed by applying Agile
· 12 Principles of the Agile Manifesto – and what they means for your projects
· An introduction to Scrum – the most widely adopted Agile Method
· Definition of 'Done'
· Scrum Values
· Team roles in Scrum – ScrumMaster, Product Owner, Team
· Team communication and team size
· Structure of Agile Scrum projects
· Building understanding through User Stories
· Estimating tasks and effort
· Tracking your project to a successful conclusion
· Servant Leadership : Key skills of the expert ScrumMaster
Certification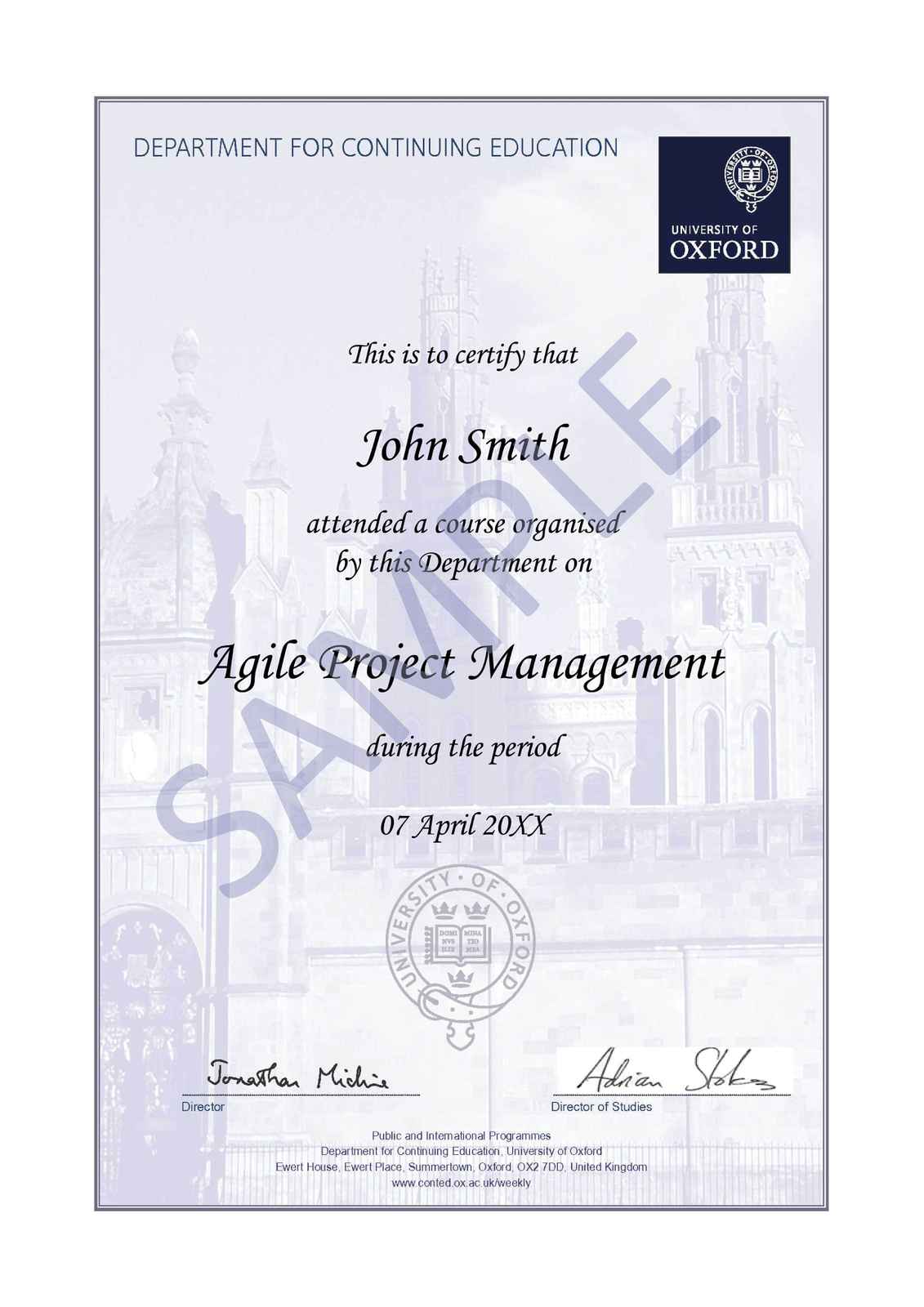 Participants who attend the full course will receive a Certificate of Attendance. The sample shown is an illustration only and the wording will reflect the course and dates attended.
Accommodation
Accommodation is available at the Rewley House Residential Centre, within the Department for Continuing Education, in central Oxford. The comfortable, en-suite, study-bedrooms come with tea- and coffee-making facilities, free Wi-Fi access and Freeview TV. Guests can take advantage of the excellent dining facilities and common room bar, where they may relax and network with others on the programme.
Fees
Standard course fee: £425.00
Standard course fee with Practical Workshop on Fri 27 Apr 2018: £720.00

Payment
Pay immediately online by credit or debit card
Click the "book now" button on this webpage to pay online with a credit or debit card
Pay later with your preferred payment method
Send a completed application form to the course administrator by e-mail or post, and choose:
Request an invoice
BACS payment
Cheque payment
Credit or debit card payment. Please do not send card details via email
Fees include course materials, tuition, refreshments and lunches. The price does not include accommodation.
All courses are VAT exempt.
Discounts
This course can be taken as part of a discount package
Tutor
Tutor

Visiting Fellow
Department of Computer Science, University of Oxford
Dr Rob Collins is a visiting fellow of Kellogg College Oxford and regularly teaches courses at the University – both through Continuing Professional Development and through the Computing Laboratory. As well as his academic teaching work Dr Collins regularly provides consultancy to industry in the area of Business Process Excellence and Systems Engineering. He gained his Black Belt Certification in Lean Six Sigma from Lockheed Martin – the world's largest Systems Engineering company and a world-leader in advanced technology.
As well as his undergraduate degree in Physics and Computing, Dr Collins holds a PhD completed within a Psychology Department. Dr Collins' PhD focussed on training, psychology and processes for introducing complex technology into learning environments. Dr Collins' completed an MBA in 2012 at Henley Business School. He thus has a strategic business view as well as deep understanding and practical experience of hands-on process improvement in technology and service.
Application
If you would like to discuss your application or any part of the application process before applying for this Applying Knowledge Management course, please contact:
Course Administrator
Tel: +44 (0)1865 286958
Email: business@conted.ox.ac.uk