Applying Practical EMI Design and Troubleshooting Techniques

Overview
This two-day course on 19 and 20 June gives engineering professionals the ability to successfully recognize, solve and avoid challenging EMI problems.
Demonstrations using working hardware illustrate concepts such as radiated emissions, high frequency antennas, radiated and conducted immunity and crosstalk in connectors, cables and IC packages.
Integrating over 30 years of hands-on troubleshooting experience and the latest EMC research, this course is appropriate for experienced circuit and system design engineers, EMC engineers, as well as those who are new to EMI problem solving.
This two-day course is Day 1 and 2 of a 4-day programme from 19 – 22 June. It can be taken on its own or with one or both of the following courses:
Programme details
Day 1
Section 1: Measuring and inducing noise
Electromagnetic Compatibility
Radiated emissions & associated measurements + DEMONSTRATION
High level overview of impact of EMC requirements on system design and performance
Case histories of US, international, and SILENT EMC problems and their impact
Uncertainty in measurements. Underlying problems in predicting results
Conducted emissions—mode separation, LISNs, troubleshooting
Function and purpose of immunity tests with simplified schematics
Section 2: Predictiong and solving noise problems
Capacitance—in ESD, PD boards, decoupling networks, filter networks, cables + DEMONSTRATION
Inductance—in PC boards, connectors, ICs, high speed signal paths, decoupling networks, filter networks
Behavior of current paths at low and high frequencies + DEMONSTRATION
Develop a customized source/victim/coupling-factor list of your company's designs
Day 2
Section 3: the four noise coupling paths, funtions of "Ground" and "Ground" Loops.
Common impedance - in PCB power planes, ground planes, cables
Capacitive - in PCB power filtering, transformers, heatsinks, connectors +DEMONSTRATION
Inductive - in PCB ground planes, connectors, and IC packages
Radiative - from small electronic products +DEMONSTRATION
Ground - the three distinct functions, ground loop problems, +DEMONSTRATION
Section 4: Optimum use of EMI control components
Control components: capacitors, inductors, ferrite beads, common-mode filters +DEMONSTRATION
Coping with and improving non-ideal characteristics such as interconnect inductance, DC bias

Section 5: Measuring and diagnosing effects of common and differential-mode sources and filters
Differential-mode current, voltages
Common-mode currents, voltages, +DEMONSTRATION
Understanding the common-mode current and antenna path for emissions and immunity
Antenna currents and relevance to filter networks and troubleshooting
Common and differential-mode filtering. Filter network topology and function
Inherent difficulties in EMC filter design. Effects of filters on intended and unintended signals
Where to use common-mode filters—application circuits
Where to use differential-mode filters—application circuits
Certification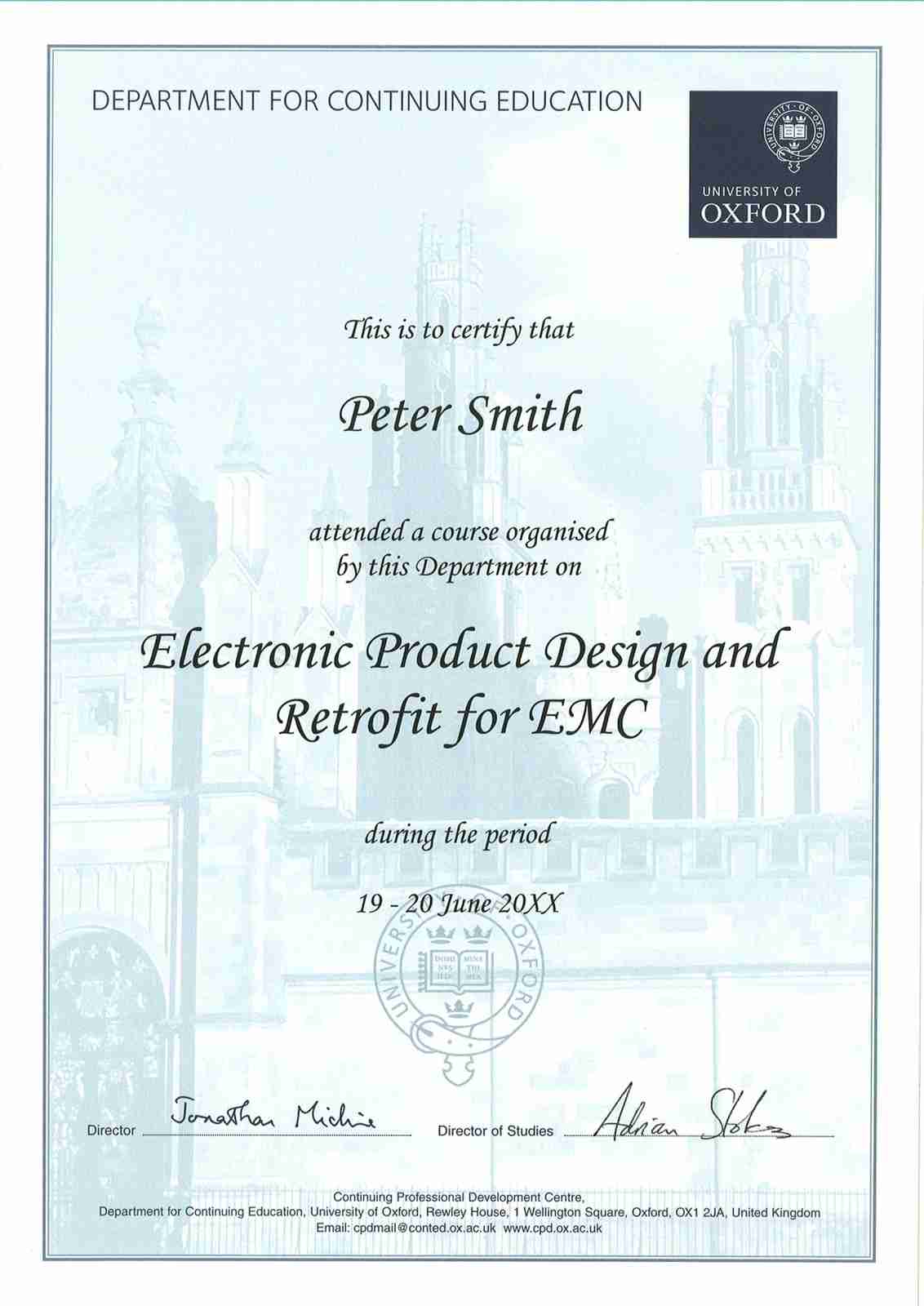 Participants who attend the full course will receive a Certificate of Attendance. The sample shown is an illustration only and the wording will reflect the course and dates attended.
Accommodation
Accommodation is available at the Rewley House Residential Centre, within the Department for Continuing Education, in central Oxford. The comfortable, en-suite, study-bedrooms come with tea- and coffee-making facilities, free Wi-Fi access and Freeview TV. Guests can take advantage of the excellent dining facilities and common room bar, where they may relax and network with others on the programme.
Fees
19-20 June - Days 1 and 2 (standard course fee): £895.00
21 June - Day 3 - Advanced PCB Design (optional): £447.50
22 June - Day 4 - Mechanical Design for EMC (optional): £447.50

Payment
Fees include course materials, tuition, refreshments and lunches. The price does not include accommodation.
All courses are VAT exempt.
Tutor
Speaker
SILENT Solutions LLC & GmbH, USA & Germany
Lee Hill is Founding Partner of SILENT Solutions LLC, an electromagnetic compatibility (EMC) consulting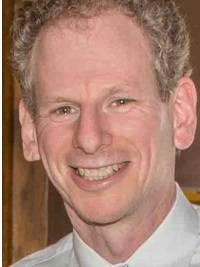 firm he started in Silicon Valley in 1992. He is also Managing Director of Silent Solutions GmbH (Munich).
He received his MSEE with highest honors from the Missouri University of Science & Technology EMC Laboratory emclab.mst.edu, where he studied under Dr.'s Thomas Van Doren, Todd Hubing, and James Drewniak.
Lee teaches a graduate course in EMC as a member of adjunct faculty at Worcester Polytechnic Institute (WPI), and is also an EMC course instructor for University of Oxford (England), and for the IEEE EMC Society's annual Global University and Fundamentals Program. Lee is the named inventor of three US patents for EMI control in electronic systems, and provides expert witness services for patent litigation. While teaching is one of Lee's favorite jobs at SILENT, the majority of his time is spent providing hands-on hardware troubleshooting of / and design reviews to prevent elusive regulatory and functional electrical noise problems.
Lee is a past EMC course instructor for the University of California Berkeley Extension, Hewlett-Packard, Agilent, Freescale Semiconductor, and General Motors University. Previously Lee was Principal EMC and Systems Engineer at Digital Equipment Corporation's Workstation Systems Engineering Group in Palo Alto, California. With over 25 years of EMC design and troubleshooting experience, Lee consults and teaches worldwide, and has been teaching short courses on EMC design and troubleshooting for twenty years, He has presented EMC courses in Taiwan, Singapore, Mexico, Norway, Canada, South Korea, Germany, France, and United Kingdom.
Lee frequently volunteers for the IEEE EMC Society and currently chairs the annual IEEE EMC Symposium's Fundamentals program & is an instructor for the Symposium's Global University Program. He is also a past member of the IEEE EMC Society's Board of Directors (2004-2007), and has also served as a member of the Society's Awards Committee. In 1994, Lee was appointed to serve a two year term as an IEEE EMC Society Distinguished Lecturer (DL), and from 1999-2006 he served as chair of the DL program. Over the past twenty years Lee has been a frequent featured speaker at IEEE EMC Society fundraising events in cities throughout the US including Santa Clara, Seattle, Portland, Chicago, Milwaukee, Dallas/Fort Worth and Detroit. He has also provided technical presentations to Society chapters in Los Angeles, San Diego, Boston, Austin, Atlanta, Colorado Springs, Pittsburgh, and Orange County, CA.
Learning outcomes
After attending this course you will be able to:
Systematically analyze and solve noise problems by using the noise model to create and analyze a noise circuit schematic.
Minimize radiated EMI by designing low inductance signal interconnects.
Understand ground loops, how to represent them in an equivalent circuit, and how to eliminate them.
Clearly identify and manage the three different types of "ground" in schematics and physical circuits.
Identify "accidental antennas" in new designs.
Understand and measure common-mode current in emissions and immunity problems.

Application
If you would like to discuss your application or any part of the application process before applying, please contact:
Course Administrator
Tel: +44 (0)1865 286958
Email: electronics@conted.ox.ac.uk
Level and demands
Digital logic designers, analogue designers, technicians, EMC specialists, printed circuit board designers, applications engineers; anyone working with electronic circuits who is concerned with the control of low and high frequency electrical noise in electronic systems.
This course is for Digital Logic Designers, Analogue Designers, Technicians, EMC Specialists, Printed Circuit Board Designers, Applications Engineers; anyone working with electronic circuits who is concerned with the control of low and high frequency electrical noise in electronic systems.