Artificial Intelligence: Cloud and Edge Implementations

Sign up for course news to hear about future course dates.
Overview
Now running for the fourth time, Artificial Intelligence: Cloud and Edge Implementations is a pioneering course (previously called Data Science for Internet of Things) which covers AI, edge computing, product development and engineering.
You will learn about creating next generation data products driven by AI to help you to transition your career to AI.
This course is designed to create a new breed of engineer, through a solid grounding in artificial intelligence (AI) and edge computing (Internet of Things) for developing systems in production. We incorporate an agile data science methodology adapting agile techniques to AI systems deployed in production. We also cover problem framing and solution deployment through automated machine learning spanning AI and edge.
The course is designed for industry practitioners with a background of coding. Previous students have used the course to start a new career, for career progression or to have their skills upgraded by their employer
The course takes a problem-solving approach and uses specific case studies from industry.
Participants are expected to have a mind-set of exploration and to study and learn beyond the class material itself (depending on their existing familiarity with the subject matter).
The course provides you skills in cloud programming (Azure, AWS and Google) and Python development (TensorFlow and Keras).
Programme details
Python (TensorFlow and Keras) is the primary language of the course and while we do not expect you to have full proficiency in it, we expect you to have a programming background. This is an industry course not an academic course and we focus on skills based/commercial products.
The course explores the following themes:
Principles and foundations for artificial intelligence and edge computing
Python coding (TensorFlow and Keras)
Core deep learning algorithms (MLP, CNN, LSTMs)
Reinforcement learning
Unsupervised learning, generative adversarial networks (GANs) and autoencoders
End-to-end agile problem-solving methodology including continuous improvement and delivery for AI models in production
Robotics (Dobot)
Cloud based AI implementations - Azure , Google and Amazon
Autonomous vehicles applications
Time series
Programming sprints
Industry use cases and examples: retail, oil and gas, autonomous vehicles, affective computing (emotional AI)
Natural language processing
Industrial IoT (anomaly detection and failure prediction)
Industry 4.0
Devops (in relation to AI application deployment)
Architecture for AI applications in production
Term One
(9 November to 17 December 2019)
Principles and foundations for artificial intelligence and edge computing
Python, TensorFlow and Keras for data science
Programming sprints
Unsupervised learning including autoencoders and variational autoencoders
Natural language rocessing
Agile methodology for data science
Retail case studies
Edge computing with Intel
AI - cloud and the edge (Azure)
Industry use cases (Ocado)
AI - cloud and edge (AWS)
Christmas break 18 December 2019 to 3 January 2020
Term Two
(4 January to 8 February 2020)
Reinforcement learning
Robotics sprints (cloud robotics i.e. integrating cloud APIs into the Dobot robotic arm)
AI - cloud with Google
Agile methodology for AI production systems (two sessions)
End-to-end deep learning frameworks
Affective computing (emotional AI)
Autonomous vehicles
Industrial IoT - Industrial IoT (anomaly detection and failure prediction)
Books
You will receive copies of the following books included in the course fee - some will be provided as e-books: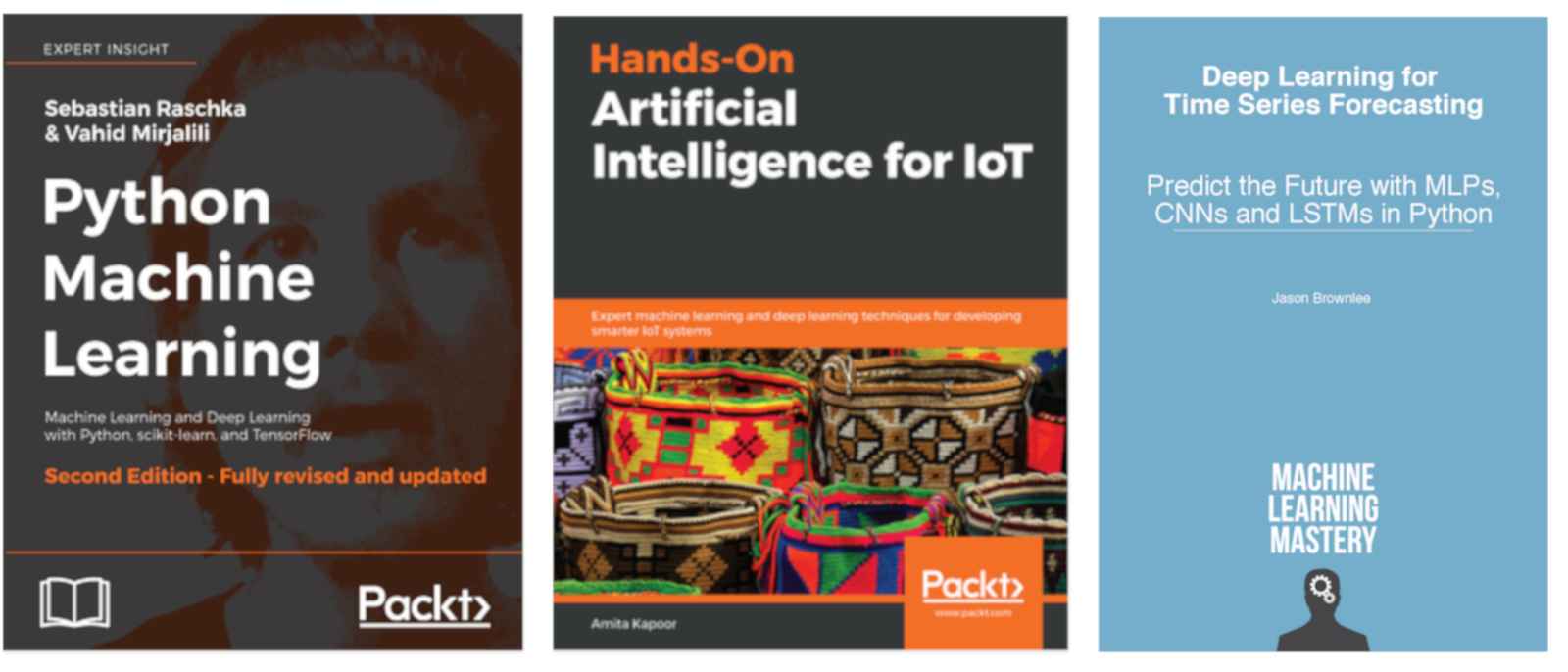 Python Machine Learning: Machine Learning and Deep Learning with Python, scikit-learn, and TensorFlow (Sebastian Raschka, Vahid Mirjalili / Packt Publishing, 2nd edition, 2017)
Hands-On Artificial Intelligence for IoT: Expert machine learning and deep learning techniques for developing smarter IoT systems (Dr Amita Kapoor / Packt Publishing, 2019)
Deep Learning for Time Series Forecasting Predict the Future with MLPs, CNNs and LSTMs in Python (Jason Brownlee /Machine Learning Mastery)
Timetable:
The course takes place in Oxford and online. There is a minimum attendance requirement of 75%.
3 - 6 hours face-to-face in Oxford on Saturdays (usually starting at 10:30)
1 - 2 hours online each week on Tuesdays (usually starting at 19:00).
We recommend you allow around 10 - 12 hours study time per week in addition to the hours outlined above.
You will be fully supported by the tutor who will be available during the week to answer questions.
A limited number of participants ensures that all those taking this course gain the maximum possible value.
Certification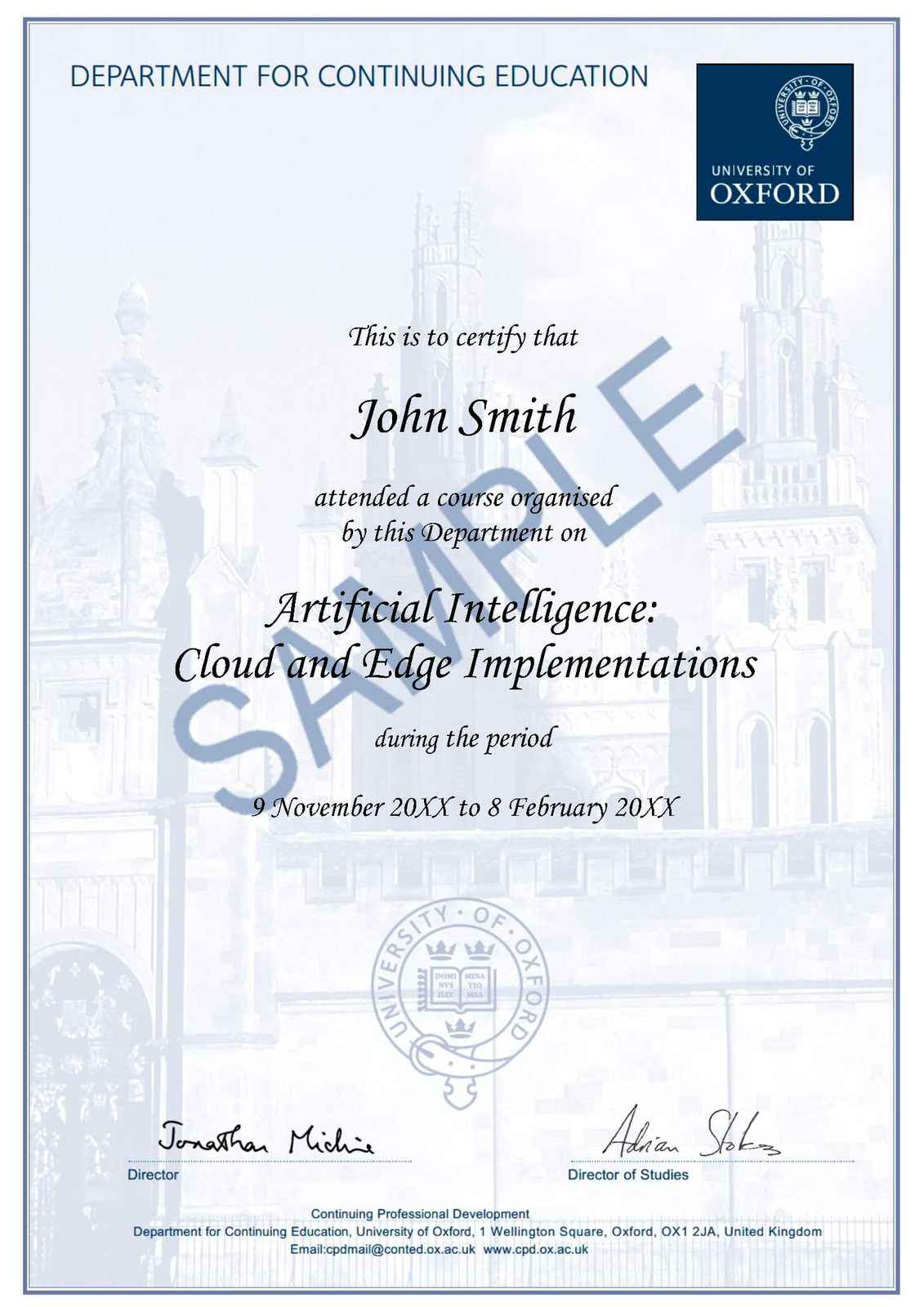 Participants who satisfy the course requirements will receive a Certificate of Attendance. The sample shown is an illustration only and the wording will reflect the course and dates attended. To receive a certificate at the end of the course you will need to:
Achieve a minimum attendance at the Oxford classroom sessions of 75%.
Answer all the learning quizzes provided (these are short quizzes designed to ensure you have understood the material in each unit).
Participants are expected to actively participate and complete the exercises which will be given during the course. These exercises involve coding / hands-on exercises (individually and also in groups) in sprints relating to AI, Cloud, IoT and Robotics.
Accommodation
Although not included in the course fee, accommodation may be available at our on-site Rewley House Residential Centre.
To enquire about a vacancy, about room charges or to make a booking, please contact the Residential Centre directly:
+44 (0)1856 270362
res-ctr@conted.ox.ac.uk
IT requirements
Part of this course is delivered online; to participate you will need regular access to the Internet and a computer meeting our recommended Minimum computer specification.
We also recommend you bring a laptop to the weekly Saturday sessions.
Fees
Course fee (standard): £4995.00
Pay in two instalments (not available after 1 September): £5100.00

Payment
Fees include course materials, tuition, refreshments and lunches. The price does not include accommodation.
All courses are VAT exempt.
Register immediately online
Click the "book now" button on this webpage. Payment by credit or debit card is required.
Request an invoice
Send a completed application form to the course administrator by email or post. Please do not send card details via email.
Tutors
Lead Tutor and Course Director
Based in London, Ajit's work work spans research, entrepreneurship and academia relating to artificial intelligence (AI) and the internet of things (IoT).
Ajit works as a Data Scientist through his company feynlabs - focusing on building innovative early stage AI prototypes for domains such as cybersecurity, robotics and healthcare
Besides Oxford University, Ajit has also conducted AI courses in the London School of Economics (LSE), Universidad Politécnica de Madrid (UPM) and part of the The Future Society at the Harvard Kennedy School of Government.
He is also currently working on a book to teach AI using mathematical foundations at high school level.
Ajit was listed in the top 30 influencers for IoT for 2017 along with Amazon, Bosch, Cisco, Forrester and Gartner by the German insurance company Munich Re.
Ajit publishes extensively on KDnuggets and Data Science Central and his book, Data Science for Internet of Things, is included as a course book at Stanford University.
He was recently included in top 16 influencers (Data Science Central), Top 100 blogs (KDnuggets), Top 50 (IoT central), and 19th among the top 50 twitter IoT influencers (IoT Institute).
Director of Studies
Dr Cezar Ionescu is Associate Professor of Data Science with the Oxford University Department for Continuing Education. His main interests include functional programming, correctness of scientific computing and machine learning algorithms, and the role of computing science in education.
Course Developer and Guest Speaker
JJ Bernard has an MSc in Engineering from the Ecole Centrale de Marseille and an MBA from the University of Cambridge. He is also a certified Lean Six Sigma Black Belt.
He currently works at Oracle as a strategy consultant, advising client on their technology investment with regards to their business strategy.
Previously, he has worked as a project manager for Orphoz, a subsidiary of McKinsey & Company, focusing on defining and executing transformation projects. He has worked in diverse environments such as manufacturing, FMCG, public sector, steelmaking, mining, healthcare and automative.
He has also worked for Accenture, both on business and IT transformation projects, for the financial services industry and the public sector.
Guest Speaker
Consultant, Data Visualisation
Barend Botha is a UK-based consultant working predominantly in the field of data visualisation.
He is particularly interested in the growing future potential and roles that data analytics and visualisation will play across IoT verticals in in combination with Artificial Intelligence and the resulting products and insights for business and consumers alike.
He draws upon past experience in research, design, development, management and marketing across various domains and disciplines.
Guest Speaker
Cloud Developer Advocate, Microsoft
Amy Boyd is a Cloud Developer Advocate at Microsoft, having obtained a degree in Computer Science, completing a research project in Natural Language Processing/Machine Learning and an internship at Microsoft's search engine, Bing.
Amy is passionate about Data Science and Machine Learning and her roles at Microsoft have allowed her to work on many different areas of data science (visualisation, ML, big data, IoT) as well as working on projects with customers across the globe.
Her role as a Developer Advocate helps developers to engage with Microsoft around Microsoft Azure and specifically the Azure AI services by providing content, learnings, and sample code. You will find her sharing her content and learnings online and at in-person events.
Guest Speaker
Chief Technology Officer, Ocado
Paul Clarke is Chief Technology Officer at Ocado, the world's largest online-only grocery retailer.
Paul joined Ocado in 2006. After establishing new teams for Simulation and Mobile development, Paul then co-wrote the first of Ocado's award winning mobile apps. In his current role, Paul heads up Ocado Technology, whose 950+ software engineers and other IT specialists are responsible for building all the software and IT infrastructure that powers Ocado, and now Morrisons' online grocery business too.
Paul read Physics at St John's College, Oxford before then entering the computer industry. He has worked in software engineering, consultancy, interim management and a number of software start-ups.
In what little spare time he has alongside his work and family, Paul loves to invent and build stuff, design PCBs, write software and generally tinker.
Guest Speaker
Senior Software Engineer, Microsoft
Since joining Microsoft in 1994, Paul Foster has worked across a wide range of sectors and customers, providing a mix of technical and strategic guidance around the creative use of technology in relation to their business needs.
Paul is currently a principal software engineer at Microsoft. As an established public speaker across Europe and having spent a considerable amount of time working on the cutting edge of technology providing leadership and inspiration on topics like Smart Devices, Cloud Computing, Education and App Development.
Paul is currently focusing on the building of next generation sensor webs which automate the gathering of data from disparate sources, and how to enable the creative analysis of this data to start a new era of perception.
For a short time Paul was a member of a high-wire flying trapeze circus troupe, is a keen roboticist and an international marathon runner.
Guest Speaker
Senior Consultant/Engineer, Altran
Dan Howarth is passionate about applying machine learning to problems and opportunities. He believes any technical solution must be underpinned by a strong business case, value proposition and stakeholder buy-in to be successful in a business environment.
Dan currently works for Altran, an engineering and R&D consultancy, as a Senior Consultant/Engineer in its Digital Division. He was previously at Rolls-Royce, working to apply machine learning to improve manufacturing processes for high value parts.
His current focus is on Deep Learning, in particular Computer Vision, and how these technologies can be applied at scale, in real time, through the Industrial Internet of Things. He is also focussed on developing a framework to identify and develop machine learning opportunities in business.
As well as qualifications in programming and machine learning, Dan is a Chartered Management Accountant and Governor at City of Bristol College, the largest further education institution in the South West of England.
Guest Speaker
Digital Technology Lead, Thales UK
Saed Hussain has been an R&D scientist within Thales UK for 2 years. He is currently working as a Digital Technology Lead in the aviation business of Thales UK, where he promoting data driven technology and application of AI within the industry. He is passionate about robotics, IoT and AI applications. He has a PhD in Neural Network applications and a BEng (Hons) in Robotics.
Guest Speaker
Imperial College London; Organiser, Google Developer Group (GDG) Cloud London
Surya is pursuing an MEng in EEE from Imperial College London, specialising in Machine Learning and Embedded Systems. He started his journey in data science at a biotechnology startup, where he worked on characterising hand tremors of Parkinson's patients to tune the product's control algorithm (which stabilises the tremors). He spent last summer working on implementing neural network based applications on Android.
He also leads workshops and events at the Cloud Google Developer Group in London, with a specific focus on Machine Learning frameworks, such as Tensorflow.
Surya can usually be found tinkering with embedded hardware and software in the Robotics Lab at Imperial College.
Guest speaker
Senior Software Engineer, Avast Software
Bojan Komazec has been working in the IT industry for over 13 years. He currently holds the position of Senior Software Engineer in Avast Software where he has been developing various security and privacy products.
Bojan's interests span from code craftsmanship and cyber security to Artificial Intelligence and Internet of Things. He is an active blogger and speaker at several IT Meetup groups where he enjoys sharing experience and knowledge.
Bojan studied Electrical Engineering and Telecommunications and in 2004 received master's degree from University of Novi Sad, Serbia.
Guest Speaker
Data Scientist
Jakub Langr graduated from Oxford University where he also taught at OU Computing Services. He has worked in data science since 2013, most recently as a Data Science Tech Lead at Filtered.com and as an R&D Data Scientist at Mudano. Jakub is a co-author of GANs in Action by Manning Publications, currently the only book exclusively about GANs on the market. Jakub also designed and teaches Data Science courses at the University of Birmingham.
Guest Speaker
Business Development Lead, Amazon Web Services Internet of Things (EMEA)
Claudiu is a senior professional with 20 years of experience in strategy, business analytics, data-driven decision systems and large-scale technology transformations. He is currently the Business Development Lead for Amazon Web Services Internet of Things in Europe, Middle East and Africa.
He has significant experience in Internet of Things/ machine to machine technology and digital transformation using could computing platforms, from digital customer experience and digital processes to entire new lean enterprise business models.
Claudiu has a degree in Economics, an Executive MBA and a Master in Computer Science with focus on data analytics and expert systems/ artificial intelligence.
Guest Speaker
CEO and founder, Emotion Research LAB
Maria Pocovi is CEO and founder of Emotion Research LAB, a computer vision company which explores how machines understand human emotions. Since 2014 the company has provided facial emotion recognition algorithms with on-line and on-premises solutions for real time applications.
Maria is passionate about human technology interaction and the process of bringing new applications to the market which help companies empower emotional sensing on devices to prepare brands to provide the next generation of services, products and experiences to their customers.
Maria graduated in Marketing and Business Administration from ESIC University, has an MBA from Catholic University in Valencia and an MBE from European University of Madrid.
Guest Speaker
Vice President, Deutsche Bank
Hamaad is a principal data scientist with expertise and experience in machine learning and quantitative analytics applied to banking and insurance. He has extensive expertise in deep learning and Bayesian inference, among other areas of machine learning, applied to various financial services use cases such as Asset Liability Management (ALM) and actuarial pricing, among other financial services use cases. Hamaad holds an MSc in Applicable Mathematics from the London School of Economics and Political Science (LSE) and a BSc in Economics from the University of Manchester.
Guest Speaker
Raj Sharma has over 15 years' experience in software consulting , entrepreneurship with artificial intelligence (machine learning and deep learning) , big data (Cloudera / Hortonworks), Databricks and Cloud (AWS/Azure/Google).
He works as a Data Science Tech Lead through his company CyberPulse Ltd - focusing on building Tech using AI and Big Data for domains such as cybersecurity, robotics and education also he has been involved in implementing artificial intelligence cyber security algorithms (Kitsune) commercially based on an ensemble of autoencoders.
Raj also has experience in creating big data pipelines for training and testing algorithms using GPUs in AWS/ Azure/Google; Spark ML library in Python and Scala.
He has a Master's Degree in Information Security certified by GCHQ, the UK Government Communications Headquarters and Research Project in AI also has a strong software engineering background with mathematics and statistics.
Guest Speaker
Co-founder of Blesh
Devrim Sonmez is regarded as a high performing executive and entrepreneur with over 19 years of experience at intersection of digital and technology with various industries, over 10 years of Executive Board experience and taking a strategic role in securing M&A deals worth over $170 million in technology.
In 2013, he became the CEO and co-founder of Blesh Inc. which is an award winning and innovative start up in IoT space developing IoT platforms and solutions through its own research and development. It is among the top Global 5 Mobile Proximity Solution providers and is considered the first global beacon solution provider of Google Physical Web technology since 2014 with exports more than 30 countries.
He is still the Cofounder and the Board Member of Blesh. Alongside these positions, Mr. Sonmez has sat on the board of several more companies and associations including IOT.ATL a program of US Metro Atlanta Chamber that intends to boost the region's tech sector in the burgeoning industry of Internet of Things products and software, the highly prestigious TUBISAD (Turkish Informatics Industrialists Association) and English Ninjas (An innovative mobile startup for English practicing), where his influence plays an integral part in grow and success.
Devrim holds a Mathematics Bachelor of Science from the leading Turkish university in Ankara, the Middle Eastern Technical University graduating in 1998 and a Master of Business Administration from the Koc University in Istanbul, graduating in 2005.
Application
How to apply for this course
1. Please complete the pre-application questionnaire to give us a sense of your knowledge and experience before applying for the course.
Important: We do not expect you to have knowledge or experience in all of the areas on this questionnaire!
2. If you are invited to apply for the course, we'll ask you to complete an application form
Payment
After we receive your application form, we will invoice you. You can pay by credit card, bank transfer or cheque.
The standard course fee is £4995.00.
A surcharge applies unless the course fee is paid in full. Payment may also be made in two equal instalments of £2550.00 (only available to those enrolling before 1 September 2019), for a total of £5100.00.
Fees include all course materials and tuition. Accommodation is not included.
Course fees are VAT exempt.
Student Spotlights:
Twitter: