Python (TensorFlow and Keras) is the primary language of the course and while we do not expect you to have full proficiency in it, we expect you to have a programming background. This is an industry course not an academic course and we focus on skills based/commercial products.
The course explores the following themes:
Principles and foundations for artificial intelligence and edge computing
Python coding (TensorFlow and Keras)
Core deep learning algorithms (MLP, CNN, LSTMs)
Reinforcement learning
Unsupervised learning, generative adversarial networks (GANs) and autoencoders
End-to-end agile problem-solving methodology including continuous improvement and delivery for AI models in production
Robotics (Dobot)
Cloud based AI implementations - Azure , Google and Amazon
Autonomous vehicles applications
Time series
Programming sprints
Industry use cases and examples: retail, oil and gas, autonomous vehicles, affective computing (emotional AI)
Natural language processing
Industrial IoT (anomaly detection and failure prediction)
Industry 4.0
Devops (in relation to AI application deployment)
Architecture for AI applications in production
Term One
Principles and foundations for artificial intelligence and edge computing
Python, TensorFlow and Keras for data science
Programming sprints
Unsupervised learning including autoencoders and variational autoencoders
Natural language rocessing
Agile methodology for data science
Retail case studies
Edge computing with Intel
AI - cloud and the edge (Azure)
Industry use cases (Ocado)
AI - cloud and edge (AWS)
Term Two
Reinforcement learning
Robotics sprints (cloud robotics i.e. integrating cloud APIs into the Dobot robotic arm)
AI - cloud with Google
Agile methodology for AI production systems (two sessions)
End-to-end deep learning frameworks
Affective computing (emotional AI)
Autonomous vehicles
Industrial IoT - Industrial IoT (anomaly detection and failure prediction)
Note: the programme details and tutors named on this course may be subject to minor changes.
Books
Copies of these books are included in the course fee - some will be provided as e-books: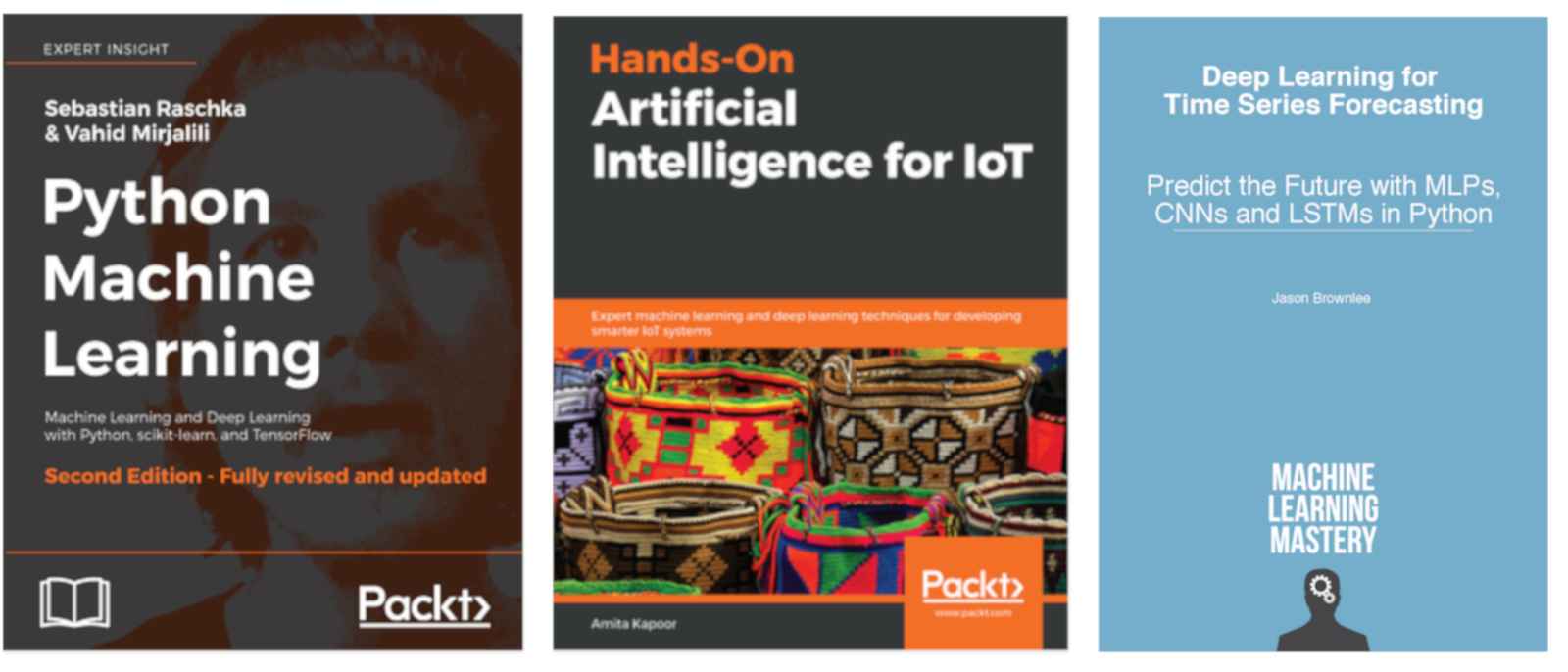 Python Machine Learning: Machine Learning and Deep Learning with Python, scikit-learn, and TensorFlow (Sebastian Raschka, Vahid Mirjalili / Packt Publishing, 3rd edition, 2019)
Hands-On Artificial Intelligence for IoT: Expert machine learning and deep learning techniques for developing smarter IoT systems (Dr Amita Kapoor / Packt Publishing, 2019)
Deep Learning for Time Series Forecasting Predict the Future with MLPs, CNNs and LSTMs in Python (Jason Brownlee /Machine Learning Mastery)
Timetable:
The course takes place in Oxford and online. There is a minimum attendance requirement of 75%.
4 - 8 hours face-to-face in Oxford on Saturdays (usually starting at 10:30, with registration for the first session taking place at 10:00)

1 to 1.5 hours online each week on Tuesdays (usually starting at 19:00).
A world clock, and time zone converter can be found here: https://bit.ly/3bSPu6D

We recommend you allow around 10 - 12 hours study time per week in addition to the hours outlined above.
You will be fully supported by the tutor who will be available during the week to answer questions.
A limited number of participants ensures that all those taking this course gain the maximum possible value.