Data Science for the Internet of Things (IoT)

Overview
We expect to offer this course again later in 2017, please click the 'Notify Me' button in the right hand sidebar to receive a priority email notification when the dates are confirmed.
Many developers are currently targeting IoT for upcoming projects. As developers adopt IoT, Data Science for IoT will provide some unique challenges. This new course targets developers who want to be data scientists with an emphasis on IoT.
This Data Science for IoT course aims to equip you with the skills to solve problems, providing you with a toolkit (code) and templates.
The course explores problem solving for IoT analytics via the following topics:
Concepts: principles/foundations
Product Development
Data Science
IoT Verticals
Programming
Statistics
Time Series
Deep Learning
Real Time
IoT Data Visualization
Methodology – putting it all together
About the course and its aims:
The course analyses problem solving for IoT analytics.
The unique considerations for IoT data (e.g. time series data) are investigated.
The course covers programming so participants will need to be familiar with some programming languages - but we do not expect familiarity in a specific language. The primary programming language of the course is R but we also explore Python for Data Science.
We use Spark for Big Data.
The course needs an understanding of maths. We cover maths and statistics foundations as needed.
Where possible, we use IoT datasets. We cover handling large-scale IoT datasets.
We focus on skills based/commercial products. This is not an academic course.
The course also includes an industry program. The industry program will be based on use cases incorporating the IoT analytics methodology.

We aim to equip you with skills such as Tableau, H2O.ai, Splunk and Deep Learning (Nvidia).
The course takes a problem solving approach and uses specific case studies from industry. Participants are expected to have a mind-set of exploration and to study and learn beyond the class material itself (depending on their existing familiarity with the subject matter).
A limited number of participants ensures that all those taking this course gain the maximum possible value.
All participants finishing the Data Science for IoT course will receive a University of Oxford certificate showing that they have completed the course (see sample further down this page).
Time commitment for the course is 2.5 hours face-to-face in Oxford on Saturdays (10:30 - 13:00) and 2 hours online each week on Tuesdays (19:00 - 21:00). We recommend you allow around 15 hours study time per week (including the 4.5 hours stated). There is a minimum attendance requirement of 75%.
You will be fully supported by the tutor who will be available during the week to answer questions.
The tutor will also offer a number of one-to-one 'surgery sessions' during the course.
All course participants will receive a free Nvidia Jetson TX1 developer kit as part of the course (normal price £570.00).
All course participants will receive free copies of these books:

Simon Walkowiak
(July 2016, Packt Publishing)

Big Data Analytics with Spark: A Practitioner's Guide to Using Spark for Large Scale Data Analysis
Mohammed Guller
(December 2015, Apress)

Practical Time Series Forecasting with R: A Hands-On Guide
Galit Shmueli and Kenneth C. Lichtendahl Jr
(July 2015, Axelrod Schnall Publishers)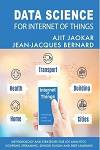 Data Science for Internet of Things
Ajit Jaokar and Jean-Jacques Bernard
(December 2016, Futuretext)
Travel to Oxford
The course will be held at our Rewley House site, which is a short walk from Oxford bus and train stations. Oxford is approximately 55 minutes by train from London Paddington and London Marylebone train stations. We are also about one hour from Birmingham. See the National Rail Enquiries website for train information.
Programme details
Week Zero
On-boarding, platform, introductions etc.
Week One
Foundations of Data Science for IoT:
Explore the application of predictive learning algorithms to IoT datasets, in detail.
Discuss the modalities where we could apply IoT analytics (Streaming, Edge etc).
Understand Data Science for IoT from a problem solving perspective.
Week Two
Product Development and Platform Implementation:
Examine the role of IoT analytics in product development.
Compare and contrast IoT analytics implementations in different platforms.
Week Three
Programming Foundations :
Demonstrate an understanding of R and Python Programming for Data Science.
Create and build initial predictive models for IoT datasets in both R and Python.
Week four
Implement algorithms in one environment (H2O.ai) for IoT – datasets in R.
Part One:
Implement data transformation, exploratory statistics, basic algorithms and operations (classification, importing data, exploring data, training models, evaluating models, tuning models (manual)).
Use exploratory statistics for data transformation (understand the statistical foundations through code - learning by doing).
Week five
Implement algorithms in one environment (H2O.ai) for IoT datasets in R.
Part Two:
Advanced tuning, stacking, saving/loading models, anomaly detection. This section emphasises strategies for large, complex datasets which exceed traditional computational capabilities.
Book used in this section: Big Data Analytics with R – 29 Jul 2016 by Simon Walkowiak.
Week six
Time series: Explore time series models in detail for forecasting IoT problems. Explore products like Splunk.
Book used for this section: Practical Time Series Forecasting with R: A Hands-On Guide – by Galit Shmueli and Kenneth C. Lichtendahl Jr.
Week seven
IoT verticals: Illustrate the application of IoT analytics for specific verticals i.e. consider the metrics to be predicted/optimised for each vertical. We cover: smart homes, retail, healthcare, smart cities, energy, transportation, manufacturing (Industry 4.0 - the fourth industrial revolution - the Industrial Internet), wearables.
Week Eight
Real time – streaming perspective: working with technologies like Apache Spark and Cassandra, to explore the real-time implications for IoT datasets.
Book used for this section: Big Data Analytics with Spark: A Practitioner's Guide to Using Spark for Large Scale Data Analysis by Mohammed Guller.
Week Nine
AI and Deep Learning: Apply Deep Learning algorithms for IoT related problems using the Nvidia platform (including video and image based Deep Learning problems).
Week Ten
Data Science for IoT – Methodology – putting it all together.
An end to End IoT analytics methodology covering a range of models such as predictive maintenance, anomaly detection, forecasting and missing event interpolation, root cause, prediction, classification, correlation analysis etc. We also discuss metrics from a process, workflow and system perspective where applicable.
Week eleven
Data Visualization for the Internet of Things (IoT): using Tableau, we create visualizations for IoT datasets.
Week twelve
Industry use cases with Paul Clarke, Chief Technology Officer, Ocado - spanning all the sections above with collaborations with various industry players.
Plus:
DataBake - working with large datasets
Sentetic - LSTMs and robotic sequence monitoring
Logtrust - real-time IoT datasets
Certification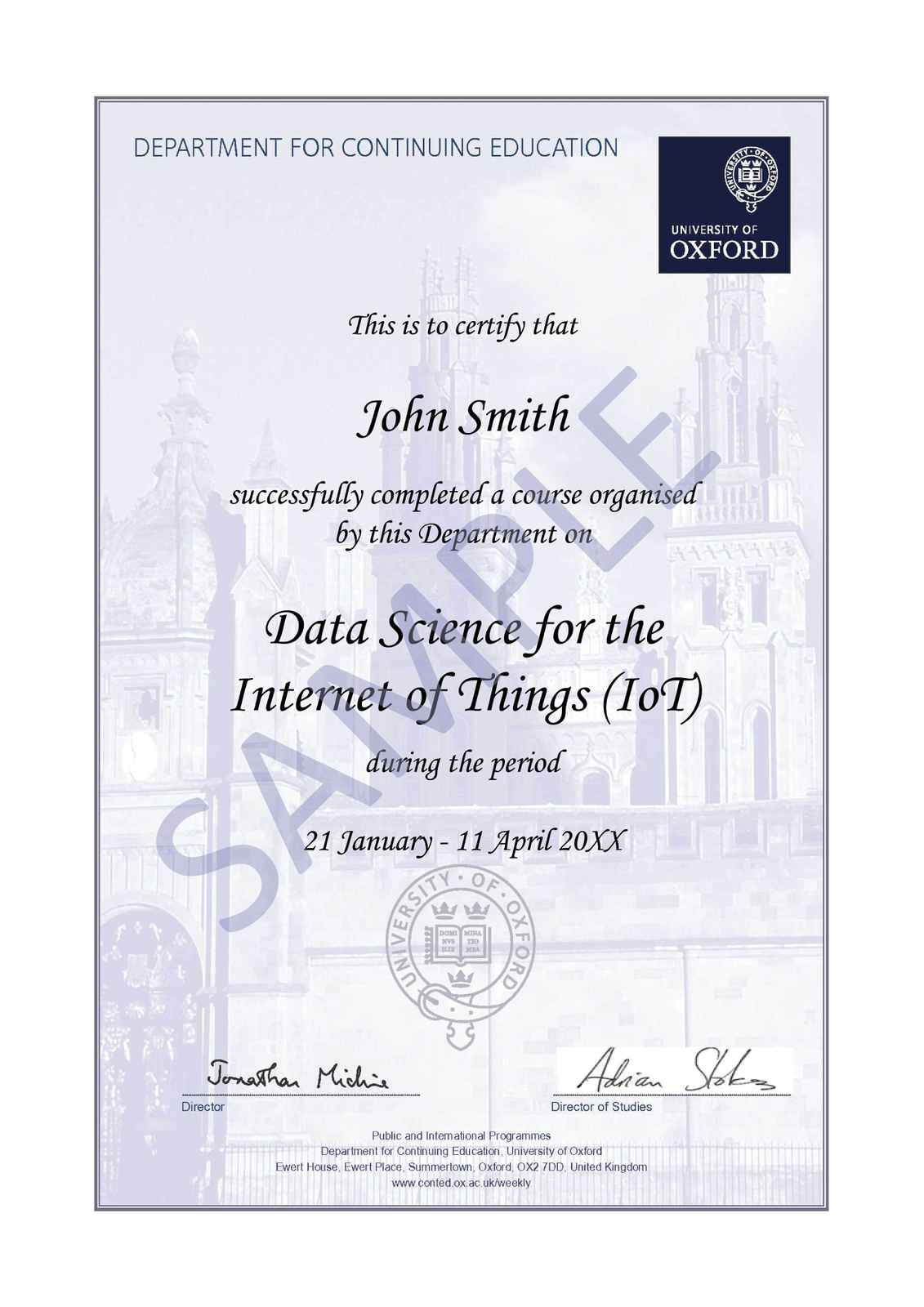 Participants who satisfy the course requirements will receive a Certificate of Attendance. The sample shown is an illustration only and the wording will reflect the course and dates attended.
Fees
Instalments: Deposit £1,997.50 plus second payment of £1,997.50: £3995.00
Standard course fee: £3995.00

Tutors
Ajit Jaokar
Lead Tutor and Course Developer
Author and Big Data/IoT/Telecoms Specialist
Ajit's work spans research, entrepreneurship and academia relating to IoT, predictive analytics and Mobility.

His current research focus is on applying data science algorithms to IoT applications. This includes Time series, sensor fusion and deep learning (mostly in R/Apache Spark). This research underpins his teaching at Oxford University (Data Science for Internet of Things) and 'City sciences' program at UPM (Madrid).

Ajit is also the Director of the newly founded AI/Deep Learning Labs for Future Cities at UPM (University of Madrid).

His book is included as a course book at Stanford University for Data Science for Internet of Things. In 2015, Ajit was included in top 16 influencers (Data Science Central), Top 100 blogs( KDnuggets), Top 50 (IoT central), No 19 among top 50 twitter IOT influencers (IoT institute).

Ajit has been involved with various Mobile / Telecoms / IoT projects since 1999 ranging from strategic analysis, development, research, consultancy and project management.

In 2009, Ajit was nominated to the World Economic Forum's 'Future of the Internet' council. In 2011, he was nominated to the World Smart Capital program (Amsterdam). Ajit moderates and chairs Oxford University's Next Generation Mobile Applications panel. In 2012, he was nominated to the board of Connected Liverpool (Smart city). Ajit has been involved in IOT based roles for the webinos project (Fp7 project).
Since May 2005, he has run the OpenGardens blog which is widely respected in the industry. Ajit has spoken at The Mobile World Congress on four occasions, CTIA, CEBIT, Web2.0 Expo, The European Parliament, Stanford University, MIT Sloan, Fraunhofer FOKUS and The University of St. Gallen. He has been involved in transatlantic technology policy discussions.

Ajit is passionate about teaching Data Science to young people through Space Exploration working with Ardusat.
Cezar Ionescu
Director of Studies

Dr Cezar Ionescu is Associate Professor of Data Science at the Department for Continuing Education and Director of Studies in Computing and Mathematics.
His research interests include functional programming, dependently-typed programming, scientific computing, computing in schools, algorithmic thinking, synthetic populations.
Pierre-Antoine Beaudoin
Guest Speaker
EMEA Ecosystem and PR Manager, NVIDIA
Pierre-Antoine Beaudoin is NVIDIA's Embedded Ecosystem and PR Manager for EMEA, focusing on fostering the company's relationship with developers as well as universities in the fields of robotics, deep learning and neural networks.
Previously, Pierre-Antoine held marketing and PR positions at Orange, Intel and Axis Communications. He graduated as a marketing master from ICN Nancy and CSR from Groningen Hanze Hogheschool and has had a lifelong passion for tech and computers.
He now lives in Paris and still owns his first computer, a 1990 Macintosh Classic (still running!).
He is passionate about innovation and technologies, he's a big Star Wars fan, a long time skier and a father of one.
Jean-Jacques Bernard
Guest Speaker
Director, Insight and Customer Strategy, Oracle
JJ Bernard has an MSc in Engineering from the Ecole Centrale de Marseille and an MBA from the University of Cambridge. He is also a certified Lean Six Sigma Black Belt.
He currently works at Oracle as a strategy consultant, advising client on their technology investment with regards to their business strategy.
Previously, he has worked as a project manager for Orphoz, a subsidiary of McKinsey & Company, focusing on defining and executing transformation projects. He has worked in diverse environments such as manufacturing, FMCG, public sector, steelmaking, mining, healthcare and automative.
He has also worked for Accenture, both on business and IT transformation projects, for the financial services industry and the public sector.
Joe Chow
Guest Speaker
Jo-fai (Joe) Chow, Data Scientist, H2O.ai
Before joining H2O, Joe was in the business intelligence team at Virgin Media in the UK where he developed data products to enable quick and smart business decisions.
He also worked remotely for Domino Data Lab in US as a data science evangelist promoting products via blogging and giving talks at meetups. Joe has a background in water engineering.
Before his data science journey, he was an EngD research engineer at STREAM Industrial Doctorate Centre working on machine learning techniques for drainage design optimisation.
Prior to that, he was an asset management consultant specialised in data mining and constrained optimisation for the utilities sector in the UK and abroad.
Joe also holds an MSc in Environmental Management and a BEng in Civil Engineering.
Paul Clarke
Guest Speaker
Chief Technology Officer, Ocado
Paul Clarke is Chief Technology Officer at Ocado, the world's largest online-only grocery retailer.

Paul joined Ocado in 2006. After establishing new teams for Simulation and Mobile development, Paul then co-wrote the first of Ocado's award winning mobile apps. In his current role, Paul heads up Ocado Technology, whose 950+ software engineers and other IT specialists are responsible for building all the software and IT infrastructure that powers Ocado, and now Morrisons' online grocery business too.
Paul read Physics at St John's College, Oxford before then entering the computer industry. He has worked in software engineering, consultancy, interim management and a number of software start-ups.
In what little spare time he has alongside his work and family, Paul loves to invent and build stuff, design PCBs, write software and generally tinker.
Thierry Driver
Guest Speaker
Head of Academic Programs Europe, Middle-East and Africa (EMEA), Tableau Software
Thierry has been working at Tableau for more than 2 years now where he manages the Academic Programs in Europe, Middle-East and Africa (EMEA). Thierry has a strong experience in the Higher Education Sector, in particular on the French market where he was previously in charge of promoting the Master in Management program in one of the best Business Schools in Europe, HEC Paris. He also previously managed the Postgraduate programs at another French Business School, SKEMA Business School.
In his role at Tableau, Thierry has been visiting over 100 Universities across various countries in the region to give lectures on data visualization and demoing Tableau Desktop.
Marius Kaiser
Guest Speaker
Product Consultant, Tableau Software
Marius supports the mission that everyone should be able to analyse their data and gain insights at the speed of thought.
Before Tableau, he was one of the BI specialists who created reports for business users within a DAX30 company with SAP Business Objects and Microsoft Analysis Services. Now, as a Product Consultant he helps customers in Europe to approach BI the Tableau way: Getting fast insights from data by visualising it and building interactive dashboards.
Due to the trending topic of IoT analytics he helped customers to make the most of their sensor data and build custom IoT applications with Tableau.
At Tableau Conference 2016 he was a speaker and shared best practices he gained from these experiences in one of the breakout sessions.
Peter Marriott
Guest Speaker
Director & Technical Consultant, Catalyst Computing Services
Peter Marriott is an industry practitioner with over 25 years database and software development experience on production systems. The main focus of his career has been working with data, working on business systems to make the data useful and available in a performant cost-effective way.
13 years ago he founded the consultancy Catalyst Computing Services, working with a wide range of clients in a variety of market sectors. Their first IoT project was in 2006. Peter has been involved working throughout the whole project development cycle of IoT: from prototyping proof of concepts; designing systems architecture; development; deployment and training of support staff.
Peter runs training courses in cloud computing and database technologies for clients, gives career talks for undergraduates and speaks at various IT user groups.
Claudiu Pasa
Guest Speaker
Business Development Lead, Amazon Web Services Internet of Things (EMEA)
Claudiu is a senior professional with 20 years of experience in strategy, business analytics, data-driven decision systems and large-scale technology transformations. He is currently the Business Development Lead for Amazon Web Services Internet of Things in Europe, Middle East and Africa.
He has significant experience in Internet of Things/ machine to machine technology and digital transformation using could computing platforms, from digital customer experience and digital processes to entire new lean enterprise business models.
Claudiu has a degree in Economics, an Executive MBA and a Master in Computer Science with focus on data analytics and expert systems/ artificial intelligence.