Systems Engineering Fast-Track
Key facts
Types
Professional Development
Short Courses

Location
Oxford
Address
Rewley House
1 Wellington Square
Oxford OX1 2JA map
Dates
Sat 3 to Sun 18 May 2014
Subject area(s)
Electronic Engineering

Fees
From £1695.00
Application status
Applications being accepted
Course code
O13C671H6Y
Course contact
If you have any questions about this course, please email electronics@conted.ox.ac.uk.
Enrol online now!
to secure your place on this course now
Overview
Note that this is a four day course taking place over two weekends, the 3 - 4 May 2014 and the 17 - 18 May 2014.
"In a period when platforms are likely to remain in service for many years, unless systems engineering capability and vital long-term knowledge is maintained, it is little use investing in cutting-edge science. New technologies will have less benefit without knowledge of how they might be exploited and inserted into existing equipment."
UK Defence Industrial Strategy Defence White Paper
Please send me details about future Systems Engineering Fast Track courses.
Click below to watch past student Debbie Richards talk about the course
Description
This course not only provides insights to the overall systems-engineering process, but detailed methods and tools that support that process. The methods and tools presented are pragmatic and practical and have been used on real programmes and bids in the range of £10M to £2Bn.
The course is taught by the well-known systems-engineering practitioner Dr Rob Collins, who has worked for many years 'at the coal-face' improving processes, introducing tools and methods and providing staff training. This newly-developed course is based on 20 years experience in systems engineering and draws in current state-of-the-art knowledge in the field.
People who attend this course are normally from other disciplines (electronics, communications, software engineering, logistics, safety, training etc.) who are newly moving into systems engineering, or want a re-fresher course on newer techniques (such as the use of SysML and MODAF).
It is ideal for team leaders who are seeking to improve their team's performance in an efficient manner; those who are new to large-scale systems development or want to refresh existing knowledge and skills; organizations that are looking to improve in areas such as requirements management, system modelling and the systems-engineering process, or those aiming to reach higher CMMI® levels.
Programme details
The Systems-Engineering Process
Modelling your own systems-engineering process
Elements of a high-quality systems-engineering process
Moving your process to where it needs to be
A Systems-Engineering Database
Requirements management: methods, structures and traceability
Configuration management
Metrics for process and product
Systems Modelling
UML 2.0 for systems engineering and SysML
Architectural frameworks – MODAF and DoDAF
Architectural design and interface control
Pattern languages
Systems Integrity
Threads analysis
Failure-domain analysis
Quality Function Deployment
The Human Face of Systems Engineering
Integrating with other key disciplines
First day registration from 8.30am when course materials will be distributed.
Refreshments from 8.30am on the first day plus two 30 minute breaks during the day and a one-hour lunch break.
The course will begin at 9.00am and end at approximately 5.00pm on each day.
Staff
Dr Rob Collins
Role: Speaker
Requirements and Test Manager,
General Motors Acceptance Corporation (U.K.) plc
Dr Rob Collins completed his undergraduate
...more
Certification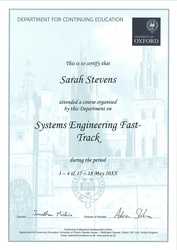 Participants who satisfy the course requirements will receive a Certificate of Attendance. The sample is an illustration only.
Level and demands
Graduate-level engineers from companies that develop, or are part of a team that develops complex systems, which have one or more of the following characteristics:
Have around 500 to 2000 individually identified requirements
Range in value from £10M to £2.5Bn
Have safety or security critical elements
Incorporate or interface with significant levels of legacy technology
Involve teams of companies
Involve more than one technology area, for example: software, electronics, electro-mechanics, hydraulics and human systems elements
Perhaps you would like to update your skills in systems engineering for one or more of the following reasons:
You have recognised that your organisation needs to improve in areas including: requirements management, system modelling and the systems-engineering process
Your organisation has a target to reach higher CMMI® levels
You are new to large-scale systems development or you want to refresh your existing knowledge and skills
You are a team leader and want information that you can use to improve the performance of your team in an efficient manner
Accommodation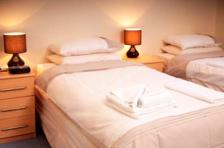 Accommodation is available at the Rewley House Residential Centre, within the Department for Continuing Education, in central Oxford. The comfortable, en-suite, study-bedrooms are rated 3-star, and come with free high-speed internet access and TV. Guests can take advantage of the excellent dining facilities and common room bar, where they may relax and network with others on the programme.
Payment
Fees include course materials, tuition, refreshments and lunches. The price does not include accommodation.
All courses are VAT exempt.
Fee options
Programme Fee

Standard course fee: £1695.00

Apply for this course
If you would like to discuss your application or any part of the application process before applying, please contact:
Course Administrator
Tel: +44 (0)1865 286958
Email: electronics@conted.ox.ac.uk
You can apply for this course in the following ways:
Apply online

to secure your place on this course now

Apply by post, email or fax
Terms and Conditions (important: please read before applying) .
Guidance Notes (important: please read before applying)
.

Programmes including this module
This module can be studied as part of these programmes: