Essentials of Project Management

Overview
Be the first to know about future course dates - click the 'Notify me' button on the right of this page.

This intensive one-day course provides a comprehensive introduction to the essential aspects of project management for scientists, engineers and anyone working in high-tech companies and organisations. The course will draw on relevant case studies and prepare participants to apply learning from the course in their organisations.
This course was designed and developed by the CPD Centre in conjunction with staff from the University of Oxford's Saïd Business School.
Specifically, the course covers the following key areas:
What is a project? And what is Project Management?
The Project Context and Process
Planning the Project
Budgeting the Project
Scheduling the Project
Allocating Resources to the Project
Delivering the Project
We also offer a course for those with experience in project management, Advanced Project Management.
The Essentials of Project Management course is designed specifically to benefit scientists, engineers and others in large or small public and private sector organisations with responsibility for project delivery, and assumes no prior training in project management techniques.
As organisations seek to increase efficiency and cut costs in the increasingly challenging business climate, a focus on selecting, prioritizing and delivering the right projects that directly support the strategy of the organisation is more important than ever.
Key to this strategic objective is effective Project Management, a framework to ensure that investments in projects, resource allocation, monitoring and evaluation is optimised throughout project life-cycles and through to delivery and close-out.
In short, Project Management ensures organisations do the right projects the right way.
----------------------------------------------------------------------------
What people say about the course…
Excellent and interactive overview of PM with helpful tips; lots of helpful pointers for self-development as I look to increase organisational influence and responsibilities.
- Adedeji King, EDF Energy
Well-paced and a good foundation to begin learning about project management
- Natalie Lang, Graduate Chemist, GEO Specialty Chemicals UK Ltd
Brilliant
- Josef Khan, Microquery Ltd
----------------------------------------------------------------------------
Programme details
First day registration from 8.30am when course materials will be distributed.
Refreshments from 8.30am plus two 30 minute breaks during the day and a one-hour lunch break.
The course will begin at 9.00am and end at approximately 5.00pm.
Certification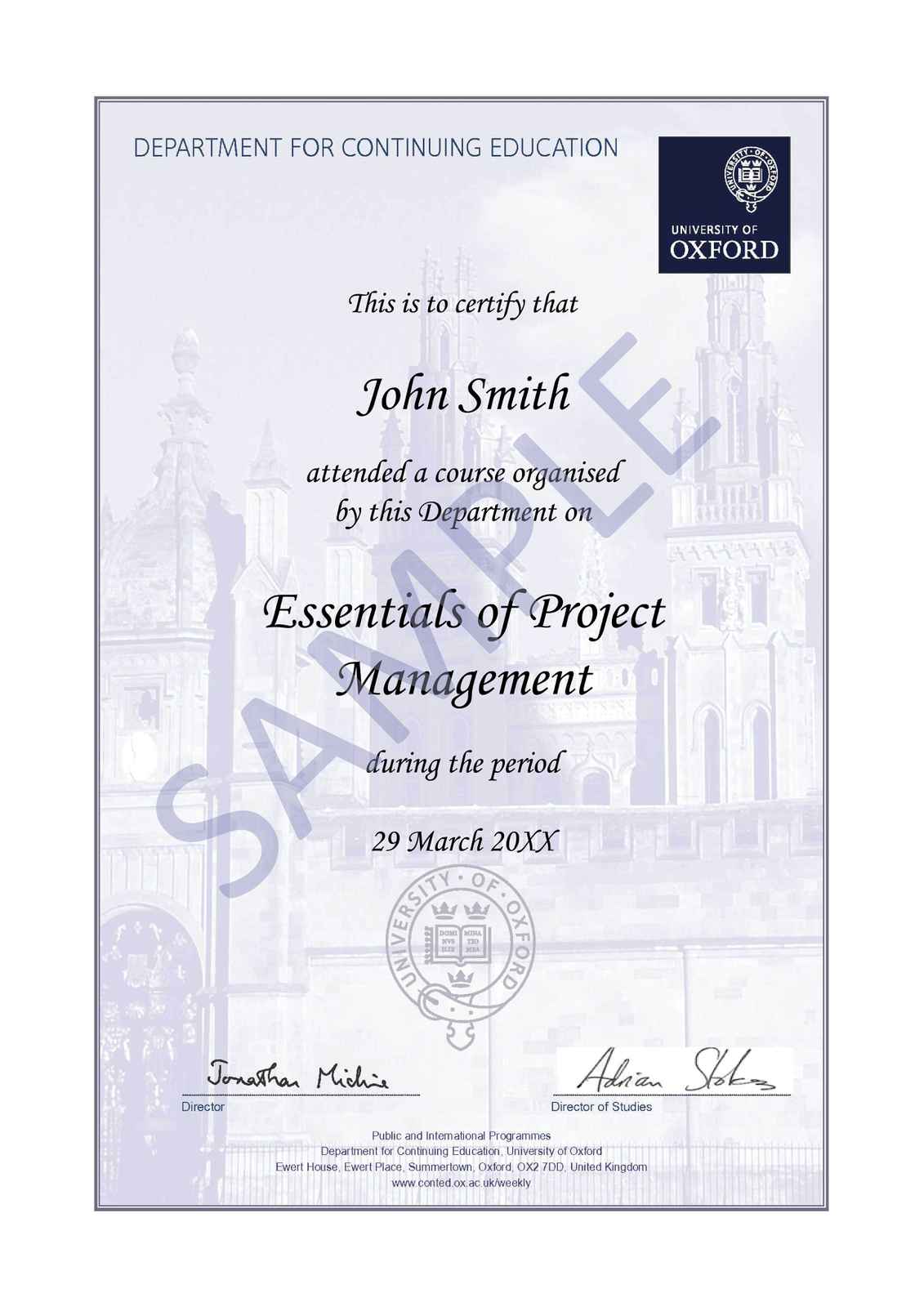 Participants who attend the full course will receive a Certificate of Attendance. The sample shown is an illustration only and the wording will reflect the course and dates attended.
Accommodation
Accommodation is available at the Rewley House Residential Centre, within the Department for Continuing Education, in central Oxford. The comfortable, en-suite, study-bedrooms have been rated as 4-Star Campus accommodation under the Quality In Tourism scheme, and come with tea- and coffee-making facilities, free Wi-Fi access and Freeview TV. Guests can take advantage of the excellent dining facilities and common room bar, where they may relax and network with others on the programme.
Fees
Standard course fee: £425.00

Payment
Pay immediately online by credit or debit card
Click the "book now" button on this webpage to pay online with a credit or debit card
Pay later with your preferred payment method
Send a completed application form to the course administrator by e-mail or post, and choose:
Request an invoice
BACS payment
Cheque payment
Credit or debit card payment. Please do not send card details via email
Fees include course materials, tuition, refreshments and lunches. The price does not include accommodation.
All courses are VAT exempt.
Discounts
These courses can be taken separately or together as part of a discount fee package.
Tutor
Dr Alexander Budzier
Tutor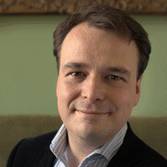 Fellow in Management Practice, Saïd Business School, University of Oxford
Alexander Budzier's research focuses on transformative projects and their management challenges in the field of IT, construction, energy and events.
To secure impact for his research outside academia, Alexander is widely engaged in advisory activities for the top management of several of the largest and most complex projects around the globe.
Prior to coming to the University of Oxford, Alexander worked as a consultant with McKinsey's in Düsseldorf and Chicago, and at T-Mobile International, London.
Alexander is teaching on the MBA, MPP and MSc for Major Programme Management, a part-time executive degree at the University of Oxford, as well as the Major Project Leadership Academy, a leadership development programme for the top 300 project managers in the UK civil service.
His work has been widely covered by the Financial Times, Forbes, BBC Radio 4, MIT Technology Review, ComputerWeekly, McKinsey Quarterly, InformationWeek, BBC News, and many others.
Application
If you would like to discuss your application or any part of the application process before applying for this Essentials of Project Management course, please contact:
Course Administrator
Tel: +44 (0)1865 286958
Email: business@conted.ox.ac.uk
Level and demands
The course is designed specifically to benefit scientists and engineers in large or small public and private sector organisations with responsibility for project delivery, and assumes no prior training in project management techniques.