FinTech for Managers

Sign up for course news to hear about future course dates.
Overview
In a global economy in which interconnectivity and light-speed information transmission pose both tremendous investment opportunities and a host of risks ranging from regulatory to cybersecurity, FinTech is an area that is increasingly relevant to all areas of business.
Despite a long history rich with innovation primarily driven by financial institutions over many decades, FinTech is, however, often viewed as a new trend, and by some as a fad rife with the get-rich-schemes of charlatans.
This intensive one-day course – part of a new series of technology specific programmes – will help you separate myth from reality and gain a critical foundational appreciation for FinTech developments and associated innovations globally, with an unique focus on Asia and China in particular.
Content
Using a combination of case studies, research findings, and exercises, this course packs into a single day FinTech's history, recent global developments, the dramatic evolution of innovation, technology and regulation in emerging markets, and China's emergence as a global FinTech powerhouse.
It will arm you with knowledge necessary to enable you to understand market developments, and set you up to capitalise on upcoming innovations, either as a consumer or market participant.
Course content will range for high-level strategic overviews to detailed insights into market and sector developments that have driven dramatic change in recent years.
Course participants will take away knowledge-based confidence to take advantage of FinTech developments for themselves and/or their organisations, and potentially even participate in or drive such change themselves.
Who is this course for?
A wide range of individuals can benefit from this course. While ideal for experienced or new middle managers, the course can also equip senior managers with the foundational knowledge necessary to understand and ride the FinTech wave. It is also ideal for anyone wishing to gain a solid overview of this fascinating subject matter.
Teaching methods
Presentations, case studies, short videos, and group exercises.
Programme details
Session 01:
Introduction and course objectives
The history of FinTech

Definitions
Historical development
Financial-institution-led innovation in the 20th Century
Dot.com boom-to-bust and the birth of the modern FinTech surge
The current global landscape
Session 02:
Key themes in FinTech innovation

Increasing financial services competition
Reducing barriers to entry
Providing sustainable and inclusive finance
Artificial intelligence and robotics in finance
Faster payments
Cashless societies
Regulation
Data, privacy, and customer needs
Cybersecurity and cybercrime, from sanctions to money laundering and phishing to social engineering

FinTech leaders and laggards: case studies

Disruptors vs incumbents
Silicon Valley vs New York vs London
East vs West

Singapore and state-sponsored innovation
Hong Kong and laissez-faire development
India, Aadhaar, and banking the unbanked
Session 03:
The rise of the East: Go, China, and its global master plan

China's FinTech Top 50 … what the key players are doing
The Greater Bay Area and advanced innovation
The Belt and Road Initiative and Chinese FinTech for the rest of the world
Session 04:
Riding the wave: what the future could hold, and how to spot market needs through a different lens

Financial functional analysis: a conceptual framework for understanding the changing financial system
Timetable
The course will be structured over four sessions as shown below table, with the Session 1 acting as a brief level-setter. Sections 2-4 are intended to act as the meat of the course. All can be adapted as needed.
Session Time
Registration 8.30 – 9.00am
Session 1 9.00 – 10.00am
Session 2, Part 1 10:00 – 10:30am
Coffee break 10.30 – 11.00am
Session 2, Part 2 11.00 – 12.30pm
Lunch 12.30 – 1.30pm
Session 3 1.30 – 3.00pm
Coffee break 3.00 – 3.30pm
Session 4 3.30 – 5.00pm approx.
Certification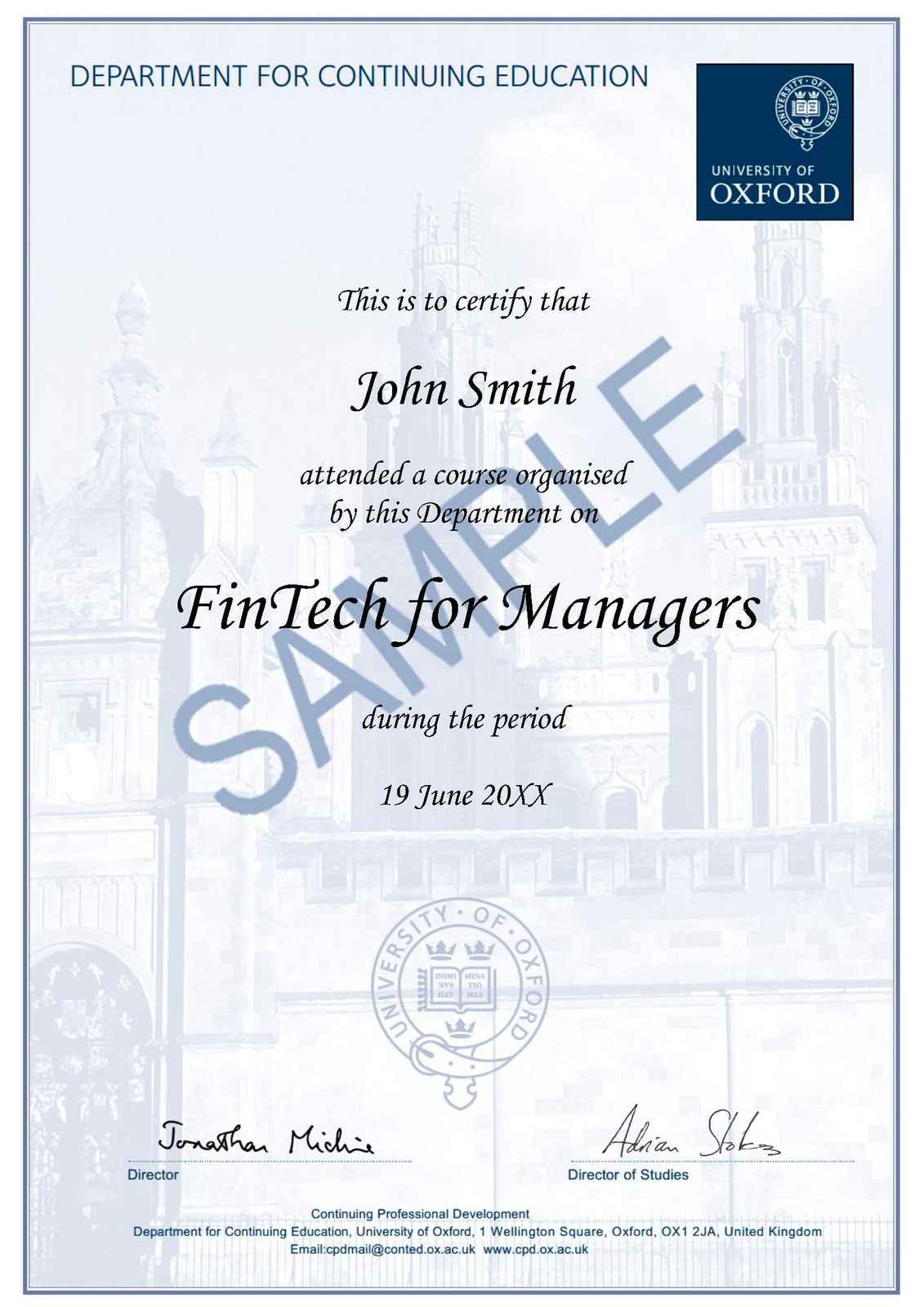 Participants who attend the full course will receive a Certificate of Attendance. The sample shown is an illustration only and the wording will reflect the course and dates attended.
Accommodation
Although not included in the course fee, accommodation may be available at our on-site Rewley House Residential Centre. All bedrooms are en suite and decorated to a high standard, and come with tea- and coffee-making facilities, free Wi-Fi access and Freeview TV. Guests can take advantage of the excellent dining facilities and common room bar, where they may relax and network with others on the programme.
To check prices, availability and to book rooms please visit the Rewley House Residential Centre website.
Fees
Course fee: £470.00

Payment
Fees include course materials, tuition, refreshments and lunches. The price does not include accommodation.
All courses are VAT exempt.
Register immediately online
Click the "book now" button on this webpage. Payment by credit or debit card is required.
Request an invoice
Send a completed application form to the course administrator by email or post. Please do not send card details via email.
Tutor
Larry Campbell
Partner, KPMG China
Larry Campbell is a Partner at KPMG China. He specialises in financial services strategy and business development, and is deeply involved in driving innovation, digital advancement and the financial technology (FinTech) agenda. Mr Campbell's career spans more than three decades, much of it in the technology and financial services fields. Mr Campbell began his career as a journalist in the mid 1980s, and specialised in technology coverage in the 1990s. He became an independent publisher and dot.com entrepreneur in the mid 1990s, setting up a number of digital ventures that were subsequently sold to large investors. In 2001 Mr Campbell joined HSBC to develop a series of innovative global e-commerce and digital products and services, and subsequently became HSBC's Group Chief Knowledge Officer. He moved to KPMG China in 2016. Mr Campbell has a Masters degree in strategic knowledge management from Middlesex University. He is an associate tutor at the University of Oxford's Department of Continuing Education, where he teaches courses on knowledge management, change management, and FinTech.
Application
If you would like to discuss your application or any part of the application process before applying, please click Contact Us at the top of this page.