High Frequency Measurements

Overview
Be the first to know when this course is offered again: click Notify Me in the right hand sidebar
Probes and equipment used in signal integrity and EMC work
This course delivers practical knowledge for signal integrity design troubleshooting and verification that can be used immediately on the job.
The course material contains design tips and troubleshooting techniques developed by Doug Smith, the Course Tutor, many of which are unpublished and have solved engineering problems in less than a day that were not solved by published methods with weeks or months of effort. Electronic engineers from all fields will find this course useful.
This course can be taken in conjunction with the EMC and ESD Lab Techniques for Designers course for a discount fee of £1611.00 (a saving of £179.00). To register for both courses, select the discount package on checkout.
This course is part of Oxford University's High-Speed Digital, Analogue and EMC Engineering Month.
Course description
The "High Frequency Measurements" course covers a broad range of topics from measurement techniques to PCB / PWB and chip package design and troubleshooting issues.
This course describes in depth how to measure signal and noise in high speed digital and analogue circuits. These measurements are then used to characterize high speed effects in electronic circuits including design verification and troubleshooting. Sources of measurement error are discussed. The measurement techniques are related to design issues to improve signal integrity, equipment EMC performance, and improve the overall reliability of electronic systems.
These days it is very important to be able to sort through the advertising claims to use the right measurement equipment for the job.
This is especially true for active differential probes which may not be giving you accurate measurements unless you understand their design criteria. Just using a major brand does not mean the probe will work for your case, even if the advertising says it will. The result is increased cost of your designs as the effect is often a reading of noise that is significantly larger than what is in the circuit.
Emphasis is placed on delivering practical knowledge to SI and circuit designers that can be used immediately on the job. Some class time is reserved to discuss problems and interests of those attending. Each seminar delivery is modified to fit the interests of the attending students.
Benefits
Understand the subtleties and effects of high frequency measurement techniques and their application to signal integrity, system performance, and EMC
Learn to locate and fix difficult signal quality or noise problems in a design
Understand and apply techniques for measurement verification to ensure accurate signal measurements
Learn about noise related reliability problems in system and board design
Apply high frequency measurement techniques to signal integrity, operational, and EMC problems to improve the reliability of a design
Learn good circuit design and signal integrity/EMC principles and to avoid common and unusual design problems
Learn construction techniques for useful laboratory probes that often outperform expensive commercial probes for signal measurements
Develop the ability to spot limitations of measurement apparatus from the "fine print" in measurement apparatus and probe specifications
Videos
Visit the links below to view additional videos by Doug Smith.
Hand Metal ESD
High Speed Validation Techniques MP4
PCB Troubleshooting Using Direct RF Injection
Switching Power Supply Noise - Magnetic Fields
Finding PCB layout defects
Measurement Dilemma
Programme details
Test and measurement equipment for this course is supplied by Agilent Technologies.
Course content
Technical Background
Shielded cable operation
Skin effect
di/dt and dv/dt effects in circuit and measurements
Null experiments to verify measurement results
Circuit board and system level design issues
Effects of system cables on signal transmission
Probes
Single ended and differential
Sources of measurement error
Useful home built probes
Current and Magnetic Field Measurements
Magnetic loop operation and application to signal integrity and noise problems (quite distinct from EMC uses of these probes)
Current probe operation and application to signal integrity and noise problems
Utilizing phase information between two current probes to debug noise problems
Sources of error
Useful home built probes
Troubleshooting Techniques
Intermittent board and system level problems
Signal integrity
EMC problems and their relationship to signal integrity
ESD problems and their relationship to signal integrity and system operation.
Switching power supply induced corruption of signals far removed from the supply that result in intermittent problems
Methods for determining if an IC package, with its accompanying parasitics, will robustly support the edge rates and clock speed of the chip inside.
New material and demonstrations have been recently added relating to signal integrity and to reliable system operation.
All those attending will also receive a CD-ROM. The CD-ROM will contain data including the course notes in pdf format, a variety of published technical articles, an image of the course presenters technical website and a tutorial plus a Technical Tidbit audio file from the presenter's subscription website.
Certification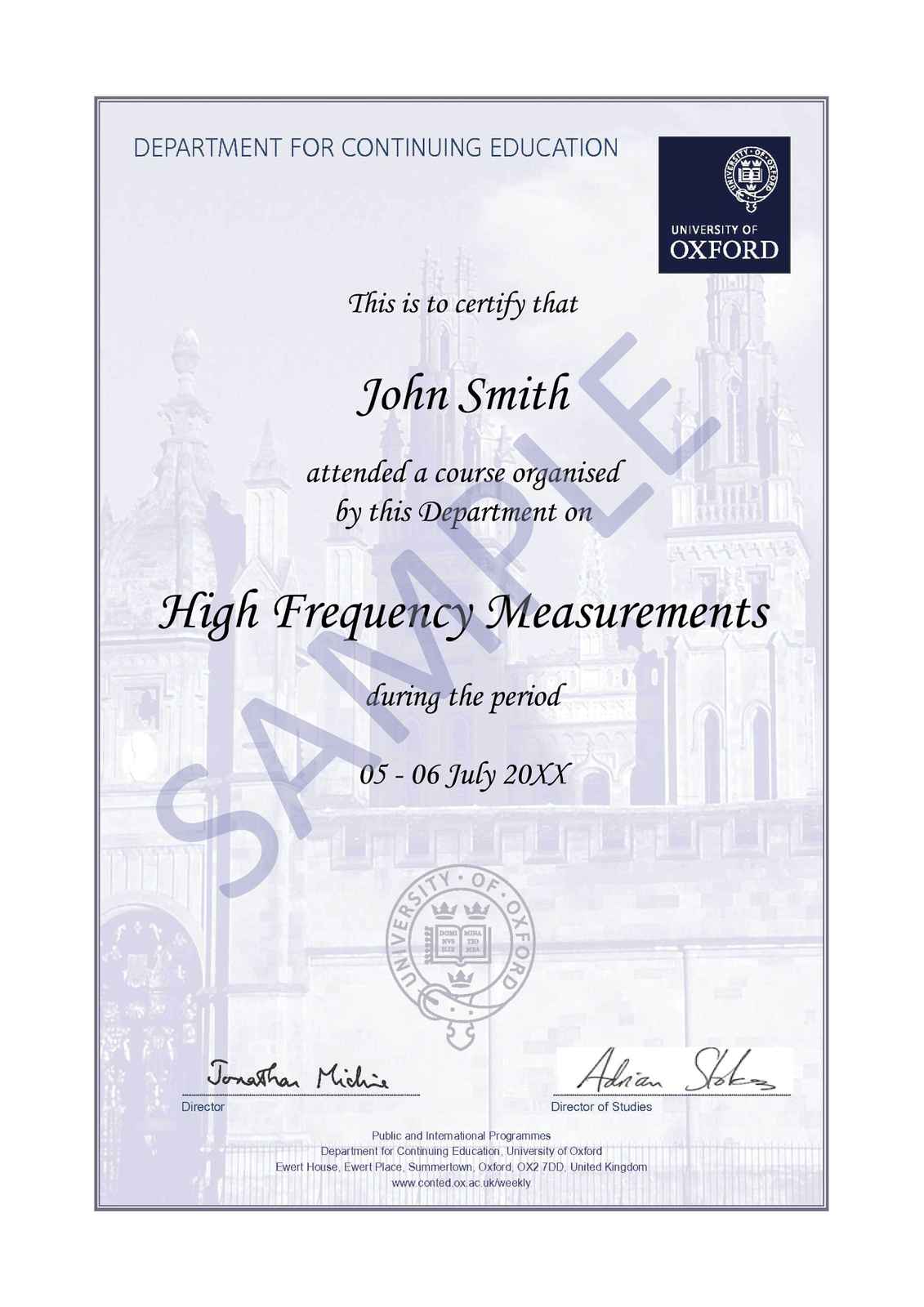 Participants who attend the full course will receive a University of Oxford Certificate of Attendance. The sample shown is an illustration only and the wording will reflect the course and dates attended.
Accommodation
Accommodation is available at the Rewley House Residential Centre, within the Department for Continuing Education, in central Oxford. The comfortable, en-suite, study-bedrooms have been rated as 4-Star Campus accommodation under the Quality In Tourism scheme, and come with tea- and coffee-making facilities, free Wi-Fi access and Freeview TV. Guests can take advantage of the excellent dining facilities and common room bar, where they may relax and network with others on the programme.
Fees
Course fee, standard: £895.00
Discount Package (add EMC and ESD Lab Techniques): £1611.00

Payment
Pay immediately online by credit or debit card
Click the "book now" button on this webpage to pay online with a credit or debit card
Pay later with your preferred payment method
Send a completed application form to the course administrator by e-mail or post, and choose:
Request an invoice
BACS payment
Cheque payment
Credit or debit card payment. Please do not send card details via email
Fees include course materials, tuition, refreshments and lunches. The price does not include accommodation.
All courses are VAT exempt.
Tutor
Speaker
Consultant
D. C. Smith Consultants
Mr Smith held an FCC First Class Radiotelephone license by age 16 and a General Class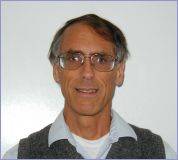 amateur radio license at age 12.
He received a B.E.E.E. degree from Vanderbilt University in 1969 and an M.S.E.E. degree from the California Institute of Technology in 1970. In 1970, he joined AT&T Bell Laboratories as a Member of Technical Staff. He retired in 1996 as a Distinguished Member of Technical Staff. From February 1996 to April 2000 he was Manager of EMC Development and Test at Auspex Systems in Santa Clara, CA.
Mr. Smith currently is an independent consultant specializing in high frequency measurements, circuit/system design and verification, switching power supply noise and specifications, EMC, and immunity to transient noise. He is a Senior Member of the IEEE and a former member of the IEEE EMC Society Board of Directors.
His technical interests include high frequency effects in electronic circuits, including topics such as Electromagnetic Compatibility (EMC), Electrostatic Discharge (ESD), Electrical Fast Transients (EFT), and other forms of pulsed electromagnetic interference.
He also has been involved with FCC Part 68 testing and design, telephone system analog and digital design, IC design, and computer simulation of circuits. He has been granted over 15 patents, several on measurement apparatus.
Mr Smith has lectured at Oxford University, Vanderbilt University, AT&T Bell Labs, and at many public and private seminars on high frequency measurements, circuit design, ESD, and EMC.
He is author of the book High Frequency Measurements and Noise in Electronic Circuits. His very popular website, www.emcesd.com (www.dsmith.org), draws many thousands of visitors each month to see over 60 technical articles as well as other features.
www.emcesd.com - Doug Smith's High Frequency Measurements website, which contains a wealth of interesting technical information
Teaching methods
The course includes a combination of teaching methods including lecture, live experiments, live computer simulations, still pictures of experiments with results, and video. The combination of methods combined with Mr Smith's enthusiastic presentation style helps the students learn and enjoy the course.
Application
If you would like to discuss your application or any part of the application process before applying, please click Contact Us at the top of this page.
Level and demands
This course is ideal for all circuit designers (especially those involved with signal integrity issues), design supervisors, and manufacturing test engineers.
Prerequisites
A university-level course on circuit analysis is desirable although the course will be useful to those with two-year technical diplomas.
If you're uncertain whether this course is suitable for your requirements, please email us with any questions you may have.