Immunology: A Pathway Through the Maze

Overview
Immunology is a rapidly developing subject with wide-ranging implications for the pharmaceutical, healthcare and biotechnology industries.
Common questions include, for example: How does the immune system defend the body against infection? What goes wrong when autoimmunity develops? How can undesirable responses be controlled?
Team leaders, R&D directors, and researchers at the bench all need to understand the latest developments in immunology and their implications for drug discovery and development as well as disease treatment. An understanding of the fundamental features of the immune system is essential not only for those who work in areas directly related to infection and immunity, but also for those working in the development of biopharmaceuticals, vaccines and antibody therapy, who wish to exploit the technological advances that have resulted from our increased insight into how the system functions.
As well as offering a path through the immunology maze, the course will emphasize the R&D opportunities for therapeutic intervention that arise from recent advances in immunology, for example the use of therapeutic antibodies and recombinant molecules as potential drug treatments.
After the introductory session, each lecture will begin by covering the basic concepts of a particular area of immunology; these will then be developed in such a way that participants are rapidly brought an understanding of the most recent findings.
Oxford is a leading centre in the creative development and application of the theory and techniques of immunology in collaboration with industry. The presenters are leading scientists in their fields and use these techniques in their day-to-day research. They work in the Nuffield Department of Surgery at the University of Oxford.
Congratulations to Prof Kathryn Wood, tutor on this course, who has been awarded the prestigious "Maharshi Sushruta Award for Transplantation Biology".
Congratulations to Prof Fiona Powrie, tutor on this course, who has been awarded the Louis-Jeantet Prize for medicine for her work on the interactions between the bacterial intestinal flora and the immune system. Prof Powrie has also recently been elected a Fellow of the Academy of Medical Sciences.
Programme details
Course content
Day 1 (10:30 - approx. 17:30)
Registration and coffee
Introduction to course
Session 1: Current concepts in immunology – finding a pathway through the maze (Prof Kathryn Wood)
Lunch break
Session 1: A map of the immune system; the response to infection (Prof Kathryn Wood)
Session 2: Major histocompatibility complex (MHC) molecules (Prof Kathryn Wood)
Tea break
Session 3: The antigen receptors and generation of the antigen receptor repertoire (Prof Kathryn Wood)

Review and discussion
Day 2 (10:00 - approx. 16:30)
Session 4: Antigen presenting cells and costimulation (Prof Kathryn Wood)
Session 5: The role of adhesion molecules and chemokines in immunity (Prof Kathryn Wood)
Tea break
Session 6: Cytokines (Prof Fiona Powrie)
Lunch break
Session 7: Cytokine regulation of immune function (Prof Fiona Powrie)
Session 8: Tolerance and Autoimmunity (Prof Fiona Powrie)
Review and discussion
Refreshments will be provided during lunch and tea breaks.
Certification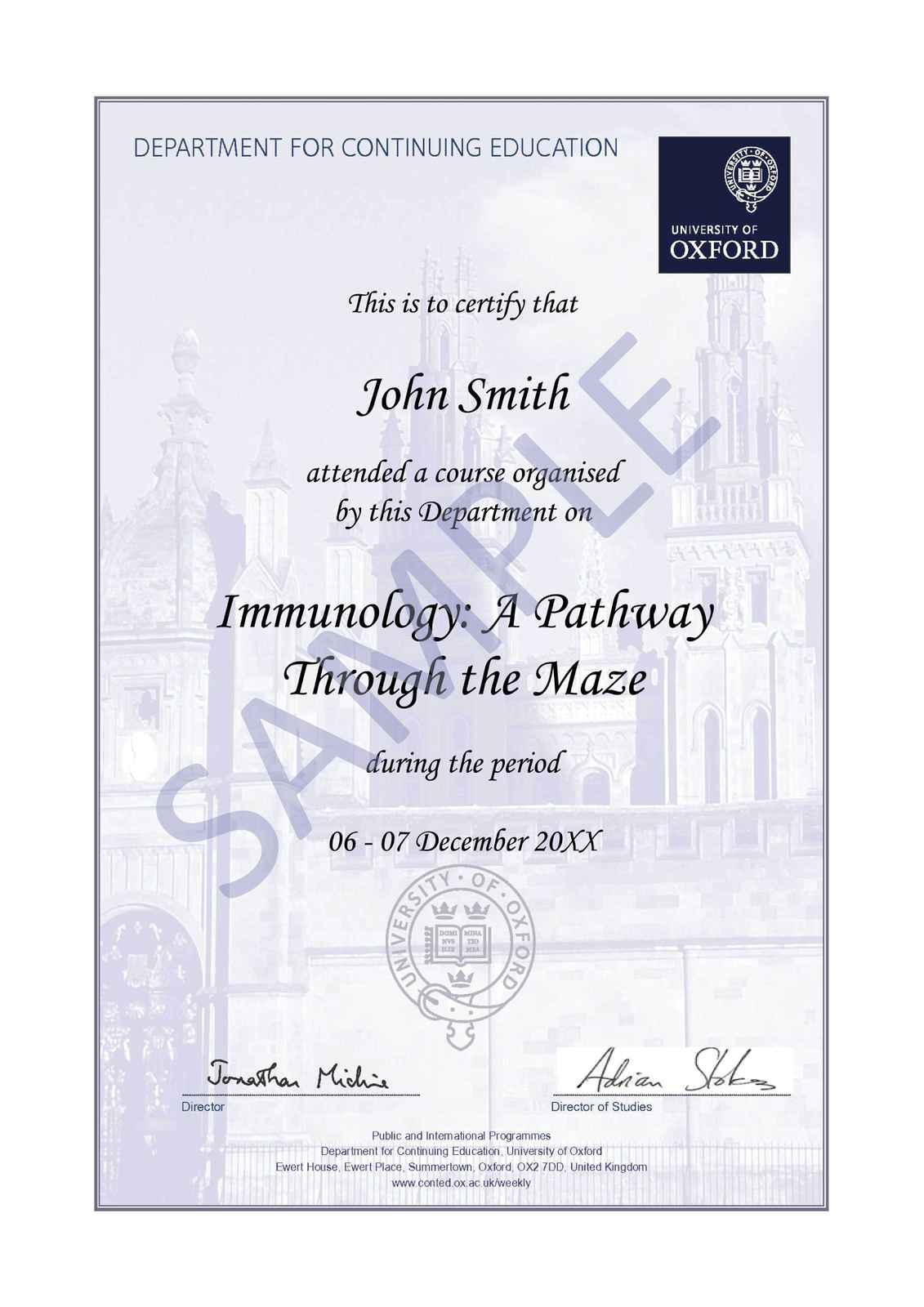 Participants who attend the full course will receive a Certificate of Attendance. The sample shown is an illustration only and the wording will reflect the course and dates attended.
Accommodation
Accommodation is available at the Rewley House Residential Centre, within the Department for Continuing Education, in central Oxford. The comfortable, en-suite, study-bedrooms have been rated as 4-Star Campus accommodation under the Quality In Tourism scheme, and come with tea- and coffee-making facilities, free Wi-Fi access and Freeview TV. Guests can take advantage of the excellent dining facilities and common room bar, where they may relax and network with others on the programme.
Fees
Standard course fee: £895.00

Funding
Details of funding opportunities, including grants, bursaries, loans, scholarships and benefit information are available on our financial assistance page.
Payment
We offer several payment options:
Pay immediately online by credit or debit card
Click the "book now" button on this webpage to pay online with a credit or debit card
Pay later with your preferred payment method
Send a completed application form to the course administrator by e-mail or post, and choose:
Request an invoice
BACS payment
Cheque payment
Credit or debit card payment. Please do not send card details via email
Fees include course materials, tuition, refreshments and lunches. The price does not include accommodation.
All courses are VAT exempt.
Tutors
Professor Kathryn Wood
Course Director and Tutor
Professor of Immunology, Nuffield Department of Surgical Sciences, University of Oxford
Kathryn Wood is Professor of Immunology in the Nuffield Department of Surgical Sciences, University of Oxford where she runs the Transplantation Research Immunology Group (TRIG – www.nds.ox.ac.uk/research/trig ). Her research focuses on immune regulation at a cellular and molecular level and interactions between the immune system and stem cell derived tissues. Kathryn is the co-author of Principles of Cellular and Molecular Immunology and author of The Handbook of Transplant Immunology. Professor Wood is a Fellow of The Academy of Medical Sciences and her research achievements have been recognised internationally. Kathryn was President of The Transplantation Society (2004-2006); was the founding Chair of the Women in Transplantation initiative (WIT – www.tts.org/women) and Editor of Transplantation (1992 - 2014).
Professor Fiona Powrie
Course Tutor
Director of the Kennedy Institute, University of Oxford.
Fiona Powrie's research interest is immune regulation, particularly CD4+ T cells subsets and cytokines in mucosal immune regulation.
Main areas of research:
Analysis of innate responses to intestinal bacteria and how these influence the adaptive immune response
Characterisation of intestinal dendritic cell subsets and their contribution to tolerance and immunity in the gut
Regulatory T cells and their induction, specificity and function in the intestine
Identification of cytokines and downstream signalling pathways that promote intestinal inflammation with particular emphasis on the IL-23/Th-17 immune axis
Susceptibility genes that control bacteria-driven colon cancer
Application
If you would like to discuss your application or any part of the application process before applying, please contact:
Course Administrator
Tel: +44 (0)1865 286958
Email: cpdbio@conted.ox.ac.uk
Level and demands
This course will be valuable to people with backgrounds in a wide range of disciplines, including medicine, pharmaceutical R&D and biotechnology. It will be of benefit to all researchers and managers involved in drug discovery and development as well as academics. It has been specifically designed both for those who are new to immunology and for those who already have some understanding but wish to update their knowledge. A basic background in biology - whether or not it included molecular biology - would be an advantage for those attending.
If you're uncertain whether this course is suitable for your requirements, please email us with any questions you may have.