Intermediate Signal and Power Integrity

Overview
Be the first to know about future course dates - click the 'Notify me' button on the right of this page.

This course will provide participants with a good insight into signal propagation and power distribution network design.
The course will be taught by two of the world's leading signal and power integrity specialists, Dr Bruce Archambeault, Distinguished Lecturer for the IEEE EMC Society and Dr Jim Drewniak, Department of Electrical and Computer Engineering, Missouri University of Science and Technology.
Starting from physics and network principles, the course moves on to more advanced SI, PI, and measurement concepts critical to current high-speed systems. These include transmission lines and signal propagation in the time and frequency domains, for example, basic principles, characteristics of complex discontinuities, as well as simple smooth conductor and dielectric losses that impact high-speed propagation.
The course also looks at power distribution network analysis basics including charge delivery, PDN impedance, noise voltage, and design directions such as decoupling, layer stackup and materials.
This course is part of Oxford University's High-Speed Digital, Analogue and EMC Engineering Month.
Each delegate will receive a free one-year licence for Fast Electromagnetic Analysis Suite (FEMAS) software for modeling signal and power integrity problems.
Course Outline
Transmission Lines and Signal Propagation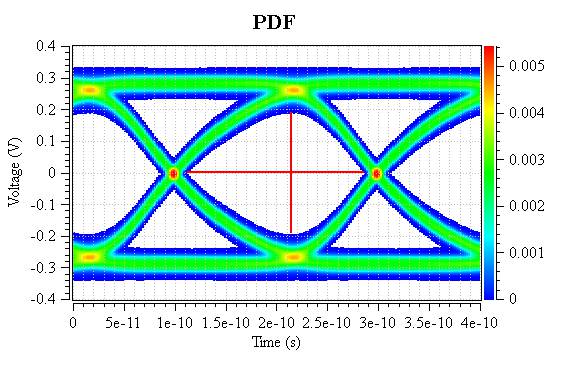 Reflection and transmission - TD
Complex reactive loads and discontinuities
Circuits vs txlines
Input impedance
Basic concepts of conductor and dielectric loss
Tools: Fast Electromagnetic Analysis Suite (FEMAS) - cascaded transmission-line sections and lumped element discontinuities. FEMAS TDR tool.
Signals
Signal spectra
Basic data patterns and spectra
Tools: FEMAS signals analysis tool
Inductance and capacitance concepts
Getting from E & H fields to C and L, from the physics (and without the math)
Self, mutual L and C; tools - 2D
Tools: FEMAS L and C 2D FEM tool
Multi-Conductor Transmission Lines
Crosstalk - Lm and Cm trends with geometry and Zo, analytical calculations
Differential signals - even & odd mode propagation, Zoe, Zoo, Vp
Tools: FEMAS 2D cross-sectional, XTK
Discontinuities and Non-ideal Effects
TEM, not-TEM, discontinuities
Normalizing and quantifying effects
Tools: FEMAS link path analyzer
Link Path Analysis
S-parameter/transfer function concepts
The link path as a series of linear filters
ideal block behaviour - RL, IL, transmission-phase
loss, ISI
examples
Tools: FEMAS link path analyzer tool
Basics of TDR and VNA measurements
TDR and VNA comparison
S-parameters - RL, IL, phase, calibration and error coorection concepts, mis-matched transmission line
TDR - basic discontinuities
PDN
Fundamentals PDN TD/FD concepts, packages & PCB - charge delivery in time and frequency, input and transfer impedance, noise voltage on plane
Planes - layer stackup, materials
PCB decoupling - C values and location
Tools: FEMAS PDN analysis for single PWR/GND layer, caps
Certification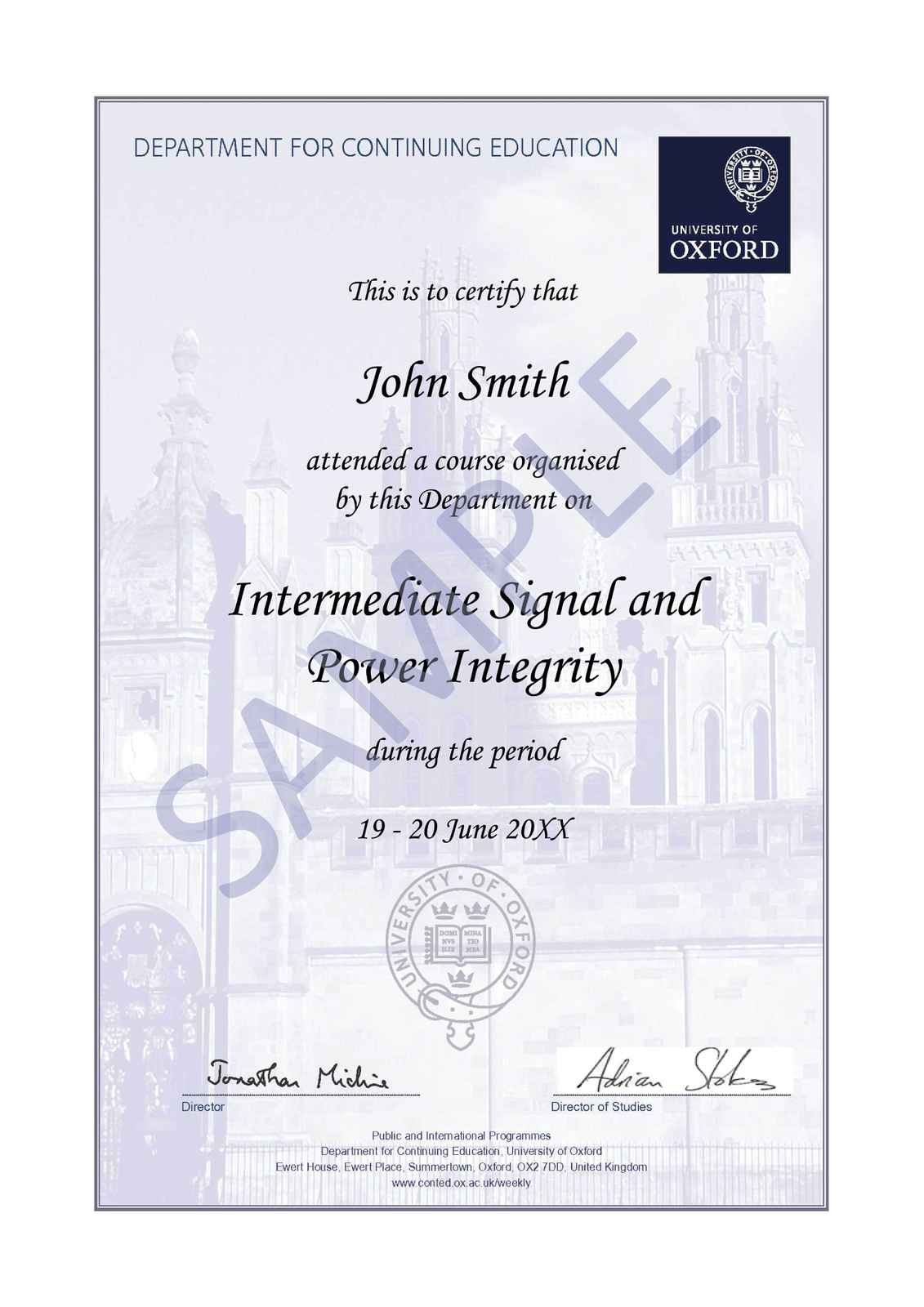 Participants who attend the full course will receive a University of Oxford Certificate of Attendance. The sample shown is an illustration only and the wording will reflect the course and dates attended.
Accommodation
Accommodation is available at the Rewley House Residential Centre, within the Department for Continuing Education, in central Oxford. The comfortable, en-suite, study-bedrooms have been rated as 4-Star Campus accommodation under the Quality In Tourism scheme, and come with tea- and coffee-making facilities, free Wi-Fi access and Freeview TV. Guests can take advantage of the excellent dining facilities and common room bar, where they may relax and network with others on the programme.
Fees
Course fee, standard: £995.00
Discount package fee (add Advanced course): £2195.00

Payment
The standard course fee for the Intermediate Signal and Power Integrity course is £995.00
Discount package fee for both the Intermediate Signal and Power Integrity and the Advanced Signal and Power Integrity course is £2195.00 (normally £2390.00)
Pay immediately online by credit or debit card
Click the "book now" button on this webpage to pay online with a credit or debit card
Pay later with your preferred payment method
Send a completed application form to the course administrator by e-mail or post, and choose:
Request an invoice
BACS payment
Cheque payment
Credit or debit card payment. Please do not send card details via email
Fees include course materials, tuition, refreshments and lunches. The price does not include accommodation.
All courses are VAT exempt.
Tutors
Dr Bruce Archambeault
Speaker
Archambeault EMI Enterprises, USA
Dr. Bruce Archambeault received his B.S.E.E degree from the University of New Hampshire in 1977 and his M.S.E.E degree from Northeastern University in 1981. He received his Ph. D. from the University of New Hampshire in 1997. His doctoral research was in the area of computational electromagnetics applied to real-world EMC problems.
In 1981 he joined Digital Equipment Corporation and through 1994 he had assignments ranging from EMC/TEMPEST product design and testing to developing computational electromagnetic EMC-related software tools. In 1994 he joined SETH Corporation where he continued to develop computational electromagnetic EMC-related software tools and used them as a consulting engineer in a variety of different industries.
He recently retired from IBM in Raleigh, N.C. where he was a Senior member of Technical Staff, and a lead EMC engineer, responsible for EMC tool development and use on a variety of products. During his career in the U.S. Air Force he was responsible for in-house communications security and TEMPEST/EMC related research and development projects.
Dr. Archambeault has authored or co-authored a number of papers in computational electromagnetics, mostly applied to real-world EMC applications. He is currently a member of the Board of Directors on the IEEE EMC Society and a member of the Board of Directors of the Applied Computational Electromagnetics Society (ACES).
He is the author of the book titled PCB Design for Real-World EMI Control and the lead author of the book titled EMI/EMC Computational Modeling Handbook. Dr. Archambeault is currently a Distinguished Lecturer for the IEEE EMC Society and a Master EMC Design Engineer, certified by iNARTE (International Association for Radio, Telecommunications and Electromagnetics).
Dr James L Drewniak
Speaker
Department of Electrical and Computer Engineering, Missouri University of Science and Technology (formerly the University of Missouri-Rolla)
James L. Drewniak received B.S., M.S., and Ph.D. degrees in electrical engineering from the University of Illinois at Urbana-Champaign. He is with Electromagnetic Compatibility Laboratory in the Electrical Engineering Department at Missouri University of Science and Technology. His research and teaching interests include electromagnetic compatibility in high-speed digital and mixed-signal designs, signal and power integrity, electronic packaging, electromagnetic compatibility in power electronic based systems, electronics, and antenna design.
He is one of the leaders of a university research laboratory that is internationally recognized as a leader in EMC and signal and power integrity, with approximately 60 people, including 5 tenured faculty, 4 research professors, and over 35 graduate students. The funding for the laboratory is a balance of US government sponsors including the NSF, DoD agencies, and DOE, and industry, and a state-of-the-art $10M laboratory facility. A key funding component of the research is a US National Science Foundation Industry/University Research Center (I/UCRC) that is a consortium of approximately 20 companies, with over 20 funded projects.
He is a Fellow of the IEEE, and a current Distinguished Lecturer for the IEEE EMC Society. He has published 85 journal papers and over 225 conference papers.
Application
If you would like to discuss your application or any part of the application process before applying, please contact:
Course Administrator
Tel: +44 (0)1865 286958
Email: electronics@conted.ox.ac.uk
Level and demands
This course is for: Beginning SI and PI engineers as well as those who desire a foundation or refresher of fundamental principles for SI and PI, designers and system architects who require a knowledge of fundamental SI and PI principles.
If you're uncertain whether this course is suitable for your requirements, please email us with any questions you may have.