LTE, LTE-Advanced and 5G: System Design and Operation

Overview
Please send me dates and details of future LTE courses at Oxford University.
Includes:
Introduction to LTE (day 1)
LTE-Advanced (Releases 10-12) / LTE-Advanced Pro and 5G (Releases 13 and beyond) (day 2 and 3)
LTE and HSPA RF Design and Performance (day 4)
UMTS / HSPA / LTE Protocols (day 5)
The above courses can be taken separately or as a single package as part of the LTE and LTE-Advanced: System Design and Operation course.
An update of the popular course, explaining the capabilities and operation of 3G Mobile Networks, which includes presentations by some of the world's leading industry experts in the field of LTE and HSPA.
All delegates will receive a free copy of "LTE Advanced: 3GPP Solution for IMT-Advanced" by Harri Holma and Antti Toskala " by Harri Holma and Antti Toskala (Wiley).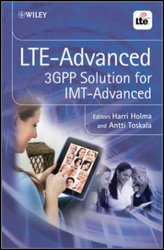 Please send me details about future LTE, LTE-Advanced and HSPA Evolution: System Design and Operation courses.
This five-day course provides a detailed end-to-end description and explanation of the global LTE and LTE-Advanced radio standards, with presentations from Harri Holma and Antti Toskala, authors of the current definitive work, LTE for UMTS - OFDMA and SC-FDMA Based Radio Access.
The goals of the course are to give delegates a solid understanding of how 4G LTE radio access and core networks fit together to give operators an easier to manage and lower cost end to end solution.
With full explanations of OFDMA and SC-FDMA air interfaces, the course explains the evolutions of the standards. We explain the complexities of RF design of multi-mode, multi-band handsets and describe the signalling procedures used between handset and network.
Real-world implementation aspects of the new technology will be discussed, including system dimensioning and design, and the performance of mobile data applications. Emphasis throughout the course will be placed on optimising the data capability of these networks, including efficient packet data capacity, broadband wireless services, radio resource management as well as upgrade paths for operators.
Programme details
Day 1 – Introduction to LTE (Jonathan Moss)
System Architecture Evolution
Introduction to SAE and EPC
Functions of eNB, MME, S-GW and PDN-GW
S1 and X2 interfaces
LTE Air Interface
OFDMA description and benefits
Explanation and benefits of SC-FDMA
Link budget, Coverage and Capacity
Interference and single frequency operation
Operation of TD-LTE
LTE Release 8-9 Features
Mobility and Handover
Radio Resource Management
Voice solutions
Frequency bands
Performance benchmarking to HSPA+
Day 2 – LTE-Advanced (3GPP Releases 10-12) (Harri Holma and Antti Toskala)
LTE-Advanced features
Carrier Aggregation (CA)
MIMO evolution
Heterogeneous Networks (HetNet)
Coordinated Mlitipoint (CoMP)
Enhanced CoMP over non-ideal backhali (eCoMP)
Dual connectivity (DC) and inter-site carrier aggregation
Self Organizing Networks (SON)
Relay nodes (RN)
Device-to-device communication (D2D)
LTE-Advanced optimization
LTE Performance: data rates, coverage, capacity and latency
CS Fallback and VoLTE optimization
LTE mobility and packet schedlier optimization
Day 3 – LTE-Advanced Pro and 5G (3GPP Releases 13 and beyond) (Harri Holma and Antti Toskala)
LTE-Advanced Pro
Internet of Things (IoT) Optimization, Narrowband (NB-IoT)
3D beamforming, 3D MIMO
Carrier aggregation evolution to 32 carriers
Utilization of Unlicensed bands: LTE-WiFi Interworking and LTE for Unlicenced Bands (LTE-U)
Latency minimization to 1 ms
Cloud radio architecture
5G
Targets (NGMN, ITU)
3GPP and deployment schedlie
Spectrum
Physical layer
Protocols
Network architecture
Data rates, coverage, capacity and latency
Day 4 – LTE and HSPA RF Design and Performance (Laurent Noël)
Introduction to Multimode Multiband handset design challenges
- 3GPP frequency band evolution vs year vs mode and typical handset band support
- Worldwide phone frequency band requirements: dual-mode, vs triple-mode vs quad-mode
Performance / Cost trade-offs in Multimode Multiband terminals
- Evolution of Silicon Area and component count in single mode (GSM), dual-mode (GSM-HSPA), triple mode (GSM-HSPA-LTE) terminals
- RF transceiver architecture: 10 years of evolutions to reduce PCB area and component count
Solving the cost-performance trade-off by removing interstage SAW filters
Impact of Carrier-Aggregation (CA)
- RF front-end evolutions
Trends in filters and RF switches over the last 10 years
Front-end Module integration evolution,
RF multiplexing strategies to address LTE-CA
- Power Amplifiers: single band discrete PAs vs Multi-mode Multi-band PAs
Example of trade-offs applied to a North-American triple mode design
Reconfigurability concept with MMMB PA modules
Cost savings: discrete PA vs MMMB PA in triple mode NA variant example
- Over the Air performance
WCDMA and LTE TRP TIS smartphone performance overview
OTA performance challenges with MIMO operation
Antenna tuner & impedence tuner: cost performance trade-offs
- RF subsystem control and IQ interfaces: cost savings with MIPI interfaces
Example of cost savings using MIPI DigRF v4 and RFFE on a Carrier Aggregation RF subsystem
EMI control and coexistence design challenges
- More co-existence challenges
in single chip RF, BB, PMU devices
Within the RF subsystem: example of LTE CA band 4 - band
Between cellular and connectivity subsystems: example of GPS desense
Other co-existence associated with LTE operation
Power consumption reduction in MM MB terminals
- Cellular subsystem
Complexity of measuring battery life in smartphones – example of a 'typical' user profile.
LTE subsystsem chipsets performance benchmark
Lab to Field testing: comparing voice battery consumption between GSM, WCDMA and VoLTE
Impact of small cells onto UE power consumption, and recap on LTE transmit power control loops
- Application Engines:
Impact of screen related activity onto end user battery life
Trade-off between power consumption, user experience and performance: the example of ARM bigLITTLE
Design trade-off between performance, thermal runaway and PCB heatsink in bigLITTLE solutions
- Cellular Power Amplifier power supply control strategy
Gain switching vs average power tracking vs envelope tracking
IEEE and commercial handset benchmarking
Day 5 – LTE and HSPA Protocols (Neil Wiffen)
Signalling Procedures

Signalling Overview
Call Control
Mobility Management
GPRS Mobility Management
Session Management

Security Procedures

Security Overview
UMTS Security Architecture
Security Features
GSM-UMTS interoperability

Layer 2 Protocols (UE-RAN)

General Protocol Architecture
UMTS Layer 2 Principles
RLC Functions and Procedures
MAC Functions and Procedures
Protocol Termination (Release '99)
HSPA outline
* Please notify us on your registration form if you would prefer to receive a copy of one of the follwing books instead:
"HSDPA/HSUPA for UMTS" by Harri Holma and Antti Toskala (Wiley)
"WCDMA for UMTS" by Harri Holma and Antti Toskala (Wiley)
"LTE-Advanced" by Harri Holma and Antti Toskala (Wiley)
"Voice over LTE" by Harri Holma and Antti Toskala (Wiley)
Our congratulations to Antti Toskala who received the 'Award for Individual Contribution to LTE Development' at the inaugural LTE Awards at the 2010 LTE World Summit on 18 May 2010. Click here to read more.
Certification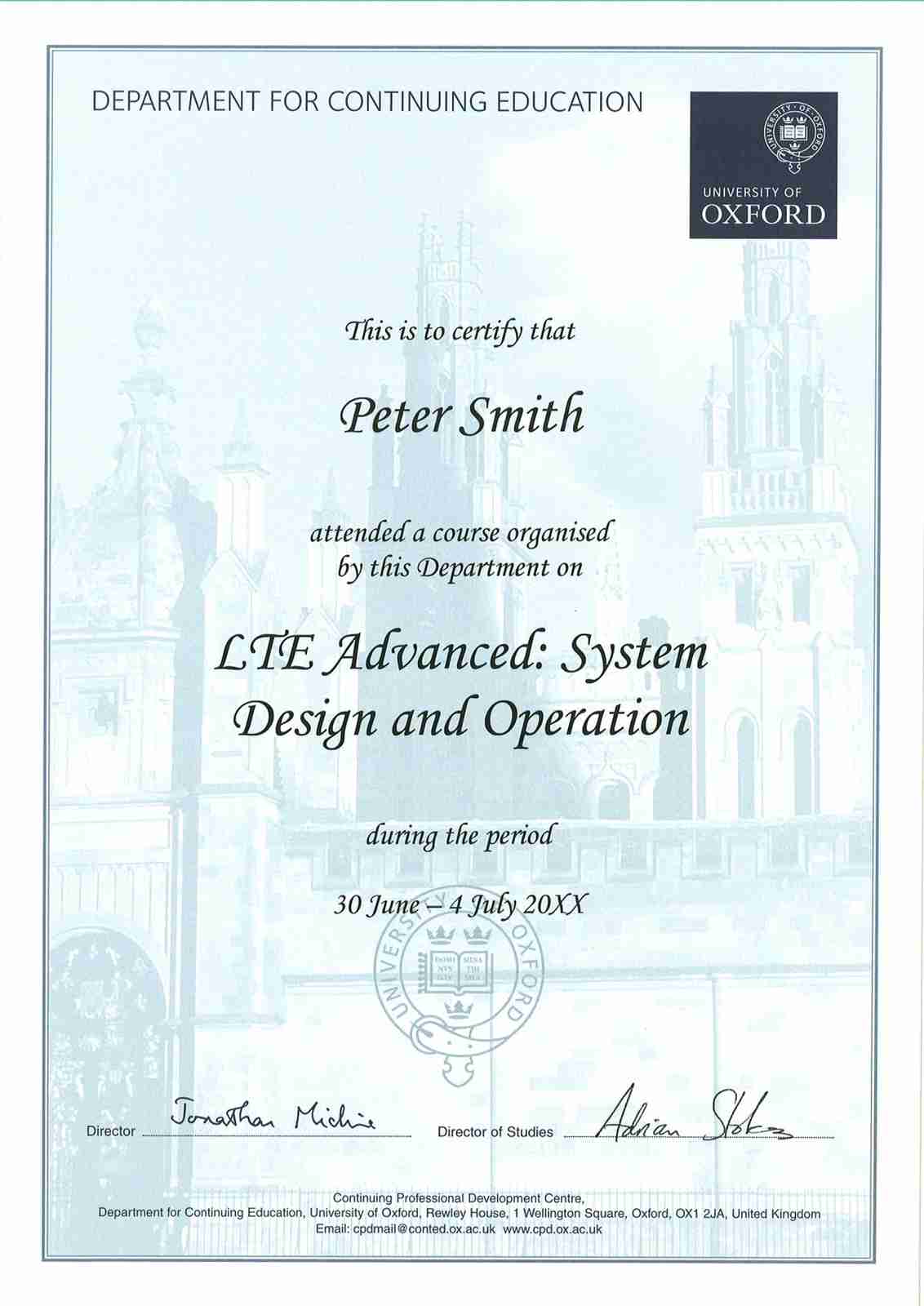 Participants who attend the full course will receive a University of Oxford Certificate of Attendance. The sample shown is an illustration only and the wording will reflect the course and dates attended.
Accommodation
Accommodation is available at the Rewley House Residential Centre, within the Department for Continuing Education, in central Oxford. The comfortable, en-suite, study-bedrooms have been rated as 4-Star Campus accommodation under the Quality In Tourism scheme, and come with tea- and coffee-making facilities, free Wi-Fi access and Freeview TV. Guests can take advantage of the excellent dining facilities and common room bar, where they may relax and network with others on the programme.
Fees
Standard course fee: £1995.00

Payment
We offer several payment options:
Pay immediately online by credit or debit card
Click the "book now" button on this webpage to pay online with a credit or debit card
Pay later with your preferred payment method
Send a completed application form to the course administrator by e-mail or post, and choose:
Request an invoice
BACS payment
Cheque payment
Credit or debit card payment. Please do not send card details via email
Fees include course materials, tuition, refreshments and lunches. The price does not include accommodation.
All courses are VAT exempt.
Tutors
Dr Harri Holma
Speaker
NSN Fellow - Radio System Performance,
Nokia Networks, Finland
Harri Holma joined Nokia Research Centre in 1994 and received his M.Sc. He has been with Nokia Networks since 1998 and has been located both in Finland and in USA during that time.
He is currently working as NSN Fellow with Nokia Solutions and Networks with special interest on radio system performance. He completed his PhD at Helsinki University of Technology 2003.
Dr Holma has edited the books "WCDMA for UMTS", "HSDPA/HSUPA for UMTS", "LTE for UMTS", "LTE-Advanced" and "Voice over LTE" and contributed to a number of other books in the radio communication area.
Dr Jonathan Moss
Speaker
Telecoms Consultant
Jon is an experienced RF Design Engineer and Telecoms Trainer.
He worked previously for a mobile handset company, managing the development of Windows Mobile phones and introducing them to the Enterprise space and Mobile Network Operators. Prior to this, he was responsible for 3G Network performance optimisation for O2 Group where he held several roles in the UK, Ireland and the Isle of Man.
He received M.Eng. and D.Phil. qualifications from University College, Oxford in 1994 and 1998.
Mr Laurent Noël
Speaker
System Performance Analyst at Videotron, Canada, Mobile Devices Certification
(formerly Senior System Architect at ST-Ericsson)
Until recently Laurent Noel was a senior system architect at ST-Ericsson, France. He worked on reconfigurable multi-mode, multi-standard, digital RF solutions for LTE, FDD-WCDMA, EGPRS, and TD-SCDMA projects.
Throughout 2007 and 2008 he also actively participated in the definition of the DigRF SM v4 standard within the MIPI alliance. Prior to that he worked at BT Laboratories (Martlesham Heath, UK) where he was involved in 3G testing activities and in research on high speed digital optical systems, including millimetre wave radio systems over fibre.
He received a degree in mathematics and physics from the University of Montpellier II, France, in 1991, and a degree as a microelectronics engineer at the "Institut des Sciences de l'Ingenieur" (ISIM), Montpellier, France, in 1994.
Dr Antti Toskala
Speaker
Head of 3GPP Radio Standardization,
Nokia Networks
Antti Toskala (M.Sc) joined the Nokia Research Center in 1994, where he undertook WCDMA system studies. In September 1995 he joined the ACTS FRAMES project, and in the later phase, worked as the team leader for the work package which defined the FMA2 WCDMA concept. During 1997, he worked as a Senior Research Engineer and CDMA Specialist participating in the ETSI SMG2 UMTS standardization work.
He chaired the UMTS physical layer expert group in ETSI SMG2 during 1998, and from 1999 (the start of the 3GPP activity) until 2003 he worked in 3GPP as chairman of the TSG RAN WG1, the group responsible for the physical layer of the WCDMA standard. His group was responsible for the standardization of WCDMA physical layer, High Speed Downlink Packet Access (HSDPA) and for the start of uplink packet data evolution (HSUPA).
From 2003 to 2005 he worked as Senior Standardization Manager with System Technologies, at Nokia Networks and contributed to product development as the HSDPA Chief Architect for Nokia Networks.
From 2005 to 2006 he worked with Nokia Networks as Senior Standardization Manager focusing on HSPA and LTE standardization.
Currently he is with Nokia Solutions and Networks, in Espoo, Finland working as the Head of 3GPP Radio Standardization, with technical focus on HSPA and LTE evolution.
He has co-authored what are considered to be the 3 definitive books in 3G ("WCDMA for UMTS", "HSDPA/HSUPA for UMTS" and "LTE for UMTS"). He regularly lectures on WCDMA, HSPA and LTE technologies in various universities and institutions around the world and has a large number of patents and publications in the field.
As part of the 2010 LTE World Summit LTE Awards, he received the "Award for Individual Contribution for LTE Development" recognising his contribution to both LTE standardization and LTE knowledge spreading in the industry.
Neil Wiffen
Speaker
Senior Technical Instructor,
Red Banana Wireless Ltd
Since 2001 Neil has developed and delivered training for the majority of the major 3G handset and chipset manufacturers through EMEA, Asia-Pac and North America. Currently his training and consulting efforts are focussed on 3 key topic areas:
3G protocol stack (WCDMA, HSDPA,HSUPA)
Mobile Network Service Provision (Mobile Data Solutions, End-to-end Service Provision, Network Optimisation)
Government Research (Current and Emerging Wireless Systems)
Previously, Neil has worked as a Technical Instructor for Wray Castle Ltd., developing and delivering UMTS technical training material, and prior to this he spent 13 years with GCHQ on various Research and Development projects in both engineering roles and as a technical team leader.
Application
If you would like to discuss your application or any part of the application process before applying, please contact:
Course Administrator
Tel: +44 (0)1865 286958
Email: telecoms@conted.ox.ac.uk
Level and demands
The course is aimed at those wishing to gain a complete end-to-end overview of UMTS technology, in particular RF and baseband engineers, radio planners, service developers, equipment designers and telecoms consultants. In addition, the course will appeal to technical managers, analysts and strategists wishing to increase their technical understanding of the subject area.
If you're uncertain whether this course is suitable for your requirements, please email us with any questions you may have.