LTE Advanced and 5G System Design and Operation

Overview
Be the first to know about future course dates - click the 'Notify me' button on the right of this page.

Led by Dr Harri Holma and Dr Antti Toskala (Nokia), two of the world's leading experts in mobile networks, this course covers the global WCDMA, HSPA and LTE radio standards in 3GPP LTE-Advanced (Releases 10-12) / LTE-Advanced Pro and 5G (Releases 13 and beyond).
Our 5-day course "LTE Advanced and 5G System Design and Operation" is available as a full 5-day course or by selecting individual days.
Our trainers promote 2-way interaction through the training and where possible, back up explanations with real-world examples.
Our courses are developed with software and hardware developers in mind, but equally impart useful knowledge and experience for consultants and mobile operators.
Includes:
The above courses can be taken separately or as a single package as part of the LTE Advanced and 5G System Design and Operation course.
This course includes presentations by some of the world's leading industry experts in the field of LTE and HSPA.
All delegates will receive a free copy of "LTE Advanced: 3GPP Solution for IMT-Advanced" by Harri Holma and Antti Toskala " by Harri Holma and Antti Toskala (Wiley).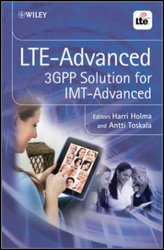 Programme details
Day 1 – LTE-Advanced (Jonathan Moss)
With the explosion in mobile data traffic, mobile networks are needing to introduce a range of extensions to 4G radio technology to continue to provide a good user experience.
This 1-day course explains the wide range of 4G features available within the LTE Advanced umbrella contained in 3GPP Releases 10-12.
We cover the topics of Dual Connectivity and Inter-site Carrier Aggregation, Enhanced Coordinated Multipoint and evolutions of MIMO.
We also explain the benefits of Small Cells, Relay Nodes and Heterogeneous Networks in making the most of the available radio spectrum.
Contents:
Carrier Aggregation (CA)
MIMO evolution
Heterogeneous Networks (HetNet)
Coordinated Mlitipoint (CoMP)
Enhanced CoMP over non-ideal backhali (eCoMP)
Dual connectivity (DC) and inter-site carrier aggregation
Self Organizing Networks (SON)
Relay nodes (RN)
Device-to-device communication (D2D)
LTE-Advanced optimization
LTE Performance: data rates, coverage, capacity and latency
CS Fallback and VoLTE optimization
LTE mobility and packet scheduler optimization
Day 2 – Pathway to 5G (Harri Holma and Antti Toskala)
This 1-day course covers the bridging technologies between LTE and 5G based on 3GPP Releases 13 and beyond.
We cover the concepts of LTE-Advanced Pro, often referred to as 4.5 or 4.9G and how 5G services can be enabled on top of LTE networks.
The course includes the topics of Internet of Things optimization, Narrowband IoT and MulteFire in unlicensed bands.
We also describe the use of WiFi as an aggregation layer, the provision of Public Safety services and low latency access.
Contents:
Explains LTE evolution steps in Releases 13 and beyond which enable 5G services on top of LTE network.
LTE-Advanced Pro (4.5G/4.9G)
Carrier Aggregation (CA) evolution to 32CA
Licensed Assisted Access (LAA/LTE-U)
Unlicensed band MulteFire
LTE – Wi-Fi aggregation (LWA)
Internet of Things (IoT) Optimization
Narrowband IoT (NB-IoT)
Massive MIMO (3D beamforming)
Low latency <2 ms round trip time
Device-to-device communication (D2D)
Public safety
Vehicle-to-vehicle communication (V2V)
Cloud radio architecture
eMBMS evolution
Day 3 – 5G (Harri Holma and Antti Toskala)
In this session we cover the rapidly developing 5G radio from the low layers to the network architecture and deployment aspects.
We explain the 3GPP standardization process, the System Architecture and many of the enabling technologies including the use of mm spectrum, Massive MIMO, Network Slicing and QoS.
Contents:
3GPP standardization steps
5G technology componens
Spectrum
Massive MIMO beamforming
Frame structures and protocols
System and radio architecture
Dual connectivity
Massive MIMO
Multiconnectivity with LTE
Waveforms <6 GHz and mm waves
Network slicing and QoS
Power consumption and energy efficiency
IoT optimization
5G trial specs and differences to 3GPP
Day 4 – 4G and 5G Protocols (Neil Wiffen)
This course presents a technical description of key 4G protocols and procedures through progressive releases of the 3GPP specifications since the introduction of LTE in Release 8. Protocol structures and mechanisms that support communications across various interfaces are presented, including the Air Interface, E-UTRAN, Core Network and EPC systems. S1, X2 and EPS signalling principles and example signalling procedures are presented and E-RAB setup mechanisms discussed. The course then presents the requirements and potential solutions that are currently being discussed for the development of 5G systems. The course also includes an overview of procedures relating to registration, security, mobility management, voice call setup and PS data session establishment for current LTE networks.
Contents:
LTE / EPS Service Delivery
LTE Air Interface
E-UTRAN protocols and interfaces
EPC architecture and protocols
Connecting to the IMS
VoLTE protocols
LTE-Advanced protocols and procedures
5G Architecture and Protocol options
Cloud RAN considerations
Separation of Control and User Planes
Network and Service Slicing
Virtual Cell management
Day 5 – 4G and 5G RF Design Challenges (Laurent Noël)
This session presents an overview of state of the art solutions and strategies used by chipset vendors to deliver cost efficient LTE and 5G terminals, with a focus on the RF subsystem and RF Front-End architectures.
Supporting the increasing number of bands and band combinations, maintaining radio performance, hardware cost and power consumption in multi-mode multi-standard smartphones poses serious design challenges.
This one-day session explains modern transmitter and receiver chain RF architectures in detail, including co-existence scenarios and the progress made in reducing power consumption across three recent generations of LTE chipsets.
Contents:
Smartphone market trends:
WW Smartphone variant and hardware architecture overview
Frequency band and CA band combination requirements
- Illustration of cost / feature / SKU trade-offs in a family of high-end smartphones
Multi-mode, Multi-band RF transceiver architecture overview
Overview of some 5G RF Front-end challenges:
RF multiplexing complexity overview
Power amplifier module trade-offs
RF filtering & internal smartphone coexistence issues
OTA performance & antenna challenges for 5G MIMO
Addressing power consumption challenges:
- Battery technology evolution
- Application engines architecture overview
- Power amplifier control schemes
- 3GPP/network power saving features
- Benefits of small cell deployments on battery life.
- Impact of new 5G modulation schemes.
Certification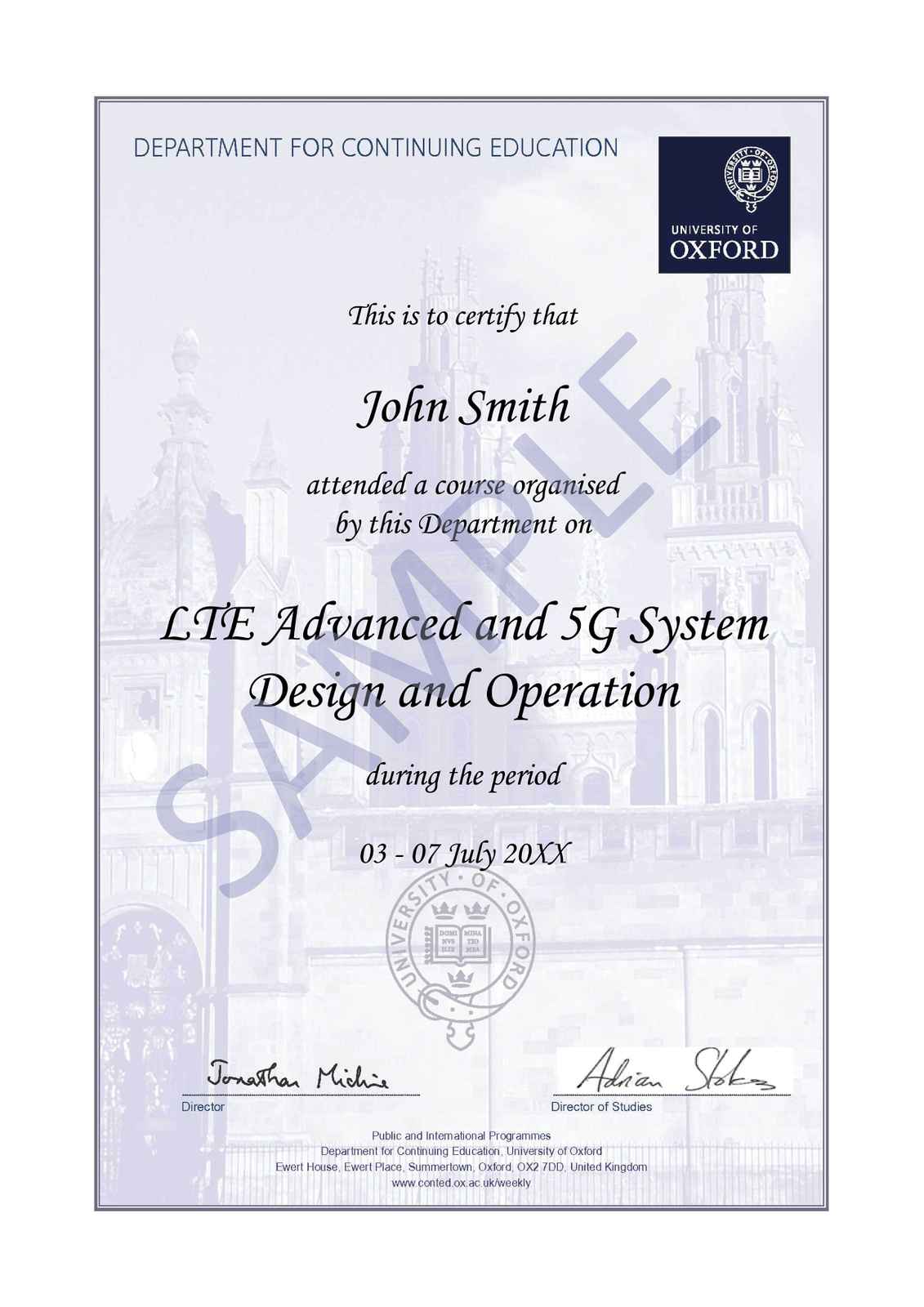 Participants who attend the full course will receive a University of Oxford Certificate of Attendance. The sample shown is an illustration only and the wording will reflect the course and dates attended.
Accommodation
Accommodation is available at the Rewley House Residential Centre, within the Department for Continuing Education, in central Oxford. The comfortable, en-suite, study-bedrooms have been rated as 4-Star Campus accommodation under the Quality In Tourism scheme, and come with tea- and coffee-making facilities, free Wi-Fi access and Freeview TV. Guests can take advantage of the excellent dining facilities and common room bar, where they may relax and network with others on the programme.
Fees
Standard course fee: £1995.00

Payment
We offer several payment options:
Pay immediately online by credit or debit card
Click the "book now" button on this webpage to pay online with a credit or debit card
Pay later with your preferred payment method
Send a completed application form to the course administrator by e-mail or post, and choose:
Request an invoice
BACS payment
Cheque payment
Credit or debit card payment. Please do not send card details via email
Fees include course materials, tuition, refreshments and lunches. The price does not include accommodation.
All courses are VAT exempt.
Tutors
Dr Harri Holma
Speaker
Fellow, Nokia Bell Labs, Finland
Harri Holma joined Nokia Research Centre in 1994 and received his M.Sc. 1995. He has been with Nokia since 1998 and has been located both in Finland and in USA during that time.
He is currently working with Nokia Bell Labs as Fellow with special interest on radio system performance. He completed his PhD at Helsinki University of Technology 2003.
Dr Holma has edited the books "WCDMA for UMTS", "HSDPA/HSUPA for UMTS", "LTE for UMTS", "LTE-Advanced", "Voice over LTE", "HSPA+ Evolution to Release 12" and "LTE Small Cell Optimization" and contributed to a number of other books in the radio communication area.
Dr Jonathan Moss
Speaker
Telecoms Consultant
Jon is an experienced RF Design Engineer and Telecoms Trainer.
He worked previously for a mobile handset company, managing the development of Windows Mobile phones and introducing them to the Enterprise space and Mobile Network Operators. Prior to this, he was responsible for 3G Network performance optimisation for O2 Group where he held several roles in the UK, Ireland and the Isle of Man.
He received M.Eng. and D.Phil. qualifications from University College, Oxford in 1994 and 1998.
Mr Laurent Noël
Speaker
System Performance Analyst at Videotron, Canada, Mobile Devices Certification
(formerly Senior System Architect at ST-Ericsson)
Until recently Laurent Noel was a senior system architect at ST-Ericsson, France. He worked on reconfigurable multi-mode, multi-standard, digital RF solutions for LTE, FDD-WCDMA, EGPRS, and TD-SCDMA projects.
Throughout 2007 and 2008 he also actively participated in the definition of the DigRF SM v4 standard within the MIPI alliance. Prior to that he worked at BT Laboratories (Martlesham Heath, UK) where he was involved in 3G testing activities and in research on high speed digital optical systems, including millimetre wave radio systems over fibre.
He received a degree in mathematics and physics from the University of Montpellier II, France, in 1991, and a degree as a microelectronics engineer at the "Institut des Sciences de l'Ingenieur" (ISIM), Montpellier, France, in 1994.
Dr Antti Toskala
Speaker
Head of 3GPP Radio Standardization,
Nokia Networks
Antti Toskala (M.Sc) joined the Nokia Research Center in 1994, where he undertook WCDMA system studies. In September 1995 he joined the ACTS FRAMES project, and in the later phase, worked as the team leader for the work package which defined the FMA2 WCDMA concept. During 1997, he worked as a Senior Research Engineer and CDMA Specialist participating in the ETSI SMG2 UMTS standardization work.
He chaired the UMTS physical layer expert group in ETSI SMG2 during 1998, and from 1999 (the start of the 3GPP activity) until 2003 he worked in 3GPP as chairman of the TSG RAN WG1, the group responsible for the physical layer of the WCDMA standard. His group was responsible for the standardization of WCDMA physical layer, High Speed Downlink Packet Access (HSDPA) and for the start of uplink packet data evolution (HSUPA).
From 2003 to 2005 he worked as Senior Standardization Manager with System Technologies, at Nokia Networks and contributed to product development as the HSDPA Chief Architect for Nokia Networks.
From 2005 to 2006 he worked with Nokia Networks as Senior Standardization Manager focusing on HSPA and LTE standardization.
Currently he is with Nokia Solutions and Networks, in Espoo, Finland working as the Head of 3GPP Radio Standardization, with technical focus on HSPA and LTE evolution.
He has co-authored what are considered to be the 3 definitive books in 3G ("WCDMA for UMTS", "HSDPA/HSUPA for UMTS" and "LTE for UMTS"). He regularly lectures on WCDMA, HSPA and LTE technologies in various universities and institutions around the world and has a large number of patents and publications in the field.
As part of the 2010 LTE World Summit LTE Awards, he received the "Award for Individual Contribution for LTE Development" recognising his contribution to both LTE standardization and LTE knowledge spreading in the industry.
Neil Wiffen
Speaker
Senior Technical Instructor,
Red Banana Wireless Ltd
Since 2001 Neil has developed and delivered training for the majority of the major 3G handset and chipset manufacturers through EMEA, Asia-Pac and North America. Currently his training and consulting efforts are focussed on 3 key topic areas:
3G protocol stack (WCDMA, HSDPA,HSUPA)
Mobile Network Service Provision (Mobile Data Solutions, End-to-end Service Provision, Network Optimisation)
Government Research (Current and Emerging Wireless Systems)
Previously, Neil has worked as a Technical Instructor for Wray Castle Ltd., developing and delivering UMTS technical training material, and prior to this he spent 13 years with GCHQ on various Research and Development projects in both engineering roles and as a technical team leader.
Application
If you would like to discuss your application or any part of the application process before applying, please contact:
Course Administrator
Tel: +44 (0)1865 286958
Email: telecoms@conted.ox.ac.uk
Level and demands
The course is aimed at those wishing to gain a complete end-to-end overview of UMTS technology, in particular RF and baseband engineers, radio planners, service developers, equipment designers and telecoms consultants. In addition, the course will appeal to technical managers, analysts and strategists wishing to increase their technical understanding of the subject area.
If you're uncertain whether this course is suitable for your requirements, please email us with any questions you may have.