Management and Business Skills: Discount Registration (Week 2)

Sign up for course news to hear about future course dates.
Overview
Discount Registration (Week 2)
Monday 24 June - Friday 28 June 2019
Register for the following five business skills courses listed below at the discount fee of £2,630.00 (saving of £290.00):
Click on the 'Book now' button to register for Week 2 - you will also have the option to register for Week 1 and Week 3.
In the event of cancellation of an individual course, you will receive a refund of the discounted fee for that course. Your registration on the remaining courses will not be affected.
Certification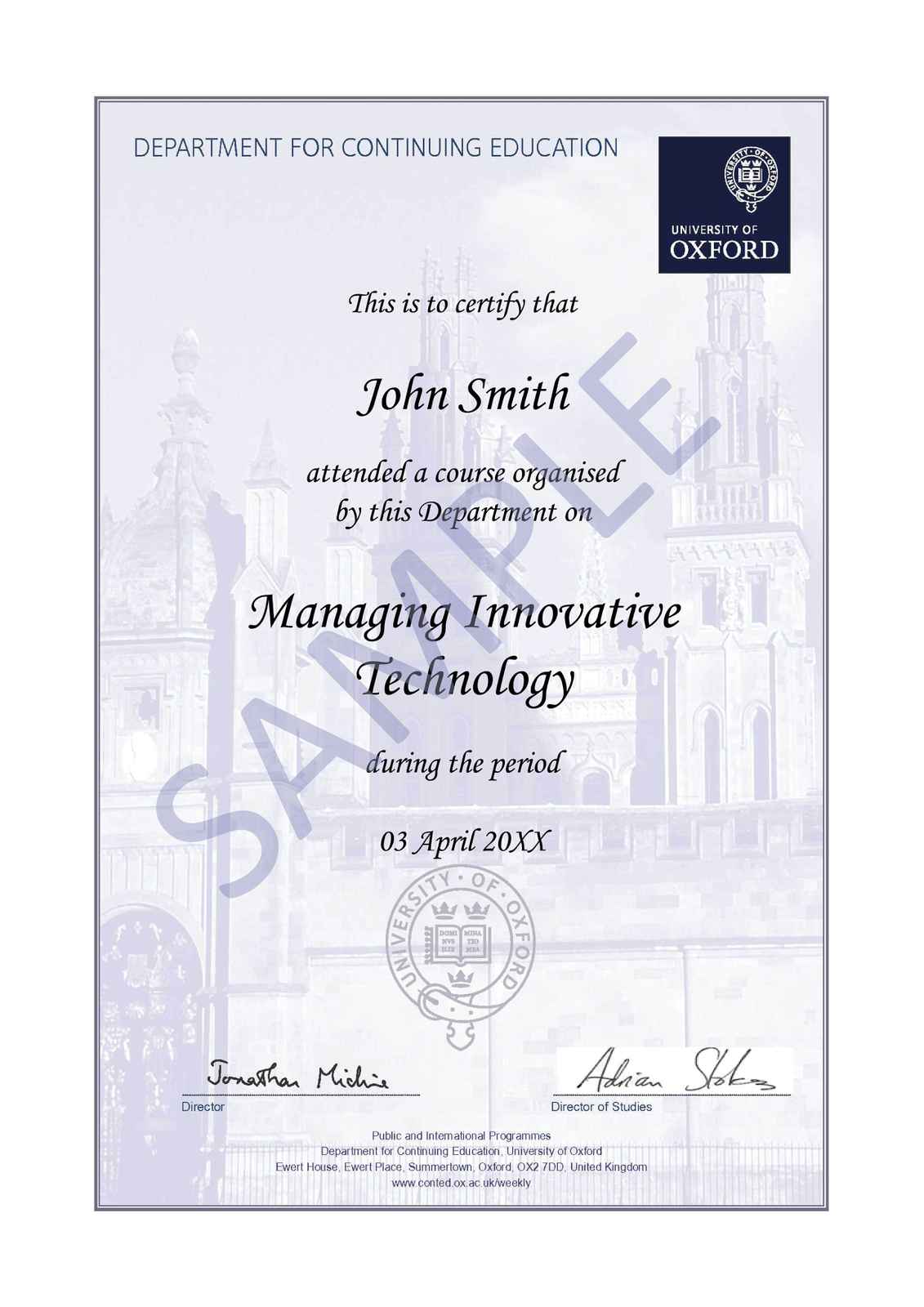 Participants will receive a Certificate of Attendance for each one-day course attended. The sample shown is an illustration only and the wording will reflect the course and dates attended.
Accommodation
Although not included in the course fee, accommodation may be available at our on-site Rewley House Residential Centre.
To enquire about a vacancy, about room charges or to make a booking, please contact the Residential Centre directly:
+44 (0)1856 270362
res-ctr@conted.ox.ac.uk
Fees
Week 2 discount registration: 24 - 29 June 2019: £2630.00
Add Week 1 discount registration: 17 - 22 June 2019: £2550.00
Add Week 3 discount registration: 1 - 6 July 2019: £2400.00

Payment
Fees include course materials, tuition, refreshments and lunches. The price does not include accommodation.
All courses are VAT exempt.
Register immediately online
Click the "book now" button on this webpage. Payment by credit or debit card is required.
Request an invoice
Send a completed application form to the course administrator by e-mail or post. Please do not send card details via email
Application
If you would like to discuss your application or any part of the application process before applying, please click Contact Us at the top of this page.
Level and demands
If you're uncertain whether this course is suitable for your requirements, please click Contact Us to send any questions you may have.