Mind, Value and Mental Health: Summer School in Philosophy and Psychiatry

Overview
4th Oxford Summer School in Philosophy and Psychiatry
An interactive, two-day summer school delivered by experts in the field with guest lectures and seminars. Sessions will consist of presentations by seminar leaders, and collaborative talks providing opportunities for substantial dialogue between philosophers, clinicians, scientists and others.
Course directors:
The events will be led by members of the Oxford Faculty of Philosophy and postholders in other related fields:
Please register your interest to receive updates about the next run of the Summer School currently scheduled for July 2019.
Details of previous events:
Programme details
The interactive summer school provides an opportunity to discuss current issues with experts in the fields of philosophy, science and mental health.
The morning sessions involve a combination of lectures and discussions with a philosophy focus, and the afternoon sessions take a seminar format.
Map showing previous participants by country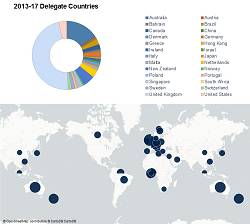 Click on the thumbnail to enlarge
Fees
Please contact us for details
Tutors
Director & Tutor
Anita Avramides was born in New York City. She attended Packer Collegiate Institute, in Brooklyn and then Oberlin College, in Ohio, where she majored in Philosophy. After a year of working and studying in Paris, she attended University College London where she received her M. Phil. in philosophy. She received her D. Phil from Somerville and Queen's Colleges in Oxford. In 1990 she was appointed to the Southover Manor Trust Fellowship in Philosophy at St. Hilda's College in Oxford, and in 2008 she was made a Reader in the Philosophy of Mind in the Faculty of Philosophy at Oxford University.
Director
Martin Davies is Wilde Professor of Mental Philosophy at the University of Oxford and a Fellow of Corpus Christi College. He was Wilde Reader in Mental Philosophy from 1993 to 2000 and then took up a Professorship in the Research School of Social Sciences at the Australian National University, returning to Oxford in 2006. Before coming to Oxford for the first time, as a BPhil and then DPhil student at New College, he studied philosophy and mathematics at Monash University in Melbourne, Australia. After completing his doctorate, he taught at the University of Essex for a year and was then a Fellow by Examination at Magdalen College Oxford before moving in 1981 to Birkbeck College London.
Martin Davies's research interests are in philosophy of mind and philosophy of cognitive science, with recent work on delusions including anosognosia for motor impairments, the methodology of cognitive neuropsychology, and consciousness, and empirical collaborations on the illusion of self-touch (a version of the rubber hand illusion), inattentional blindness, and motion-induced blindness. He is a Fellow of both the Academy of the Social Sciences in Australia and the Australian Academy of the Humanities.
Director
KWM (Bill) Fulford is a Fellow of St Catherine's College and Member of the Philosophy Faculty, University of Oxford; and Emeritus Professor of Philosophy and Mental Health, University of Warwick Medical School. His previous posts include Honorary Consultant Psychiatrist, University of Oxford, and Special Adviser for Values-Based Practice in the Department of Health. Bill has led on a number of key academic and administrative developments in the philosophy of psychiatry and has published widely in this field, including Moral Theory and Medical Practice and co-authoring The Oxford Textbook of Philosophy and Psychiatry. He is Lead Editor for the Oxford book series International Perspectives in Philosophy and Psychiatry, and Founder and Co-editor with John Sadler of the international journal Philosophy, Psychiatry, & Psychology (PPP), which he founded in 1993. His recent publications include the launch volume for a book series from Cambridge University Press on Values-based Practice - Fulford, KWM, Peile, EP and Carroll, H., Essential Values-based Practice: Clinical Stories Linking Science with People (2012, Cambridge University Press). He is the lead editor for the Oxford Handbook of Philosophy and Psychiatry (published 2013).
Director
Edward Harcourt has been a Fellow of Keble since 2005. From 1998 to 2005 he was Lecturer and then Senior Lecturer in Philosophy at the University of Kent, and from 1993 to 1998 Domus Fellow and Tutor in Philosophy, Lady Margaret Hall, Oxford. He has been a Visiting Research Fellow at the University of California, Berkeley, a Visiting Lecturer at the Institut für Philosophie, University of Leipzig, and a Mind Association Research Fellow. Before taking the BPhil and DPhil in Oxford he was an undergraduate at Trinity College, Cambridge, where he read Philosophy (Part I) and History (Part II). He is currently Principal Investigator of the Wellcome ISSF project 'Therapeutic Conflicts: Co-Producing Meaning in Mental Health', a director of the biennial Oxford Summer Schools in Philosophy and Psychiatry, a convener of the seminar series Meaning and Mindedness: Encounters between Philosophy and Psychoanalysis at the Tavistock Clinic (London), and Chair of the Board of the Faculty of Philosophy.
Application
Applications are not yet open, please register an interest to receive updates.
Level and demands
These events will appeal to a wide range of people with a professional and/or academic interest in the fields of philosophy and/or mental health. To participate fully in the summer school, all attendees are expected to have an undergraduate degree or equivalent and professional experience in the fields of philosophy and/or mental health, either through training, work or personal experience.

Mind, Value and Mental Health: Conference in Philosophy and Psychiatry
Information and booking for those wishing to attend the conference only.

Mind, Value and Mental Health: Summer School and Conference (combined booking)
Information and booking for those wishing to attend the summer school and conference.