Online Introduction to Electronics

Overview
Based upon our popular two-day Overview of Electronics course, this new
online course will introduce you to the basic ideas, the ABCs, behind electronic circuits. The course will consist of ten units each of which will require around 5 - 10 hours of study depending on your level of knowledge.
You will also receive a reference copy of the book Electronics Fundamentals by Thomas L Floyd as part of this course - this is included in the course fee.
The course is designed to act both as an introductory course and as a refresher course. After taking the course you should have a good idea of how electronic systems work and how they are made. In particular, the course focuses on the design of a Hi-Fi amplifier.
The course is limited to "analogue electronics" where signals are represented by continuously variable voltages and will not cover "digital electronics" where signals are represented by discrete numbers.
Students should normally have a reasonable proficiency in school Maths and Science. Study to GCSE-level is sufficient for most of the course, though study to A-level will enable a full understanding of the more advanced topics.
Students on the course will be supplied with a copy of T L Floyd's Electronics Fundamentals (the cost of this book is included in the course fee). This will be used for directed reading, assignments and further study. It also serves as a useful reference source. Note that the book will be sent to you by standard post. A delivery by courier can be arranged at cost.
Benefits
A quick insight into modern electronics
Emphasis on practical devices and systems
No prior knowledge assumed (but previous exposure to school-level science/maths assumed)
Can be used as a refresher
Programme details
How does this online course work?
As well as online access to the course itself we also supply you with a textbook and access to an expert tutor to guide you. We expect you to study for around 5 to 10 hours per week.
The online material gives you introductory and overview material and places your studies in context. This is split into around 7 or so sections per week which might typically take about 10/15 minutes to read and will then guide you to specific sections of the textbook for more detail and for problems to tackle, or ask you to undertake other activities such as assignments. We also encourage you to explore more widely (or can suggest shortcuts if that is more appropriate).
The course is kept together by means of discussion forums where you communicate with your tutor and other students on the course. Therefore overall we attempt to recreate the atmosphere of classroom study rather than use an automatic computer-centred experience.
To successfully complete the course, participants must participate actively in the online community, and submit satisfactory answers to at least five out of the six Assignments.
Course Content and Timetable
This course is intended for individuals with limited prior knowledge of electrical/electronic engineering.
A couple of days before the course begins, you'll have the chance to familiarise yourself with the course environment
Unit 1. Electronic Systems: Introduction to the idea of signals represented by voltages; wires used to transfer signals/voltage from one place/box/component to another; boxes/components manipulating voltages (e.g. amplifying them).
Unit 2. Ohms' Law: The linear relationship of Voltage & Current and the concept of resistance. Resistors & resistor networks.
Unit 3. Op-Amps: Introduction to the ideal op-amp and its applications.
Unit 4. Capacitors and AC circuits: the theory and applications of capacitors and their use in transient and AC circuits.
Unit 5. Frequency Response and Filters: Passive and Active filters; first and second order.
Unit 6. Magnetism, Inductors & Transformers: and other uses of electromagnetism.
Unit 7. RL & RLC circuits: tuned filters and crossover networks.
Unit 8. Introduction to Semiconductors: Diodes & rectifiers - theory and applications. Special purpose diodes.
Unit 9. Transistors: Bipolar transistors - theory and typical circuits. FETs and Thyristors.
Unit 10. Review: with further applications.
There will be a one-week break over 14-20 May. The course material will remain available without tutor support for six weeks after the course finishes.
Computer specification
This course is delivered online; to participate you must to be familiar with using a computer for purposes such as sending email and searching the Internet. You will also need regular access to the Internet and a computer meeting our recommended Minimum computer specification.
If you have queries about your computer specification, please contact the Technology Assisted Lifelong Learning (TALL) team by email: tallithelp@conted.ox.ac.uk or telephone +44 (0) 1865 280990.
If you intend to access the course on a public computer, such as in a public library or internet café, we recommend that you contact TALL before applying.
Certification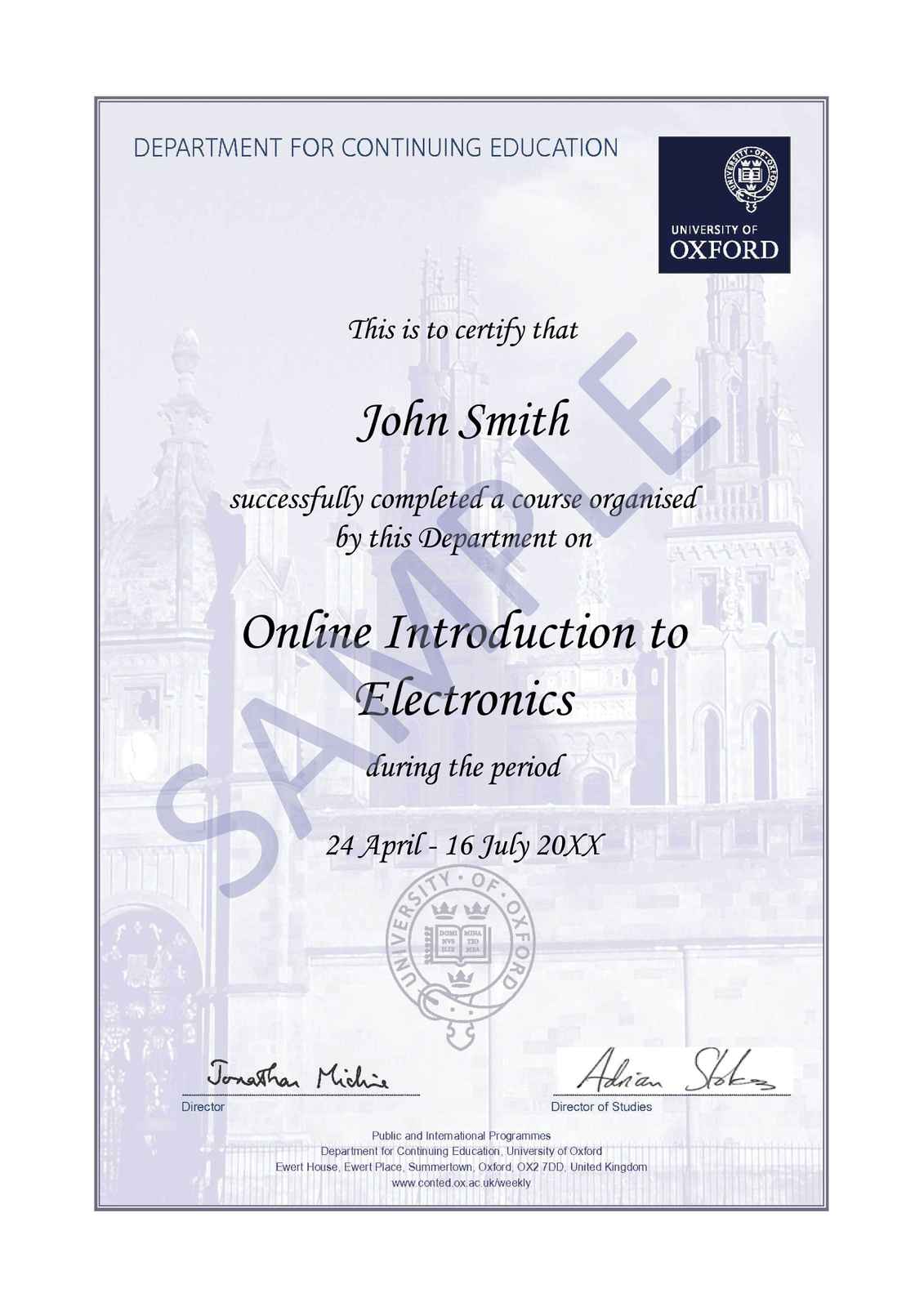 Participants who satisfy the course requirements will receive a Certificate of Completion. To successfully complete the course, participants must participate actively in the online community for each course unit, and submit satisfactory answers to at least five out of the six Assignments. The sample shown is an illustration only and the wording will reflect the course and dates attended.
Fees
Standard Course Fee: £945.00

Payment
We offer a 10% discount to students in full-time higher education. To apply at the discounted rate, please contact us:
email electronics@conted.ox.ac.uk or telephone: +44(0)1865 286958.
Pay immediately online by credit or debit card
Click the "book now" button on this webpage to pay online with a credit or debit card
Pay later with your preferred payment method
Send a completed application form to the course administrator by e-mail or post, and choose:
Request an invoice
BACS payment
Cheque payment
Credit or debit card payment. Please do not send card details via email
Fees include course materials and tuition, and a reference copy of the book Electronics Fundamentals by Thomas L Floyd.
This is an online course.
All courses are VAT exempt.
Tutor
Dr Will Moore
Speaker
Dept of Engineering Science (Retired Lecturer)
University of Oxford
Will Moore has had a lifetime in Electronic Engineering, starting with the design of fault-tolerant and self-testing systems and later moving into research and consultancy on the design and test of integrated circuits.
He was a lecturer at Oxford University for many years and is now an Emeritus Fellow of Jesus College, Oxford.
He is the author of numerous technical papers and books and was also the Academic Director of the University of Oxford Technology Programme until his retirement in 2013.
Application
If you would like to discuss your application or any part of the application process before applying, please contact:
Course Administrator
Tel: +44 (0)1865 286958
Email: electronics@conted.ox.ac.uk
Level and demands
This course is intended for individuals with little/some prior knowledge of electrical/electronic engineering who want to get a feeling for the subject and for individuals whose knowledge is "rusty" or out of date. A previous exposure to basic science and maths at school will be assumed; maximum benefit will accrue to those who have attended higher education in a technical subject or who have experience in a related area.
Typical attendees may include those in jobs which bring them into contact with electronics (such as drafts persons, PCB designers, production/assembly personnel and software designers), those working with electronic products (such as managers and sales persons), those coming into electronics from a related field (such as scientists or mathematicians) and those simply curious to find out about this all-pervasive technology.
If you're uncertain whether this course is suitable for your requirements, please email us with any questions you may have.