Open Innovation: Empowering Innovation and Knowledge Exchange

Overview
This course forms one out of a set of Management and Business Skills courses that provide short, intensive and highly practical courses delivered in Oxford or in-company, and giving individuals and organisations the competitive advantage.
This course covers issues relevant to open innovation and knowledge exchange. The course will be of particular relevance to those seeking to understand and deal with the challenges of open innovation and knowledge exchange.
The course will be taught to cover both the theory and practical application of open innovation models. The course will help students understand emerging innovation patterns and processes as they are developing in the global economy.
This course can be taken separately or as part of a weekly discount fee package.
Programme details
The open innovation model is associated with managing a more open, collaborative framework of knowledge exchange and inventive processes. This enables firms and organisations to better use external, as well as internal, ideas to advance their innovative activity and overall performance.
Open innovation is a radical departure from the traditional Research and Development (R&D) models, as firms seek to become more innovative, agile and open in the way they operate their innovation processes and become more efficient and productive in this process. However, there have been few opportunities to share and develop experiences associated with setting up and running open innovation activities with private or public organisations more widely. Open innovation concepts have also widened to encompass more novel and effective techniques to organise and manage groups or networks or companies and public organisations in a particular locale or sector.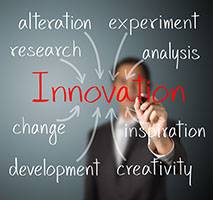 The course would therefore be of value and key interest to managers and research and technical staff from a wide variety of organisations from both the public and private sectors, as well as from manufacturing and service industries and the non-profit sector. The objective of study will provide an overview and analysis of open innovation, positing it within the context of wider R&D, technology and innovation activities and knowledge exchange, including their strategic purpose, economic structure, coordination and operational practice, governance and policy.
The course reviews the nature, analysis and models surrounding the innovation process; the frameworks, activities and support mechanisms required for successful innovation; and, the risks and barriers to the implementation of open innovation and knowledge exchange. This course also covers a wide range of practical approaches to understanding the basic structure of open innovation, its links with creativity and the operational processes associated with its development.
Certification
Participants who attend the full course will receive a Certificate of Attendance. The sample shown is an illustration only and the wording will reflect the course and dates attended.
Accommodation
Accommodation is available at the Rewley House Residential Centre, within the Department for Continuing Education, in central Oxford. The comfortable, en-suite, study-bedrooms have been rated as 4-Star Campus accommodation under the Quality In Tourism scheme, and come with tea- and coffee-making facilities, free Wi-Fi access and Freeview TV. Guests can take advantage of the excellent dining facilities and common room bar, where they may relax and network with others on the programme.
Fees
Standard course fee: £425.00

Payment
We offer several payment options:
Pay immediately online by credit or debit card
Click the "book now" button on this webpage to pay online with a credit or debit card
Pay later with your preferred payment method
Send a completed application form to the course administrator by e-mail or post, and choose:
Request an invoice
BACS payment
Credit or debit card payment. Please do not send card details via email
Fees include course materials, tuition, refreshments and lunches. The price does not include accommodation.
All courses are VAT exempt.
Discounts
This course can be taken separately or as part of a weekly discount fee package.
Tutor
Presenter

Jeremy Howells is a leading international researcher on innovation. He has researched extensively on innovation and knowledge exchange and taught at Cambridge, Manchester and Oxford universities.

His current research interests focus on innovation intermediaries, open innovation and knowledge exchange. He has recently completed a major research funded by the Economic and Social Research Council (ESRC) on industry-academic links and has also undertaken research for the European Commission, Organisation of Economic Cooperation and Development (OECD) and the United Nations and worked as a consultant for a range of companies and public agencies.

He has over 8,500 citations of his published work and was recently awarded the Fellowship of the Academy of Social Sciences (FAcSS) for his contribution to research.
Course aims
To introduce students to the concept and practice of open innovation so that they gain a better understanding of research, innovation and knowledge exchange strategy and practice.
To review current approaches to open innovation within the private and public sectors, including non-profit organisations.
To appreciate what kinds of activities are required in planning and developing an open innovation strategy at an organisational level and what kind of resources and actions are needed to succeed in this.
To understand the key issues and barriers towards implementing a successful strategy of open innovation within an organisation.
To increase understanding of, and develop skills in, open innovation and knowledge exchange processes.
To facilitate the exchange of relevant experience, ideas and approaches within the group of participants.
Teaching methods
Each session will use a mix of presentation, whole group discussion, small group and individual practical exercises. There will be opportunities for students to share professional or personal experience if they wish.
Application
If you would like to discuss your application or any part of the application process before applying, please contact:
Course Administrator
Tel: +44 (0)1865 286958
Email: business@conted.ox.ac.uk
Level and demands
This short course syllabus emphasises study, research and practical skills of immediate application in the field and in the workplace. There is no minimum requirement for previous academic achievement or educational qualifications, but some prior knowledge or experience is desirable.
It is designed for professionals with responsibility for research and development (R&D), innovation, design and knowledge exchange in their organisations, both those new to this field and people already active in it. The course will appeal to people leading change or planning to do so in this area in both business and the public sector.
If you're uncertain whether this course is suitable for your requirements, please email us with any questions you may have.