Overview of Electronics

Overview
Be the first to know about new course dates – click 'Notify me' in the right-hand sidebar.
The material will be illustrated by computer simulation examples throughout.
When you register for the course, you will be invited to contact the presenter to indicate your background and your areas of interest. . The course will then be presented in an informal and flexible style. Interaction will be encouraged to help ensure that the course proceeds at the pace and to the depth appropriate to the audience.
PCs will be available so that participants can simulate some key circuits.
All delegates will receive a copy of the latest edition of Electronics Fundamentals by Thomas L Floyd, included in the course fee. The book will be used together with the course materials and is very useful for future reference and further study.
The course text is colourfully illustrated and gives encouragement for further self-study after the course. It will be complemented by copies of Prof Collins' own notes and slides gleaned from his lifetime experience of electronics and teaching electronics.
----------------------------------------------------------------
What people say about the course...
Very knowledgeable presenter. The accompanying textbook was a nice touch and will be a great reference
- Peter Derkacz, Technical Marketing Engineer, Intel Corporation
I have learnt a lot of concepts and their applications and undoubtedly it will benefit me in the future
- Zigor Aldazabal, Teacher
----------------------------------------------------------------
Programme details
This course is intended for individuals with limited prior knowledge of electrical/electronic engineering.
Introduction
Physics: electrons, charge, voltage, current.
Resistors
Conductors & insulators; Voltage, current & resistance in electric circuits: Ohm's Law; Series & parallel circuits; Thévenin's theorem; Kirchhoff's Laws; Energy and power; Resistor types & construction.
Capacitors
Capacitor types and construction; RC circuits; Capacitance in AC circuits, impedance.
Diodes and their applications
Rectifiers; limiting circuits; the Zener diode; light emitting diodes (LEDs); photodiodes.
Operational Amplifiers (Op-Amps)
Characteristics of an ideal op-amp; negative feedback; inverting and non-inverting circuits; characteristics of non-ideal op-amps.
Applications of Op-Amps
Summing amplifiers; integrators and differentiators; Active filters; frequency responses; high-, low-, and band-pass circuits.
Inductors and Transformers
Inductors; Transformers; LR circuits; impedance; LCR circuits; Resonance; Band-pass filters.
Signal Integrity: Interference and Noise
The need to consider signal integrity; Interference; Differential signals and amplifiers; Noise Calculations; Quantisation Noise.
Semiconductors
p- and n- doping; The pn junction diode; The bipolar transistor; The field effect transistor (FET).
Transistors
npn and pnp bipolar transistors; "small signal" amplification; current, voltage and power gain; application examples; n- and p- channel FETs; amplification and switching; applications.
Certification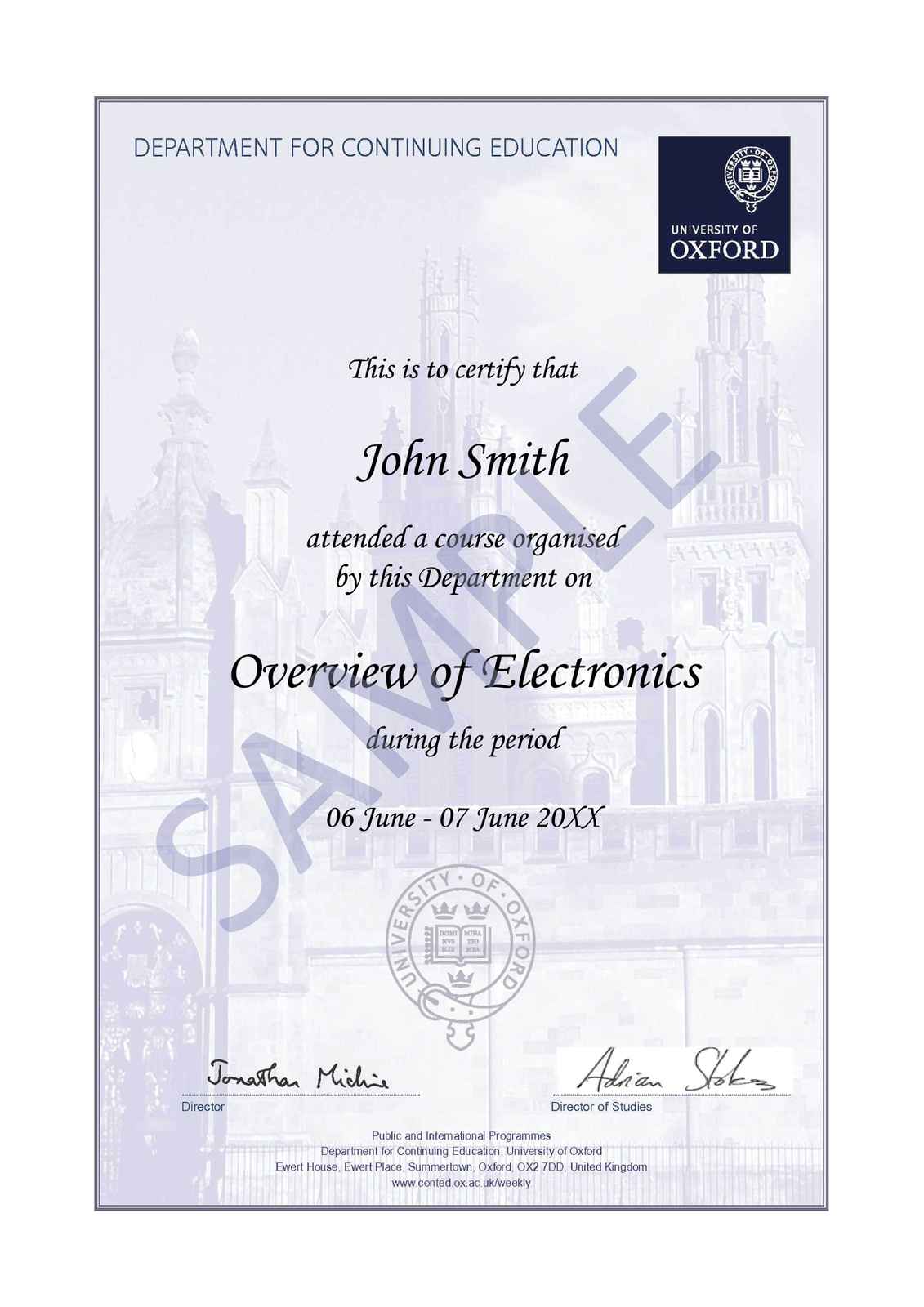 Participants who attend the full course will receive a Certificate of Attendance. The sample shown is an illustration only and the wording will reflect the course and dates attended.
Accommodation
Accommodation is available at the Rewley House Residential Centre, within the Department for Continuing Education, in central Oxford. The comfortable, en-suite, study-bedrooms have been rated as 4-Star Campus accommodation under the Quality In Tourism scheme, and come with tea- and coffee-making facilities, free Wi-Fi access and Freeview TV. Guests can take advantage of the excellent dining facilities and common room bar, where they may relax and network with others on the programme.
Fees
Standard course fee: £895.00

Payment
We offer several payment options:
Pay immediately online by credit or debit card
Click the "book now" button on this webpage to pay online with a credit or debit card
Pay later with your preferred payment method
Send a completed application form to the course administrator by e-mail or post, and choose:
Request an invoice
BACS payment
Cheque payment
Credit or debit card payment. Please do not send card details via email
Fees include course materials, tuition, refreshments and lunches. The price does not include accommodation.
All courses are VAT exempt.
Tutor
Speaker
Dept of Engineering Science
University of Oxford
Steve Collins has spent his professional career working in Electronic Engineering, initially he worked on the characterisation of noise in MOSFETs before proceeding to design analogue microelectronic circuits, particularly CMOS image sensors and single photon detectors.
He has been a lecturer at Oxford University and a Tutorial Fellow at University College, Oxford since 1998, where he has given lectures and tutorials in electronic circuits and devices.
He is the author of numerous technical papers.
Course aims
A quick insight into modern electronics.
Emphasis on practical devices and systems.
No prior knowledge assumed (but previous exposure to school-level science/maths assumed).
Can be used as a refresher.
Emphasis and examples will be tailored to needs of delegates.
Hands-on simulations.
Teaching methods
The course will be presented in an informal and flexible style. Interaction will be encouraged to ensure that the course proceeds at the pace and depth appropriate to the audience.
Application
If you would like to discuss your application or any part of the application process before applying, please contact:
Course Administrator
Tel: +44 (0)1865 286958
Email: electronics@conted.ox.ac.uk
Level and demands
This course is intended for individuals with little prior knowledge of electrical/electronic engineering who want to get a feeling for the subject and for individuals whose knowledge is "rusty" or out of date.
A previous exposure to basic science and maths at school will be assumed; maximum benefit will accrue to those who have attended higher education in a technical subject or who have experience in a related area.
Typical attendees may include those in jobs which bring them into contact with electronics (such as software engineers, mechanical engineers, drafts persons, and PCB designers ), those working with electronic products (such as managers and sales persons), those coming into electronics from a related field (such as scientists or mathematicians) and those simply curious to find out about this all-pervasive technology.
If you're uncertain whether this course is suitable for your requirements, please email us with any questions you may have.