5G and the Pathway to 5G

Overview
We plan to offer this course again. To receive a notification when future course dates are announced, please click the 'Notify Me' button in the right hand sidebar.
This course is day 2 and 3 of LTE Advanced and 5G System Design and Operation and can be taken on its own or as part of the full 5-day course.
All delegates will receive a free copy of "LTE Advanced: 3GPP Solution for IMT-Advanced" edited by Harri Holma and Antti Toskala (Wiley).
Programme details
Day 2 – Pathway to 5G (Harri Holma and Antti Toskala)
This course covers the bridging technologies between LTE and 5G based on 3GPP Releases 13 and beyond.
We cover the concepts of LTE-Advanced Pro, often referred to as 4.5 or 4.9G and how 5G services can be enabled on top of LTE networks.
The course includes the topics of Internet of Things optimization, Narrowband IoT and MulteFire in unlicensed bands.
We also describe the use of WiFi as an aggregation layer, the provision of Public Safety services and low latency access.
Contents:
Explains LTE evolution steps in Releases 13 and beyond which enable 5G services on top of LTE network.
LTE-Advanced Pro (4.5G/4.9G)
Carrier Aggregation (CA) evolution to 32CA
Licensed Assisted Access (LAA/LTE-U)
Unlicensed band MulteFire
LTE – Wi-Fi aggregation (LWA)
Internet of Things (IoT) Optimization
Narrowband IoT (NB-IoT)
Massive MIMO (3D beamforming)
Low latency <2 ms round trip time
Device-to-device communication (D2D)
Public safety
Vehicle-to-vehicle communication (V2V)
Cloud radio architecture
eMBMS evolution
Day 3 - 5G (Harri Holma and Antti Toskala)
In this session we cover the rapidly developing 5G radio from the low layers to the network architecture and deployment aspects.
We explain the 3GPP standardization process, the System Architecture and many of the enabling technologies including the use of mm spectrum, Massive MIMO, Network Slicing and QoS.
Contents:
3GPP standardization steps
5G technology componens
Spectrum
Massive MIMO beamforming
Frame structures and protocols
System and radio architecture
Dual connectivity
Massive MIMO
Multiconnectivity with LTE
Waveforms <6 GHz and mm waves
Network slicing and QoS
Power consumption and energy efficiency
IoT optimization
5G trial specs and differences to 3GPP
Certification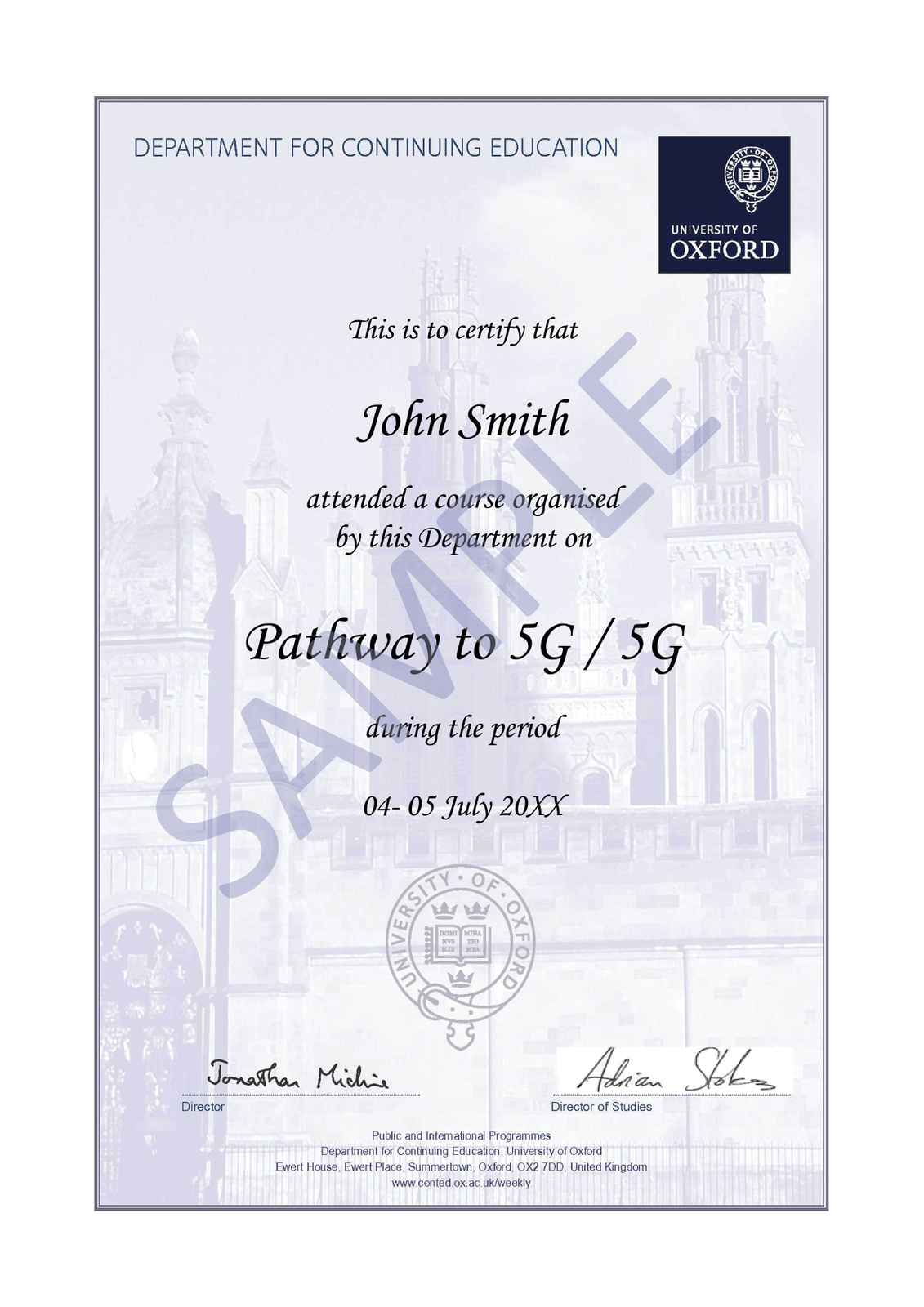 Participants who attend the full course will receive a Certificate of Attendance. The sample shown is an illustration only and the wording will reflect the course and dates attended.
Accommodation
Accommodation is available at the Rewley House Residential Centre, within the Department for Continuing Education, in central Oxford. The comfortable, en-suite, study-bedrooms have been rated as 4-Star Campus accommodation under the Quality In Tourism scheme, and come with tea- and coffee-making facilities, free Wi-Fi access and Freeview TV. Guests can take advantage of the excellent dining facilities and common room bar, where they may relax and network with others on the programme.
Fees
Standard course fee: £995.00

Funding
Details of funding opportunities, including grants, bursaries, loans, scholarships and benefit information are available on our financial assistance page.
Payment
We offer several payment options:
Pay immediately online by credit or debit card
Click the "book now" button on this webpage to pay online with a credit or debit card
Pay later with your preferred payment method
Send a completed application form to the course administrator by e-mail or post, and choose:
Request an invoice
BACS payment
Cheque payment
Credit or debit card payment. Please do not send card details via email
Fees include course materials, tuition, refreshments and lunches. The price does not include accommodation.
All courses are VAT exempt.
Tutors
Dr Harri Holma
Speaker
Fellow, Nokia Bell Labs, Finland
Harri Holma joined Nokia Research Centre in 1994 and received his M.Sc. 1995. He has been with Nokia since 1998 and has been located both in Finland and in USA during that time.
He is currently working with Nokia Bell Labs as Fellow with special interest on radio system performance. He completed his PhD at Helsinki University of Technology 2003.
Dr Holma has edited the books "WCDMA for UMTS", "HSDPA/HSUPA for UMTS", "LTE for UMTS", "LTE-Advanced", "Voice over LTE", "HSPA+ Evolution to Release 12" and "LTE Small Cell Optimization" and contributed to a number of other books in the radio communication area.
Dr Antti Toskala
Speaker
Head of 3GPP Radio Standardization,
Nokia Networks
Antti Toskala (M.Sc) joined the Nokia Research Center in 1994, where he undertook WCDMA system studies. In September 1995 he joined the ACTS FRAMES project, and in the later phase, worked as the team leader for the work package which defined the FMA2 WCDMA concept. During 1997, he worked as a Senior Research Engineer and CDMA Specialist participating in the ETSI SMG2 UMTS standardization work.
He chaired the UMTS physical layer expert group in ETSI SMG2 during 1998, and from 1999 (the start of the 3GPP activity) until 2003 he worked in 3GPP as chairman of the TSG RAN WG1, the group responsible for the physical layer of the WCDMA standard. His group was responsible for the standardization of WCDMA physical layer, High Speed Downlink Packet Access (HSDPA) and for the start of uplink packet data evolution (HSUPA).
From 2003 to 2005 he worked as Senior Standardization Manager with System Technologies, at Nokia Networks and contributed to product development as the HSDPA Chief Architect for Nokia Networks.
From 2005 to 2006 he worked with Nokia Networks as Senior Standardization Manager focusing on HSPA and LTE standardization.
Currently he is with Nokia Solutions and Networks, in Espoo, Finland working as the Head of 3GPP Radio Standardization, with technical focus on HSPA and LTE evolution.
He has co-authored what are considered to be the 3 definitive books in 3G ("WCDMA for UMTS", "HSDPA/HSUPA for UMTS" and "LTE for UMTS"). He regularly lectures on WCDMA, HSPA and LTE technologies in various universities and institutions around the world and has a large number of patents and publications in the field.
As part of the 2010 LTE World Summit LTE Awards, he received the "Award for Individual Contribution for LTE Development" recognising his contribution to both LTE standardization and LTE knowledge spreading in the industry.
Application
If you would like to discuss your application or any part of the application process before applying, please contact:
Course Administrator
Tel: +44 (0)1865 286958
Email: telecoms@conted.ox.ac.uk
Level and demands
If you're uncertain whether this course is suitable for your requirements, please email us with any questions you may have.