Printed Circuit Board (PCB) Design for Real-World EMI Control

Overview
We plan to offer this course again in the coming months. To receive a notification when future course dates are announced, please click the 'Notify Me' button in the right hand sidebar.
Electromagnetic Compatibility is NOT Magic!
Unfortunately, EMC design is often considered to be similar to magic. This course focuses on the basic causes of EMC problems, and how to overcome these problems. The course is not just a list of "rules of thumb" but rather it helps the student understand why EMC problems happen, and what can be done to eliminate them.
Proper EMC design for printed circuit boards (PCB) can make a significant difference in the final product's performance in the EMC measurement laboratory. Implementing the proper EMC practices during the design phase of the product is critical and can have little or no impact on the product cost when done correctly.
The primary focus of this course is to help working engineers understand the causes of EMC problems so this knowledge can be applied to real world product design immediately.
Formulas and equations are not required and are minimized throughout the course. Understanding the causes of EMC problems will allow engineers to make difficult design trade-off decisions!
What people say about the course
"Good broad outline of EMI control, not just focused on PCB"
Imran Ali, Development Engineer, CITEL Technologies
"Very coherent, good practical examples, pitched at the right level"
Martin Twigg, Applications Engineer, Wolfson Microelectronics
"Informal and informative… informal and entertaining"
Alan Bate, Senior Hardware Engineer, Pace Micro Technology
"Very good. Questions were fully answered, tireless delivery style. Will enable me to make better informed decisions."
Tim Rombach, R&D Engineer, Westinghouse Rail Systems
"Has turned upside-down my understanding of EMC design. As the EMC design/test focal point in the company PCB engineering will be changing for the better."
Graham Blissett, Senior EMC Engineer, AWE Plc
Programme details
Course content
Introduction to General EMC
Why do we need to meet EMC Standards? Examples of EMC related problems
Review of Basic Electromagnetic Principles
What is a 'dB'? Time and frequency domains; Wavelength vs frequency; bits-per-second vs Hertz; Boundary conditions; Skin depth.
Simple dipole and monopole antennas; Near field and far field; All conductors as antennas; What causes radiation?
Where did "ground" originate? What do we really mean when we say "ground"? Various "grounding" techniques and strategies.
Full definition; Partial inductance; Incomplete inductance; Examples, simple formulas, model for exceptions.
Printed Circuit Board Design
Intentional signals; Unintentional signals; What is a critical signal?; Potential problems; Direct radiation from traces; Board edge effects; Crosstalk; Power/ground-reference plane noise (decoupling); Splits in ground-reference plane in I/O area; Effects of optimum net termination on EMC; Critical net return current flow.
Above Board Radiating Structures
Grounding Heatsinks to Motherboard; Motherboard and Daughter cards; Internal radiation from wires and cables.
Mixing RF and digital on the same PCB; Mixing analog (audio) and digital signals on the same PCB.
Certification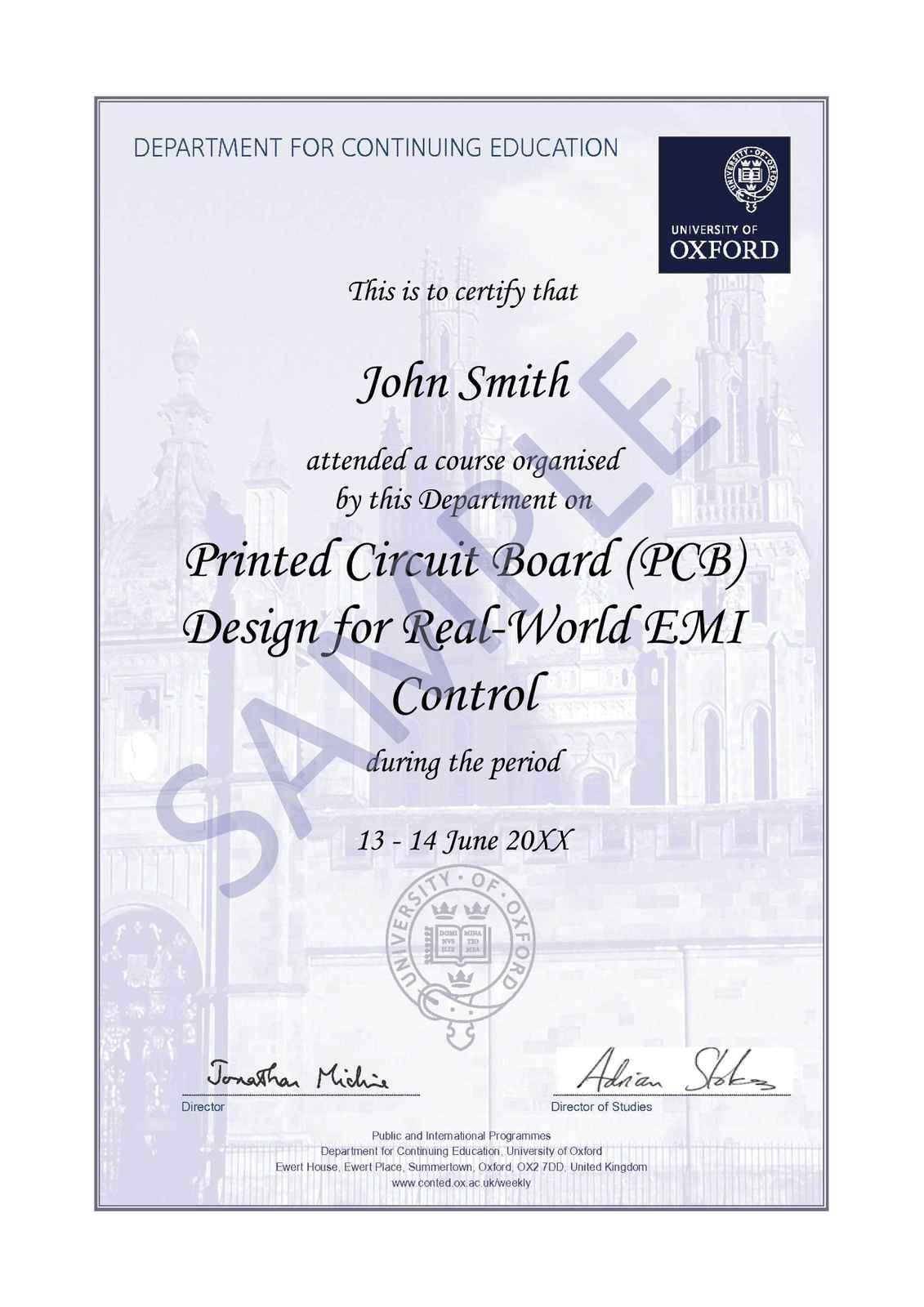 Participants who attend the full course will receive a University of Oxford Certificate of Attendance. The sample shown is an illustration only and the wording will reflect the course and dates attended.
Accommodation
Accommodation is available at the Rewley House Residential Centre, within the Department for Continuing Education, in central Oxford. The comfortable, en-suite, study-bedrooms have been rated as 4-Star Campus accommodation under the Quality In Tourism scheme, and come with tea- and coffee-making facilities, free Wi-Fi access and Freeview TV. Guests can take advantage of the excellent dining facilities and common room bar, where they may relax and network with others on the programme.
Fees
Course fee, standard: £995.00

Payment
Standard Course fee (course only)
Printed Circuit Board (PCB) Design for Real-World EMI Control course
Fee: £995.00
Pay immediately online by credit or debit card
Click the "book now" button on this webpage to pay online with a credit or debit card
Pay later with your preferred payment method
Send a completed application form to the course administrator by e-mail or post, and choose:
Request an invoice
BACS payment
Cheque payment
Credit or debit card payment. Please do not send card details via email
Fees include course materials, tuition, refreshments and lunches, and course books where indicated. The price does not include accommodation.
All courses are VAT exempt.
Tutors
Mr Lee Hill
Tutor
SILENT, USA
Lee Hill is Founding Partner of SILENT, an independent consulting firm that specializes in EMC and RF design, troubleshooting and training services to commercial and industrial manufacturers with global distribution in many industries. Previously Lee was Principal EMC and Systems Engineer at Digital Equipment Corporation's Workstation Systems Engineering Group. Lee received the Master of Science Degree in Electrical Engineering & Electromagnetics from the University of Missouri-Rolla, and the Bachelor of Science Degree in Electrical Engineering from the Rochester Institute of Technology.
Lee has twenty years of experience in the EMC design and retrofit of complex electronic systems. He has been teaching short courses on EMC design and troubleshooting for over ten years and consults and teaches worldwide. In previous years Lee was also an instructor for Agilent Technologies. He has completed a three-year term on the Editorial Review Board of Printed Circuit Design Magazine. Lee holds a US patent for EMI control in portable electronics.
Lee is presently a member of the IEEE EMC Society's Board of Directors (2005-2007), former Chairman of the IEEE EMC Society's Distinguished Lecturer Program, and a member of Technical Committee TC-10 on Signal Integrity. He served as Co-Technical Chair of the 2003 IEEE Symposium on EMC in Boston, Massachusetts. He is a past Vice-Chair of the Central New England Chapter of the IEEE EMC Society. In the past four years he has been a frequent featured speaker at IEEE EMC Society fundraising events in cities throughout the US. He has also provided technical presentations to Society chapters in many US cities. In 1999 Lee received a Certificate of Appreciation from the EMC Society for significant contributions to education through his annual participation in the Demonstrations and Experiments portion of annual IEEE EMC Symposia. Lee was a member of the original IEEE P1180 ad-hoc committee on low frequency magnetic field measurement for video display terminals.
Application
If you would like to discuss your application or any part of the application process before applying, please contact:
Course Administrator
Tel: +44 (0)1865 286958
Email: electronics@conted.ox.ac.uk
Level and demands
If you're uncertain whether this course is suitable for your requirements, please email us with any questions you may have.
Working Board Design engineers and layout engineers who are interested in better understanding the causes of EMC problems, and how to overcome these problems during the design phase without adding cost to the PCB.
Working EMI/EMC engineers who are interested in achieving a better understanding of the causes of EMC at the PCB level, and how to control these signals.
Managers and engineers who are interested in obtaining a better understanding of EMI/EMC design so that they can help make better trade-off decisions and provide proper emphasis to EMC design issues.