ROUND TABLE
SATCOMS FUTURE: TRENDS, OPPORTUNITIES AND CHALLENGES
In this interactive round table, the panellist will give their views on a wide variety of questions/topics addressing the future of Satcom.
Chair: Dr Ana Bolea-Alamañac
System and Payload Manager of SAT-AIS 2B Programme
Telecommunications Satellite Programmes Department
European Space Agency (ESA)
Coordinator: Francisco Javier de Pablos Martin
Ground Segment Engineer
European Space Agency (ESA)
PANELISTS:
Head of Telecoms Business Development
European Space Agency (ESA)
Head of Telecom Solution Line
Thales Alenia Space
Payload Product Manager and Senior Expert
Airbus Defence and Space
Chief Technology Officer
SES
Jo de Loor
VP Market Development
Newtec
Gerry O'Sullivan
Executive Vice President Global TV and Video
Eutelsat
Evening networking event
At the end of the second day, the course participants are invited to an evening networking event with speakers from industry and operators.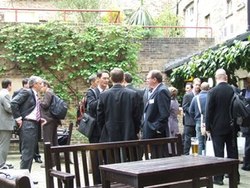 The networking event will include:
short presentations from both industry and operators
a round table Q/A session
The event will be followed by a drinks reception in our courtyard area and dinner at Rewley House to allow for informal discussions and exchanges (there is no additional fee for attendance at this event).
(Note that the syllabus and tutors listed on this webpage may be subject to revision during the ongoing course development process.)
What people say about this course