Satellite Communications and Navigation: Technologies, Markets and Applications

Overview
This course gives a complete introductory overview of satellite communications and navigation. The target audience is graduates and young professionals with an engineering and/or financial background and senior professionals wishing to expand their background towards satcoms systems and services.
The course has been developed by specialists from the European Space Agency (ESA) in conjunction with leading industry experts.
The course tutors are from the ESA, Thales Alenia Space, Inmarsat, Avanti, OHB, Airbus, Eutelsat, SES and Newtec.
This course is supported by:
The course investigates the technical, financial and business aspects of satellite communications, linking market requirements to technical capabilities while considering the crucial aspects of costs and financing.
The objectives of the course are to provide a complete overview of the world of satellite communications, including:
satcoms in the telecoms world
satcoms systems architecture, characteristics and performance
markets and business aspects of satcom systems and services
satcoms commercial potential and evaluating potential opportunities
satellite navigation systems and services (new for 2018)
Course timetable:
Day 1 (Mon 2 July): 12:00 - 17:30
Day 2 (Tues 3 July): 09:00 - 17:15
Day 3 (Weds 4 July): 09:00 - 16:45 followed by:
17:00 - Company presentations - learn what some of the biggest names in satcoms do
17:30 - Round table Q&A - your chance to quiz the experts
19:00 - Networking event, drinks reception and dinner from 19:00 onwards (all included in the course fee)
Note: This year's dinner will take place at the exclusive Vincent's Club in the heart of the city of Oxford - http://vincents.org/
Day 4 (Thurs 5 July): 09:30 - 17:00
Day 5 (Fri 6 July): 08:30 - 14:00
You can view the timetable for 2018 here
Please note that all times are approximate and may be subject to minor change.
Programme details
1. Introductory Lectures
The course starts with a general overview of the world of satellite communications including topics such as satcoms in the telecom world, types of satellites and their missions and the interrelation between technology and markets.
This is followed by a similar general overview of navigation systems.
During the second day of the course, lectures will focus on the basic technical principles of satellite communications and of navigation systems. The following areas will be discussed:
Architectures

Transmission techniques

Link budget fundamentals

Transmission techniques and multiple access basics
A specific lecture will tackle the legal and regulatory aspects of satellite systems and services.
2. Markets and Finance
After introducing the basics of satcom and navigation systems, the course will focus on markets, services and integrated applications. The business and financial aspects of satcoms will also be discussed.
The following topics will be addressed:
Integrated space applications: merging space services and data

Current markets and market trends for satcoms

Current markets and market trends for navigation

Business case principles and basic on finances: EBITDA, IRR, RoI
3. Industry and Operator Sessions
The 3rd and 4th day of the course will be dedicated to lectures from key industry players and operators who will present their view of satellite systems, services, markets and business.
Systems, services, markets and business
1. Satcoms broadcasting systems
overview of broadcasting systems in satcoms (including DVB-Sx, SD, HDTV etc.)

broadcast services (such as Direct to Home (DTH), Satellite News Gathering (SNG), Content Distribution Networks (CDN), corporate networks and more)

orbital positions, frequency bands for satellite broadband

system architecture (hubs, terminals, mobile terminals etc.)

commercial offers of capacity / services, value chain, vendors, customers

the economics of satellite broadcast systems
2. Satellite broadband systems
overview of modern broadband satcom systems

multiple spot beam, flexibility, high thoughput satellites

system architectures (hubs, terminals and frequency bands)

capabilities and limitations, connectivity packages

commercial offers/price per bit, value chain, vendors, customers

the economics of satellite broadband systems
3. Mobile satcom systems and services
overview of modern mobile satcom systems

typical systems and services: land, maritime, aerospace

system architectures, terminals (SOTM, portable, transportable)

commercial offers, pricing strategies, value chain, vendors, customers

the economics of satellite broadband systems and services including procurement model analysis
4. Launchers evolution and impact on the market
orbits and launchers introduction

launchers - principles and technologies

launchers - evolution

impact of launchers evolution on the markets
Satellite and Ground Segment Architecture and Technologies
Industry lectures will focus on the space and ground segment architectures and technologies. This part of the course will provide a snapshot of different communication satellites architectures and related technologies, with a particular focus on current European space industry examples.
1. Satcoms Terminals and Ground Segment
introduction: architecture of a satellite hub and satellite terminal

technical and commercial aspects of bandwidth efficiency

role of terminal in the market development

relation between satcom terminals and operators business models

correlation between terminal price/performance and market growth

terminal on the move (transportable and mobile)

terminal for broadcast (triple play terminals)

current capabilities of terminals

joint satellite/terrestrial terminals

cellular backhaul

terminal evolution and future trends
2. Anatomy of a large GEO mobile satcom satellite
The large Alphasat telecommunication satellite will be described in details by Airbus Defense and Space. Addressing the Mobile-Satellite Service segment, this satellite delivered by Airbus Defense and Space to Inmarsat, and co-manufactured and engineered with Thales Alenia Space. It is the most sophisticated satellite manufactured in Europe with very large satellite antennas, multiple spot beams coverage, on-board transparent digital processors and high capacity platforms. The Alphabus large platform product family supporting this project will also be presented.
3. Anatomy of a small GEO satellite
A range of platform products are offered by manufacturers to their customers to match varying needs and capacity of satellite launchers. Flexibility is one of the key requirements that is also emerging for some governmental applications as well for satellite operators. OHB will illustrate the potentials of early entry platforms such as "SMALL GEO", and will illustrate current and planned capabilities including flexibility with the example of the AG-1 mission under development for Hispasat.
4. Satellite Constellations
In the recent years, satellite constellations have become an increasing trend driven by the requirements of low latency and global coverage. Thales Alenia Space will describe the implementation of current and planned constellations and discuss the main system characteristics and performance.
4. Theory to practice: satcom business case simulation
The last part of the course will be dedicated to a business case simulation that will be carried out by the participants organised in teams. The goal of this exercise is to reach a better understanding of how operators use satcoms for their business. This exercise enables the course participants to analyse an operator's decisions and motivations as well as their business cases.
In this exercise, the participants will be assigned the role of an operator and split into 'business development teams' taking on the role of an operator looking at its business development activity. Each team will look at a (hypothetical) satellite mission, assess its costs and write a business case.
The business cases will then be evaluated by a 'company board'. The business development teams will all have a (simplified) business modeling tool and a mission sheet providing major inputs for the case to study, as well as information on satellite costs. The simulation is composed of two parts:
An introduction of the business case simulation will be made, during which the participants will be briefed about the objectives of this exercise, split into teams, assigned roles and provided with a mission to be analysed. An example business case will also be analyzed.

In the second part, participants will work on their assigned mission to build a business case to be presented to the company board in an interactive role-play session.
Evening networking event
At the end of the third day (4 July), the course participants are invited to an evening networking event with speakers from industry and operators.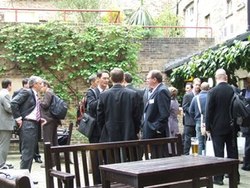 The networking event will include:
short presentations from both industry and operators
a round table Q/A session
The event will be followed by a drinks reception in our courtyard area and dinner at Rewley House to allow for informal discussions and exchanges (there is no additional fee for attendance at this event).
*Details of tutors and content may be subject to change during the course development process*
Certification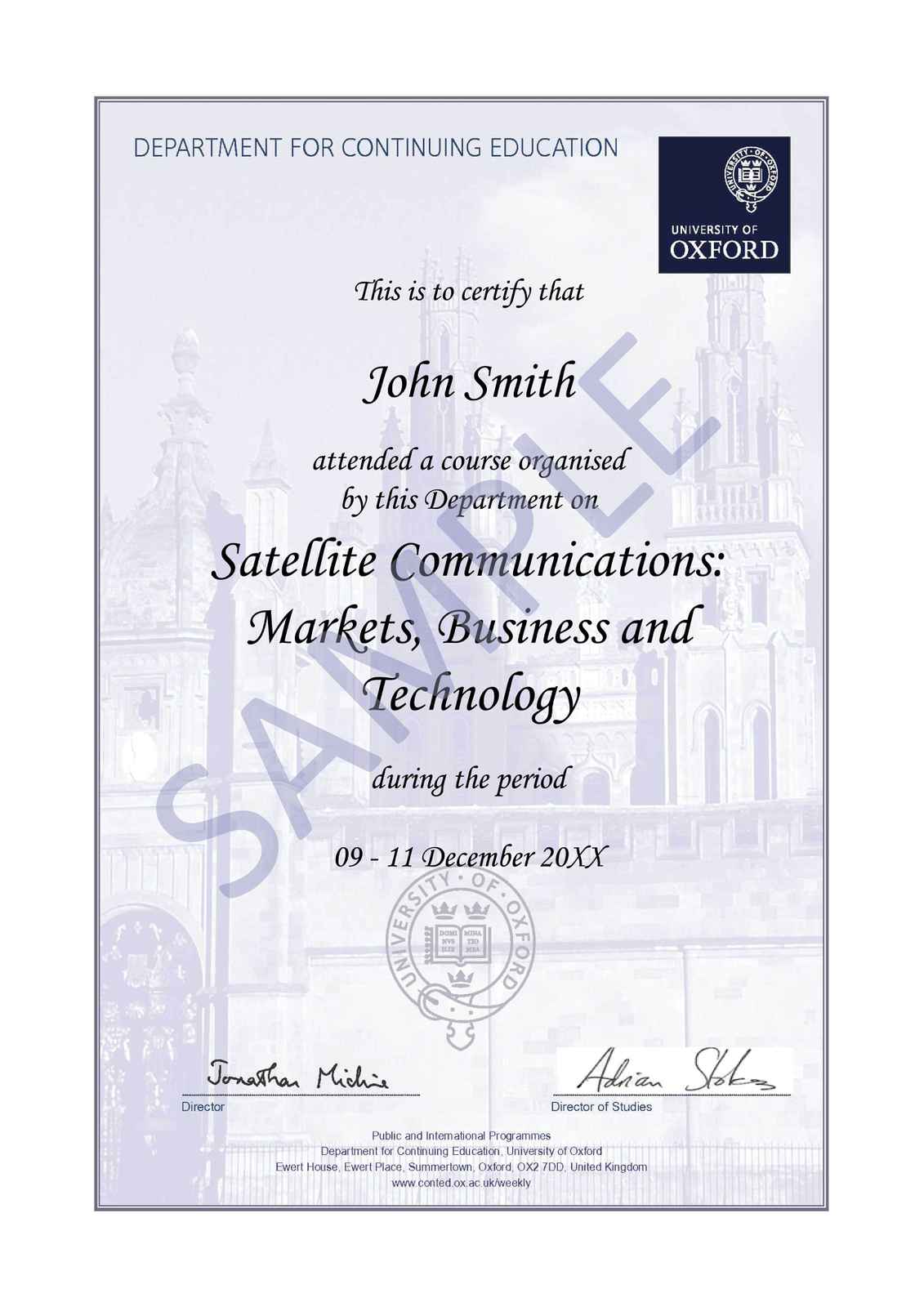 Participants who attend the full course will receive a Certificate of Attendance. The sample shown is an illustration only and the wording will reflect the course and dates attended.
Accommodation
Accommodation may be available at the Rewley House Residential Centre, within the Department for Continuing Education, in central Oxford. The comfortable, en-suite, study-bedrooms have been rated as 4-Star Campus accommodation under the Quality In Tourism scheme, and come with tea- and coffee-making facilities, free Wi-Fi access and Freeview TV. Guests can take advantage of the excellent dining facilities and common room bar, where they may relax and network with others on the programme.
Fees
Standard course fee : £1650.00

Payment
Pay immediately online by credit or debit card
Click the "book now" button on this webpage to pay online with a credit or debit card
Pay later with your preferred payment method
Send a completed application form to the course administrator by e-mail or post, and choose:
Request an invoice
BACS payment
Cheque payment
Credit or debit card payment. Please do not send card details via email
Fees include course materials, tuition, refreshments and lunches. The price does not include accommodation.
All courses are VAT exempt.
Tutors
Director of Studies
System and Payload Manager
SAT-AIS 2B Programme
Telecommunications Satellite Programmes Department
European Space Agency (ESA)
Dr Ana Bolea-Alamañac received a Master's degree in Telecommunications Engineering from the University of Zaragoza, Spain, in 1995 and a Ph.D. from SUPAERO, in Toulouse, France in 2004. From 1996 to 2001, she was with Telefonica, Madrid, Spain.
After her Ph.D. she continued her work in the area of advanced digital communication techniques with the Research and Development Department of Thales Alenia Space in Toulouse, France.
In 2005, she joined ESA's Research and Technology Centre (ESTEC), Noordwijk, the Netherlands, as a communication system engineer in the RF payload and systems division where she focused on advanced mobile satellite communication systems design and optimization.
In January 2011, she joined the future programs division in the telecommunications directorate of ESA where she led the system engineering activities for the preparatory phase of the SAT-AIS program.
Since June 2013 she has been the system and payload senior engineer for the SAT-AIS programme in the telecommunication satellite program department of ESA.
Ana has published more than 20 papers in journals and conferences and she has contributed as co-editor of the implementation guidelines for several DVB standards.
Director of Studies
ESA Senior Advisor Emeritus
Directorate of Telecommunications & Integrated Applications
European Space Agency (ESA)
Emmanuel studied Physics and Telecommunications Electronics at the University of Athens and obtained a Masters and Ph.D. degrees in Microwave and Electronics from the University "Pierre et Marie Curie" in Paris.
He started his career in PHILIPS - France in 1978. Since 1984 he has been a staff member of the European Space Agency (ESA). Held various positions in the Technical Directorate and in the Telecommunications and Applications Directorates. Emmanuel was nominated as ESA Senior Advisor in 2000 and served in EU instances for Galileo and in the OECD.
He has taught courses on microwaves, antennas, satcoms and space in several engineering schools and universities in France and Greece. He has written more than 20 international patents and over fifty papers on New Satellite Media, Operational use of Space Technology, Satellite Systems, Antennas and Microwaves, Optics and VLSI technology, Solid State Physics.
Guest Speaker
Head of GNSS Evolution Programme and Strategy Division, Directorate of Navigation, European Space Agency (ESA)

Miguel Manteiga Bautista is responsible for the Navigation R&D and GNSS Galileo/EGNOS Evolutions activities, implemented through several ESA and EU Frameworks, such as the ESA GNSS Evolutions Programme (EGEP) and the Delegation Agreement with the European Union on the Implementation of Horizon 2020 – Framework Programme for Research and Innovation in Satellite Navigation.

Miguel Manteiga Bautista obtained his Bachelor and Master in Science degrees on Telecommunications Engineering from the University of Valencia in 1999. He also obtained an International Executive Master on Business Administration from the IE Business School in 2005.

After spending his early carrier in the field of development and deployment of high speed telecommunication networks in Telefonica SA, within the Telecommunications Provider sector, he moved to the European Space Agency Galileo Project Team in 2001.

Throughout the last 16 years, he has developed his career in the Galileo Programme, in a wide variety of positions covering all areas of the Galileo environment (space, ground, user, launcher, system, security and operations).

In 2015, he took over the position of Head of GNSS Evolution Programme, with the objective to pave the way to the next generation of European GNSS activities.
Guest Speaker
Director Special Projects
Eutelsat
Cristiano Benzi is Director Special Projects at Eutelsat, the global Satellite Operator based in Paris.
Cristiano is an expert in TV Production and broadcasting technologies and during his 19 years spent within Eutelsat has held positions in Network Management, Design and Operations, Marketing and Product Development, Sales and Sales Support.
Prior to joining Eutelsat Cristiano has worked for 7 years as a researcher for RAI Radio Televisione Italiana, specializing in the design of future Broadcasting Systems and in supporting the development of the DVB set of Standards.
Cristiano has also served until 2011 as the Chairman of the Italian HD Forum (HD Forum Italia), an association of TV and media companies aimed at the development of High Definition broadcasting in Italy.
Guest Speaker
Operations and Mission Exploitation Manager
Directorate of Telecommunications & Integrated Application - Programmes Department
European Space Agency (ESA)
Having joined the European Space Agency (ESA) at the European Space Research and Technology Centre (ESTEC) in 2010, Edoardo currently coordinates the team for the operations preparation and mission exploitation of the ESA Telecommunications and Integrated Application (TIA) Programs department, to support missions both on ground and in flight, including Alphasat, EDRS, Small-GEO, and SAT-AIS.
Within ESA, before taking on the current role, he provided support to the Telecommunication and Earth Observation directorates for the ground segment and operations preparation, and worked as mission study manager to support preliminary studies for future missions as part of their concurrent engineering team.
After having taught at the engineering school of the Narvik College in Norway, Edoardo started his career in spacecraft's operations at ESA Space Operations Centre (ESOC) in Germany working on interplanetary missions (Cassini-Huygens, Ulysses, SMART-1). He then moved into the telecommunication satellite field, working for 8 years with Eutelsat SA in Paris to take care of its fleet operations and assist satellite procurement before joining the European Space Agency.
Edoardo graduated in aerospace engineering at the University of Rome and holds a Master in Space Sciences from the International Space University of Strasbourg. He has written several papers for journals and conferences, mostly on satellite operations and optical inter-satellite communication in-flight experience. He is supporting the CCSDS Spacecraft Monitoring & Control working group in the area of mission planning.
Guest Speaker
Constellation architect
Thales Alenia Space
Jean-François BOUTILLON graduated from Ecole polytechnique and SUPELEC with a specialty in electronics and numeric communication. He has been working for Thales Alenia Space since 2004 in various positions. In 2010 he joined the Iridium project and designed the network aspects of the system. He now is technical responsible for the system part of constellation bids.
Guest Speaker
Head of Telecoms Business Development
European Space Agency (ESA)
With a university degree in Physics and Mathematics, Philip promptly went into engineering and has spent the vast majority of his working life in the satellite sector.

His time has been split between employed roles with major satellite operators (including Eutelsat, GE Americom, New Skies Satellites and Es'hailSat) and self-employment during 12 years as an over-employed consultant. His roles have spanned from hands-on engineering through operation to sales and finally general management.

In 2014 Philip accepted the new role of Head of Telecoms Business Development with the European Space Agency, where he is looking for the next round of ESA's telecommunications projects.
Guest Speaker
Chief Technology Officer
SES
Martin Halliwell has been the Chief Technology Officer of SES since 1 May 2011. Mr Halliwell was President of SES Engineering from January 1, 2008 to April 2011. Prior to this assignment, Martin Halliwell held a position of SVP and Chief Technology Officer at SES ASTRA, where he was responsible for all engineering and operational activities.
In the course of his career at SES ASTRA, Mr Halliwell held a number of positions, including General Manager, Global Multimedia Networks, Technical Director of SES Multimedia, and Deputy to the Technical Director of SES ASTRA. Prior to joining SES, Martin Halliwell worked for Cable & Wireless and for Mercury Communications.
Mr Halliwell holds a BA in Mathematics and Mechanical Engineering and an MBA specializing in External Environment and Strategic Management from the Open University. Mr. Halliwell is a member of the Boards of SES ASTRA, SES Satellite Leasing and O3B Networks and a member of the Executive Committee of SES S.A.
Guest Speaker
Senior Business Development Manager, Commercial & Governmental Markets, Telecommunication Business Line
Thales Alenia Space
Bernard Jacqué joined Thales Alenia Space in 1994, the company being at that time named Aerospatiale before being integrated first within Alcatel group in the 90's and then within Thales group in April 2007.
During the past 20 years, Bernard Jacqué has been deeply involved in several key programs of the company, starting by the design and development of the company flagship SPACEBUS product line in the 90's as advanced programs technical manager and actively participating to its technical development but also commercialization around the world.
Since the year 2000, he drives as satellite system chief engineer, the design and development of the telecom product line platform for constellations in the frame of both Globalstar and Skybridge programs. Those two advanced programs drive the company towards the world-recognize successes of Thales Alenia Space thanks to its ELITEBUS platform through the awarding of all new generation constellations: Globalstar II, O3b and Irridium next.
In 2004, he has been entitled Technical Director for Thales Alenia Space for the development of the largest European platform, Alphabus. The first satellite platform, used on Alphasat Satellite, has been successfully launched and deployed in orbit last July for Inmarsat.
In 2009, Bernard Jacqué overtakes more commercial responsibilities within the system business development team, mainly acting on export markets for Governmental "Milsatcom" system and satellite solutions.
From 2010 to 2013, he lead the team up to contract award in charge of the proposal for the Brazilian Governmental Satellite (SGDC) answering both for governmental communications and HTS broadband needs to reduce the digital divide in Brazil.
In 2013, Bernard Jacqué joined the Commercial Directorate and in particular the Europe and North America Sales team. He was Sales and Key Account Manager of several main international Satcom. operators in Northern America.
In beginning 2016, he has been appointed to lead a team of senior architects and telecom expert in charge of preparing through innovation the future space products for telecommunication quickly changing market.
Bernard Jacqué is an engineer graduated in 1993 from the French Aeronautical and Space Engineering High School, I.S.A.E. Sup'aero located in Toulouse.
Guest Speaker
Strategic Marketing
Thales Alenia Space
Jean-Benoît LAITHIER is an MBA graduate (cum laude) from EDHEC Business School (France) and is working in strategic marketing department of Thales Alenia Space. He holds a master's degree in Aeronautical Engineering from ENAC (Ecole Nationale de l'Aviation Civile) and a master's degree in microwaves / optical telecommunications from Université Paul Sabatier.
He held several positions in Aerospace & Defence and he has been working in Thales Group from 2000. During the last nine years, he specially was involved in European satellite navigation projects (EGNOS, GALILEO) and observation satellites bids.
Guest Speaker
Director, Avanti Consulting
Graham Peters runs Avanti Applied Technologies, which is a business unit of the satellite operator Avanti Communications Group PLC.
He has 25 years experience working in the ICT industry operating at the intersection between business, technology and applications.
An astrophysicist by background he started his career as a satellite systems engineer at British Aerospace Space Systems where he was involved in a number of feasibility studies and bids for a variety of new satellite projects.
In 1993 he joined the business development team at VEGA Group PLC (now Telespazio) where he led the company's involvement in European consortia developing Europe's global navigation satellite system (to become Galileo).
In 2000 he became sales and marketing director of an electronics business providing testing and parts procurement services to the aviation and space sectors.
Following the sale of the business he joined Avanti in his current role in 2005. Since then he has led the numerous collaborative projects developing new satellite communications technologies and their application in a range of vertical markets.
Guest Speaker
Project Manager and System Engineer, OHB Systems
Alexander achieved the qualifications of Dr.-Ing. (Process Engineering) and Dipl.-Ing. (Production Engineering) from the University of Bremen.
He then started work at OHB System AG, Bremen back in 2004 and continues there to this day.
During his time at OHB System, Alexander has been involved in the following:
Project Manager
Electra Phase B/C/D/E, Full electric propulsion geostationary platform
EDRS-C Phase A/B/C, Dedicated European Data Relay Satellite
Airbus Proposal, Tunable Vibration Absorber System for A400M aircraft
Study, Micro- and Nano-Technologies for Satellite Systems
Study, Application of Polymer Ceramic in Space Technology
System Engineer
SGEO/HAG1 Phase A/B/C, Mechanical and Thermal responsible
Guest Speaker
Chief Technology Officer (CTO)
Newtec
Frederik Simoens received the B.S. and M.S. degrees in Electrical Engineering from Ghent University, Belgium, in 2003. From 2003 until 2008, he was with the Telecommunications and Information Processing department (TELIN) at Ghent University, where he obtained the Ph.D. degree in wireless communications. Since 2008, he has worked at Newtec, where he currently holds the position of CTO. Newtec is a manufacturer of high-end ground segment equipment for satellite communications. His research interests include satellite communications, wireless mobile communications and multi-antenna communication systems. Frederik Simoens is active in the standardization work related to DVB-S2/S2X and he is also member of the executive committee of the IEEE Benelux COM/VT Chapter. He is co-author of several patents and 50 publications in international peer-reviewed journals and conference proceedings.
Guest Speaker
Legal Officer
European Space Agency (ESA)
Alexander Soucek works as a legal officer for public international law and space law at the European Space Agency (ESA). He previously held the position of a programme coordinator in ESA's Directorate of Earth Observation Programmes. In his function as a legal officer, he advises the Agency's International Relations Committee and represents ESA at the Legal Subcommittee of the UN Committee on the Peaceful Uses of Outer Space. He also served as the legal advisor of ESA's Directorate for Telecommunications and Integrated Applications. He earned a master degree in law from Salzburg University, Austria, and a master's degree in space studies from the International Space University in Strasbourg, France. He teaches space law at universities in Europe and has published books, commentaries and articles on the subject, including "Space Law Essentials" (2015), an introduction to space law for students and practitioners.
Guest Speaker
Payload Product Manager and Senior Expert
Airbus Defence and Space
Glyn is a Senior Expert in flexible, processed and HTS payloads. Glyn is currently working within the payload R&D division helping to define Airbus Roadmap for advanced payloads and the supporting digital and RF equipments needed to make these payloads an industrial reality.
Glyn was deputy chief engineer for Airbus Defence and Space payload equipment's division during the period 2010 to 2014. Glyn previously managed research and development where he generated a number of key patents in the fields of flexible communications payloads.
Prior to this Glyn worked in both systems engineering and microwave design roles on the RADARSAT 2 Synthetic Aperture RADAR system. Glyn graduated from St. Andrews University with a degree in theoretical Physics and also holds a Master's degree in Microwave Solid State Physics.
Guest Speaker
Vice President – Technology Development Programmes
Inmarsat
Hok Shuen Wong (Shuen) is Vice President of Programmes at Inmarsat, having originally joined the company in 1990.
Shuen's current role has seen him take an executive lead on the ground programmes for key projects such as Global Xpress, as well as the Service Enablement Platform (SEP) with Cisco and the next generation of BGAN capability.
He was also responsible for implementing the significant integration and leadership of a 150+ strong engineering team in his previous position as Inmarsat's VP of Engineering.
Other positions Shuen has held within the company include Senior Director of Global Xpress – where he helped develop, implement and execute the first Ka-band global satellite system – Director of User Terminal Development and Senior Manager of BGAN Engineering, having originally joined Inmarsat as an engineer.
Prior to joining Inmarsat, Shuen was a systems engineer at British telecom international (BTI) and previously completed a two-year fellowship at the University of Surrey where he also studied Electronic & Electrical Engineering.
Application
If you would like to discuss your application or any part of the application process before applying, please contact:
Course Administrator
Tel: +44 (0)1865 286958
Email: electronics@conted.ox.ac.uk